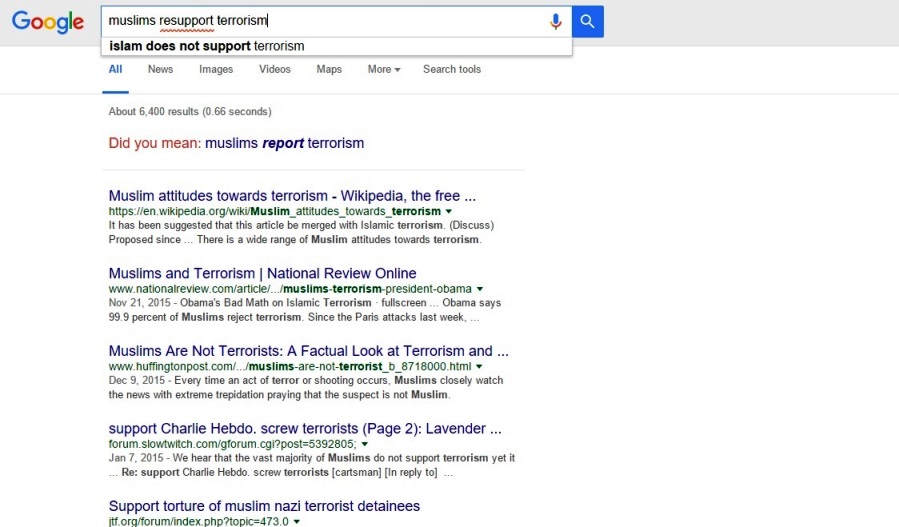 Short Bytes: After the Google search suggestion issue of 'Muslims Support Terrorism' was first raised by Hind Makki, it looks like Google has seriously worked on its search algorithm. Now, the search engine recommends 'Islam does not support Terrorism' after that incident.
M
uslims Support Terrorism
Google search suggestion was first reported by Hind Makki. Hind Makki is a blogger and founder of a photo project depicting women in mosques around the world. She was writing a post about some comments Hillary Clinton made in a Democratic debate.
The post was supposed to be a commentary on "Clinton's point about how American Muslims are 'on the frontline of our defense' and how problematic that framing is,". So, she wrote in an email. "American Muslims 'already' report suspicious activity & suspected terrorist to the authorities." To support that she also wanted to link that to another blog post.
So Makki searched for that study on Google, entering "American Muslims report terrorism." Google suggested that perhaps she meant to type "American Muslims support terrorism." That was not a fluke. The same search was performed in other places and the Google search suggestions were the same.
No Google, I didn't. pic.twitter.com/hF0vXpjcoc

— Hind Makki (@HindMakki) February 12, 2016
"I thought it was hilarious, but also sad and immediately screen capped it," she said. "I know it's not Google's 'fault,' but it goes to show just how many people online search for 'Muslims support terrorism,' though the reality on the ground is the opposite of that."
Why Google Search Suggested "Muslims Support Terrorism"?
Google's search suggestions occur when a user misspell or mistype a word on Google search. But Google's algorithm will also look beyond these mistakes. It often suggests a more trendy sequence of words to help the user whether he was looking for the same. Probably, Google found a common sentiment on the internet "Muslims support terrorism." Needless to say, that's not true
However, according to a Google spokesperson, the suggestion has now been removed; it no longer appears on searches for "Muslims report terrorism."
We also tried to regenerate the same search suggestions. But looks like Google has seriously worked on this. Even if we tried with a wrong sequence of word as 'Muslims resupport terrorism', we saw Google suggesting 'Islam does not support terrorism'.
Also read: How Innocent Copy-Paste Leaks Your Previous Embarrassing Google Searches