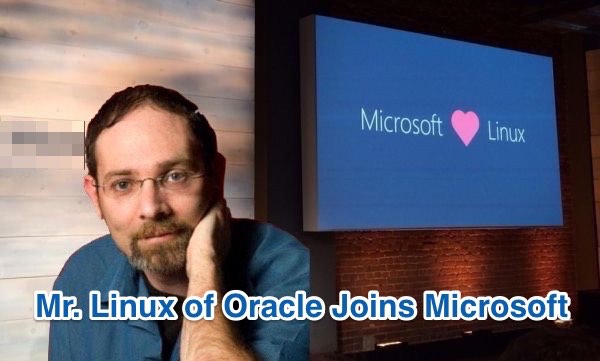 Short Bytes: Microsoft's HR department has poached the man who turned Oracle into a Linux-dominated company. Wim Coekaerts, commonly known as Oracle's "Mr. Linux", has joined Redmond folks to head up its Linux and open source efforts.
T
his is an established fact that
Microsoft loves Linux
and open source technologies. The recent developments at
Build Developer Conference 2016
will soon allow developers to use
Ubuntu on Windows 10
.
In order to fasten the progress of Linux and open source projects at Redmond, the company's HR department has stepped up its game. The software giant has reportedly poached Wim Coekaerts, commonly known as Oracle's "Mr. Linux".
In the tech world, Coekaerts is well-known for his contribution to Linux projects and bringing the open source technology to Oracle. He also turned Oracle into a Linux distro-maker with the launch of Oracle Linux for the enterprise.
Talking to ZDNet, Mike Neil, Microsoft's Corporate VP of the Enterprise Cloud has confirmed this news.
"Wim Coekaerts has joined Microsoft as Corp VP of Open Source in our Enterprise Cloud Group. As we continue to deepen our commitment to open source, Wim will focus on deepening our engagement, contributions and innovation to the open-source community," he said.
Microsoft became involved with Linux since Satya Nadella became CEO, going as far as creating a custom Linux-based software for networking and Azure.
The company hasn't told what parts of its open source efforts will be taken care by Coekaerts, but it's important to note that he is the person who turned Oracle into a company dominated by Linux-based technologies.
So, is it another indication that Microsoft is soon going to make a Linux distribution and turn our April Fool's "Windows L" joke into a reality? We'll have to wait and find out.