The popular movie streaming website 123Movies, which also operated as GoMovies has officially announced its plan to shut down.
A message posted on the website reads that it will go offline after three days. The operators of the pirate site are now encouraging users to respect filmmakers by paying for movies and TV shows.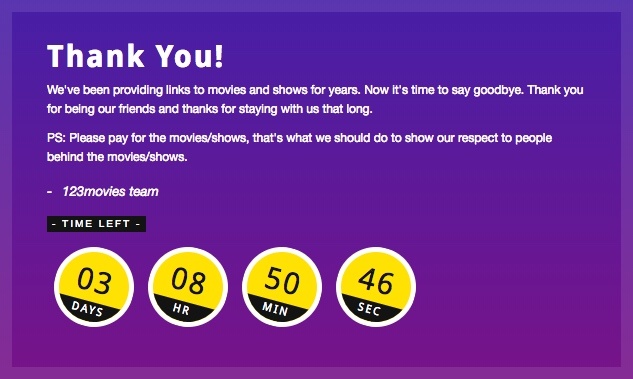 This announcement comes only a few days after being branded as the "most illegal site in the world" by the Motion Picture Association of America.
MPAA's Executive Vice President & Chief of Global Content Protection, Jan van Voorn said, "Right now, the most popular illegal site in the world, 123movies.to (at this point), is operated from Vietnam, and has 98 million visitors a month".
It was not the first time when the pirate site had been called out for its illegal activities. The Vietnamese Government had previously received official requests from the US Ambassador to criminally prosecute the team behind it.
123Movies was also in the black book of the office of the US Trade Representative where it was listed as a Notorious Market.
This website had emerged less than three years ago and gained massive popularity at a rapid pace.
According to some reports, it is the legal pressure which forced the operators to shut down their operations. However, no official comment has been received from the team yet.
But the latest announcement has left an enormous gap to fill – with millions of estranged pirates hunting for a new free streaming site.