Short Bytes: Intel's subsidiary Movidius has just unveiled Myriad X Visual Processing Unit (VPU). The company claims it to be the first VPU with a dedicated Neural Computer Engine that can power intelligent devices like autonomous drones, robots, etc. It combines imaging capabilities with high-performance deep learning on the same chip.
M
ovidius, now an Intel subsidiary, was acquired by Intel last September. It was known to add sight capabilities to different hardware systems. Now, the company claims to have created the world's first Visual Processing Unit (VPU) with a dedicated Neural Computer Engine that can deliver over 1 trillion operations per second of dedicated neural networks computation.
Named Myriad X, this VPU aims to deliver artificial intelligence capabilities in a low-power and high-performance package. The chip combines computer vision processing, dedicated imaging, and high-performance deep learning inference within the same chip.
As per Intel's announcement, the company aims to provide faster and more pervasive intelligence to the devices for making them safer and more productive.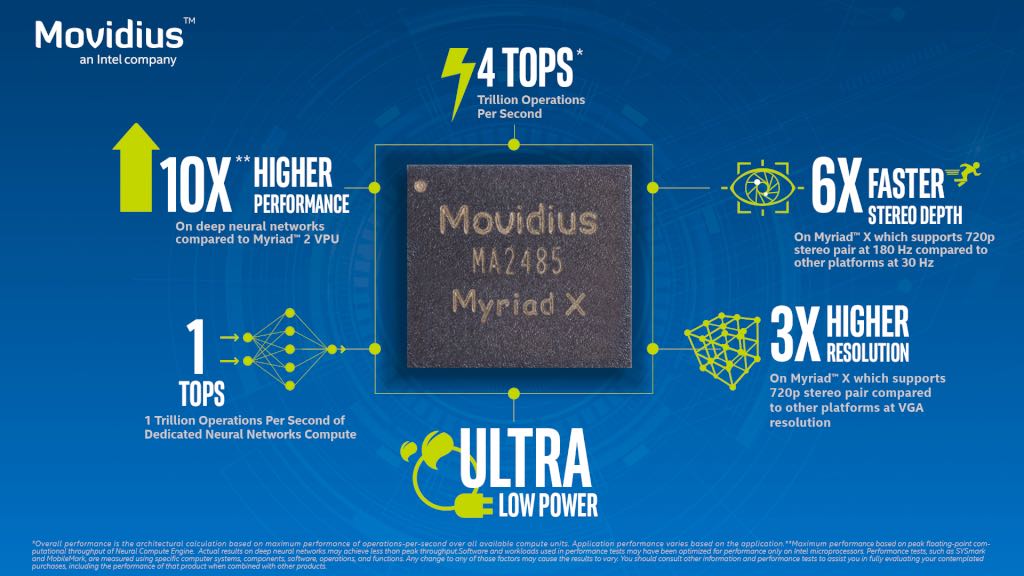 The application of Myriad X can be seen in autonomous delivery drones, personal robots, security cameras, autonomous vehicles. Due to its tiny form factor, this VPU can have further applications in smart devices.
Apart from the Neural Computer Engine, which can run deep neural networks in real time, Myriad X's 16 Programmable 128-bit VLIW Vector Processors can run multiple concurrent applications. It also features 16 Configurable MIPI Lanes, and 2.5MB Homogenenous On-Chip Memory.
Intel is offering two chip packages for Myriad X. While one package has no memory, the other one as 4 Gbit LPDDR4 memory.
You can read more about Myriad X VPU in this product brief.