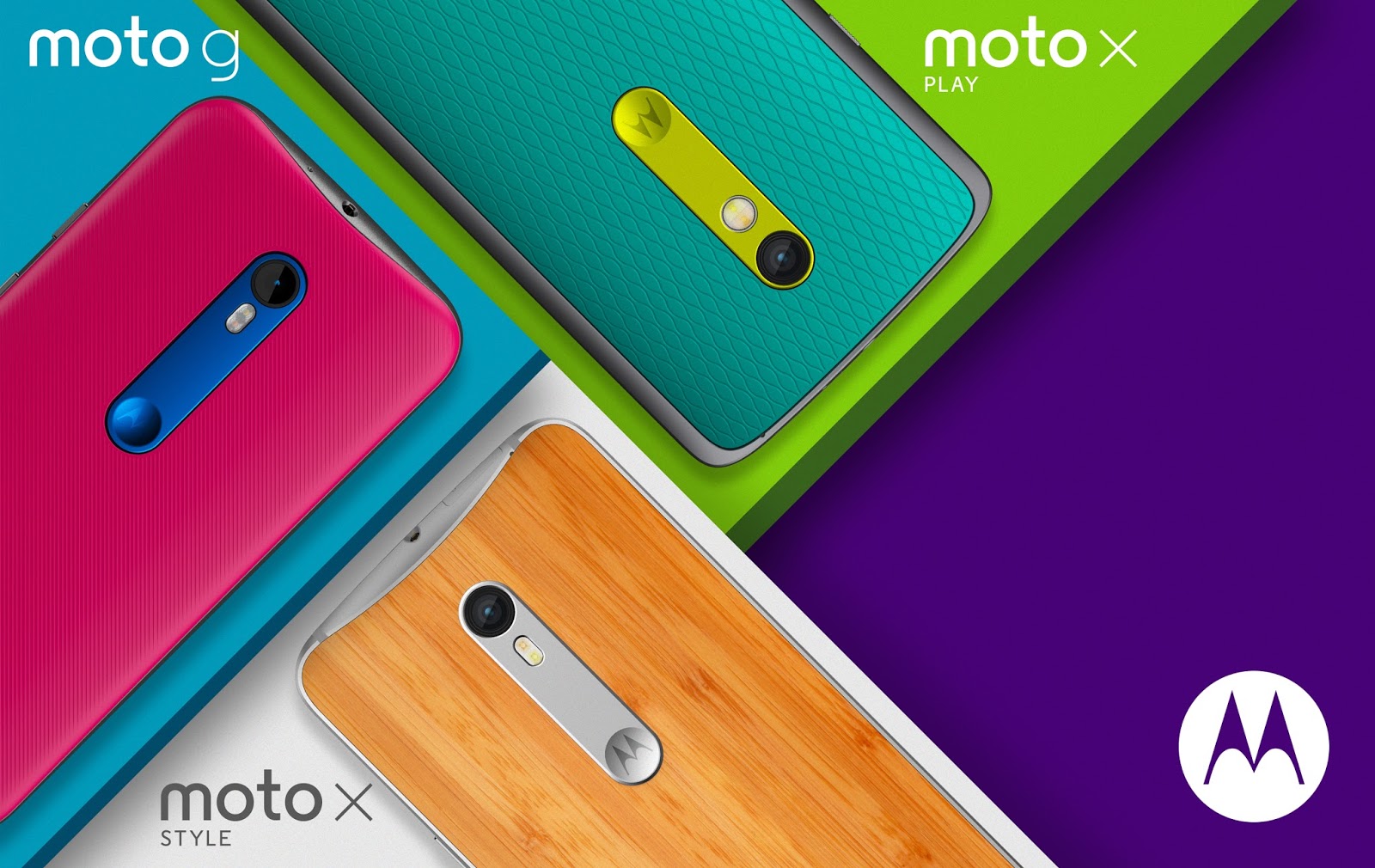 Short Bytes : Motorola has launched a trio of smartphones to dominate both the low and high ends of mobile market. Moto X Style is being called the world's fastest charging phone, Moto X Play costs lesser and has 48-hour battery life, and Moto G Third Generation is a waterproof phone with an impressive 13MP camera and the lowest price. 
M
otorola is witnessing a constant growth in the
smartphone market-share.
The company is basking in the success of Moto X, Moto G, and super-budget Moto E phones. The Lenovo-owned company has managed to secure a reputable position at the top along with
Apple and Samsung.
 The company tells that Moto G is the best-selling smartphone in company's history, which is a huge statement given the popularity of the vintage Razr.
Now, to dominate both the high and low ends of the mobile market, Motorola has released a new trio of smartphones- Moto X Style, Moto X Play, and Moto G (Third Edition). Moto X Style will be known as the Moto X Pure Edition and will work with any carrier. Moto Play comes with a longer 48-hour battery life and a smaller screen. And, the company released a new third generation of Moto G with an impressive 13MP camera.
With these phones, Motorola is moving ahead with the "pure" Android ideology that rejects the bloatware and ships unforked version of Android with its smartphones. These phones run on Android Lollipop and will receive Android M upgrade later this year.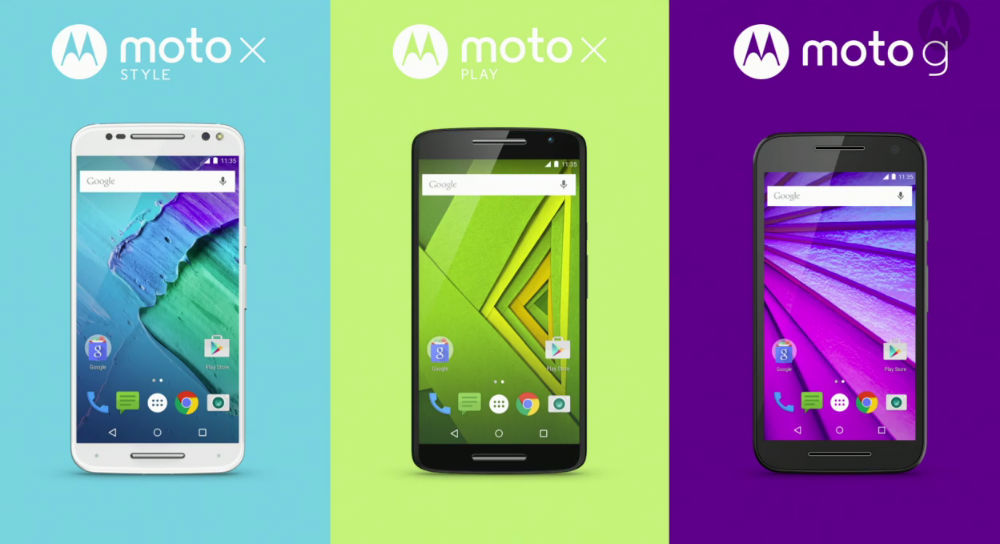 Lenovo claims that Moto X style is the world's fastest charging phone that charges to give 10 hours of battery life in just 15 minutes. This super-fast charging is done using the TurboPower mode. The device comes with a 3,000maAh battery underneath. According to the company, world's fastest charging phone charges 50 percent faster than Samsung Galaxy S6. In general, company's new flagships Moto X Style and Moto X Play are Motorola's answer to Samsung Galaxy S6 and Apple iPhone 6– at a lower price.
Moto G 8GB model costs just $179 and is completely waterproof and its 5-inch touchscreen works just fine even when it's drenched.
Moto X Play and Moto X Style Specifications:
Moto X Play
Moto X Style
SoC
Snapdragon 615 1.7 GHz A53
Snapdragon 808
1.8/1.44 GHz
Cortex A57/A53
RAM
2GB
3GB LPDDR3
NAND
16GB NAND + microSD
16/32/64GB NAND + microSD
Display
5.5" 1080p
5.7" 1440p
IPS
Network
2G / 3G / 4G LTE (Category 4 LTE)
2G / 3G / 4G LTE (Category 6 LTE)
Dimensions
148 x 75 x 8.9-10.9mm, 169g
153.9 x 76.2 x 6.1-11.06mm, 179g
Camera
21MP Rear Facing Camera
f/2.25
21MP Rear Facing w/ PDAF
f/2.0, 1.1 micron 1/2.4″ sensor
5MP Front Facing
5MP Front Facing w/ LED Flash
Battery
3630 mAh (13.79 Whr)
3000 mAh (11.4 Whr)
OS
Android 5.1 (At Launch)
Android 5.1 (At Launch)
Connectivity
2.4/5 GHz 802.11a/b/g/n +
BT 4.0,
USB2.0, GPS/GNSS, NFC
2×2 802.11a/b/g/n/ac +
BT 4.1,
USB2.0, GPS/GNSS, NFC
SIM
NanoSIM
NanoSIM
Moto X Style will cost $399 (half the price of competitor flagships), and come to the US in September. It's expected that Moto X Play will cost about $350 or lower.
Images: Motorola
Did you like the new Moto family with world's fastest charging phone, a phone with 48-hour battery life, and an affordable best-seller? Tell us in comments.
For more updates and interesting stories from fossBytes, subscribe to our newsletter. [newsletter_signup_form id=1]