If you're a novice programmer, you must have searched for the "best programming language" as you always want to learn the high in-demand coding language to have a bright career. This is why Hired publishes the "State of the Software Engineer" report every year to highlight the trends in software development.


Let's discuss why developers voted them as most loved or hated programming languages in the 2020 report.
Most Loved Programming Languages In 2020
In Hired's survey, developers mentioned the following reasons for loving a said programming language.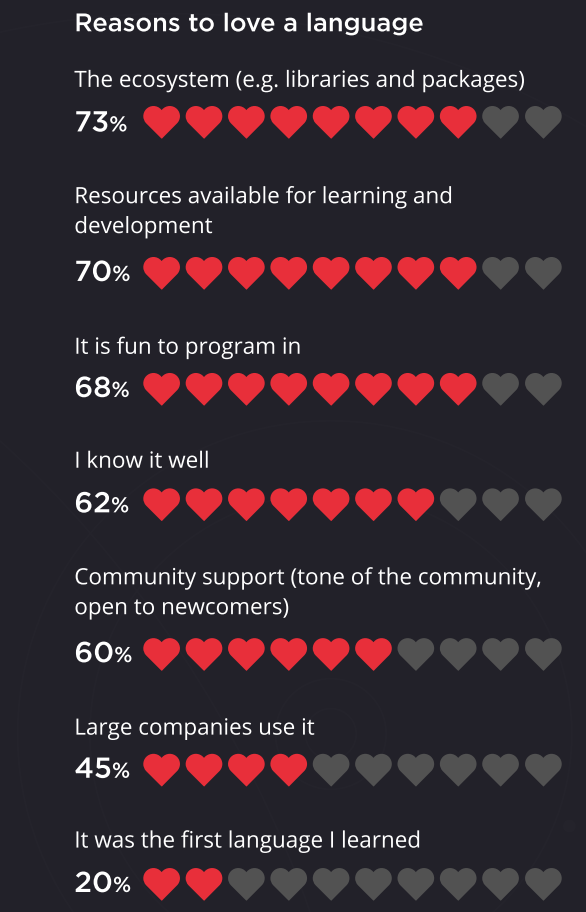 1. Python
Without any surprise, Python tops the list of most loved languages, again. As per the report published by HackerRank, Python is also one of the fastest-growing programming languages.
If you want to know the reason, you should recall the buzzwords, Artificial Intelligence, Data scientist and Machine Learning. And you'll get your answer.
About 73% of developers love these languages owing to their large ecosystem. Subsequently, due to the widespread increase of Python in frontier technology, Python communities have contributed a lot to develop libraries and packages. This makes Python a favorable language for developers.
2. Javascript
Javascript is the only language that can be used for both frontend and backend development. Hence, its popularity keeps rising among engineers and even surpasses Java.
Javascript is mostly used by Full Stack developers which is also the most in-demand developer skills in 2020. Hence, tons of tutorials and solutions are available which encourages programmers to stick with Javascript.
3. Java
Most people think that Java is losing its popularity. But if you look at the statistics released by various tech companies, you will always find Java among the top programming languages.
Have you ever wondered why is it so? Even beginners mostly prefer to try scripting languages such as Javascript or Python rather than Object-Oriented languages such as Java or C++. So what makes Java so desirable?
The main reason is the 45% of large companies that still rely upon Java language. If you look at the technology stack of top tech companies, you can easily find Java on it.
Most Hated Programming Languages In 2020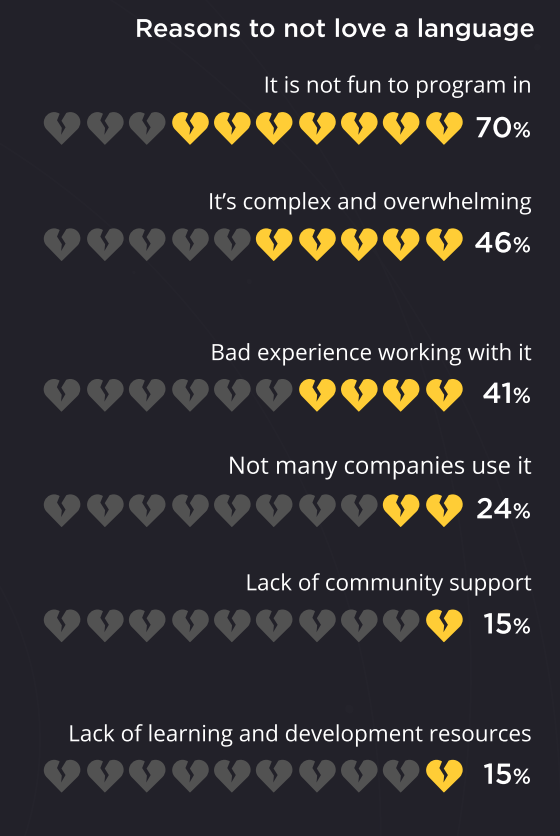 1. Ruby
Ruby is a general-purpose programming language similar to Python. Ruby is also used for web development and data analysis.
But Ruby still lags behind among the most preferred backend languages as Javascript and Python give a tough competition.
About 15% of developers abandon a language due to the lack of community support. And Ruby has the smallest community compared to Javascript and Python.
2. PHP
PHP ranked as the most hated programming language in 2019, but it has managed to climb one position upwards in the list this year. Nevertheless, it is still among the least loved programming languages, which is concerning the PHP developer community.
At a time, PHP used to be the most used programming language for web development. But the rise of Python alternative like Node.js led to its popularity downfall.
3. Objective-C
The diminishing fame of Objective-C is directly linked to the increasing popularity of Swift which provides advanced features that Objective-C lacks.
About 46% of engineers migrate from their current programming language as they find it complex and overwhelming. Hence, the simplicity of Swift compels several developers to switch from Objective-C.