At this point, a remaster for the Grand Theft Auto (GTA) trilogy is all but confirmed. Now, more evidence proves that Rockstar is planning to release the remastered GTA trilogy soon. Twitter user @videotech_ found some references to Grand Theft Auto III, Grand Theft Auto: Vice City, and Grand Theft Auto: San Andreas in the new Rockstar launcher update. All three games are part of the trilogy and are supposed to be remastered in Unreal Engine 4.
GTA trilogy remaster
The code specifically mentions GTA 3 – Unreal, GTA: Vice City – Unreal, and GTA: San Andreas – Unreal. Rockstar has maintained radio silence regarding this remaster; however, publisher Take-Two Interactive has said it's working on three iterations of previously released titles.
This comes less than a week after South Korea's games rating board classified something called Grand Theft Auto The Trilogy—The Definitive Edition.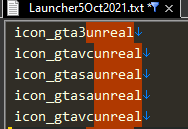 The appearance of the code in the Rockstar launcher means that we are not far from the reveal. Previously, Kotaku had also reported that the GTA remaster may release in November. Another report also mentioned that the games would be coming to PS5, Xbox Series X|S, Nintendo Switch, PS4, Xbox One, PC, Stadia, and mobile devices.
This fits perfectly with this recent information as it seems that Rockstar is preparing for the GTA remaster release. However, take this info with a grain of salt, as is the case with all leaks.
Recently, Rockstar announced the next-gen version of GTA 5, to which they were met with heavy criticism online. This was due to fans of the series being fed up with constant GTA 5 updates with no future projects to look forward to. Rockstar is also somewhat responsible for this as they have been keeping all their future projects under tight wraps.