Very recently, Top Gear conducted the Tesla Model S Vs Porsche Taycan drag race. In that quarter-mile-drag race, the show's presenter Jack Rix drove the Porsche Taycan Turbo S model and defeated the Tesla Model S.
However, since the video surfaced online, several discrepancies led many EV experts and drag-racing professionals to question the legitimacy of the drag race results.
Putting Model S in range mode is the opposite of launch mode, as it minimizes performance in favor of range. Show should be called "Low Gear"!

— Elon Musk (@elonmusk) November 1, 2019
Websites dedicated to writing about EVs like TESLARATI and Elon Musk himself claim that Top Gear cheated in their drag race to make the Porsche Taycan look better.
Here's a complete rundown of events so you can decide for yourself whether Top Gear cheated in the Model S vs. Porsche Taycan drag race or not.
Model S Vs Porsche Taycan: No Mention of Raven Or Warp Mode, Ludicrous Mode
Before starting the drag race, the Top Gear editor, Jack, explains the detailed specifications and launches control of Porsche Taycan Turbo S but avoids saying much detail about the Tesla Model S.
YouTuber Sean Mitchell, who creates EV-related content, said this in his response video response to the Top Gear debacle:
"After watching the video though, the 0-60 (mph) quarter-mile time seems to be a bit off for the Model S from what I am used to hearing from my friends who own Model S Performance variants."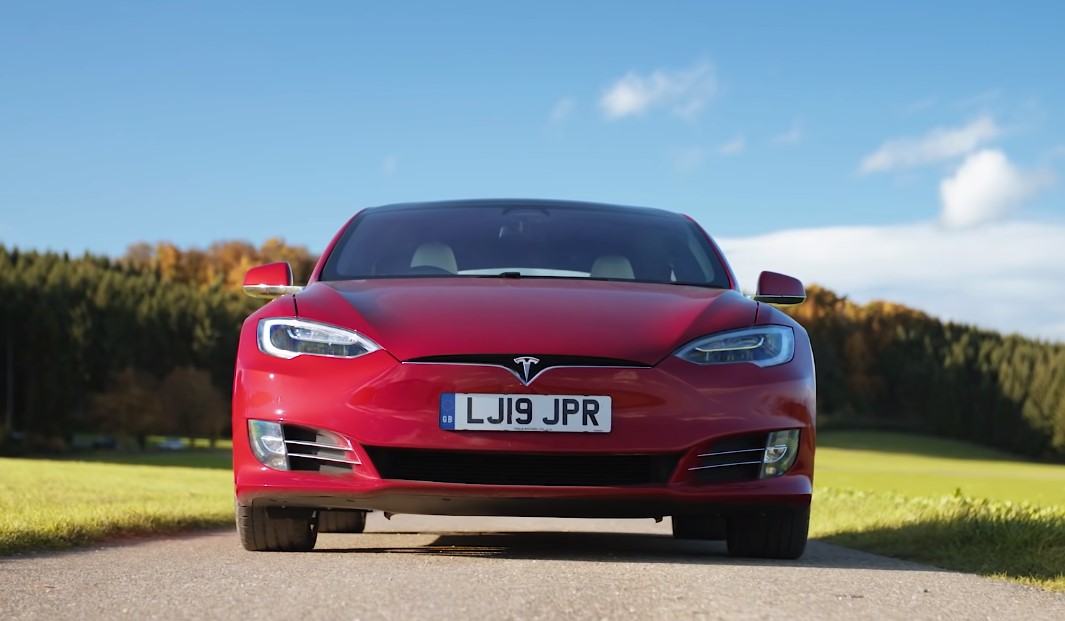 He further said that he noticed quite a lot of "disparities" with the Model S Vs Taycan Top Gear video.
According to Sean, "The first one is, they don't disclose what the specific state of charge is for either car. They only say 'both cars have over 85% charge.'"
The second thing that Sean points out is the lack of footage showing the Model S being put into launch mode or 'ludicrous mode.'
This point is important because Top Gear makes it look like they're putting both cars in launch control, but they only show Taycan being in Sport Plus mode.
The third thing that Sean brings our attention to is the absence of Warp Speed mode, which is a level above ludicrous plus mode. When driving in this mode, the driving screen of the Model S changes. The same can't be seen in Top Gear Video.
"This is evident because the battery and the motor metrics should be seen on the screen like what my friend Michael from Taiwan sent over. You do not see that in the Top Gear video," says Sean.
Brooks, a drag-racing professional who also runs the channel Drag Times on YouTube, pointed out the discrepancy in the drag race timing of the Model S.
Brooks pointed out that only a few weeks ago he and his friend tested a brand new Tesla Model S Raven at 81% charge on the race track. He received timing figures of 10.63 seconds at 124 mph on a quarter-mile drag.
On the Drag Times website, race timings of several Tesla Model S have been recorded.
"Of course on our website, we have multiple Tesla Model S Ravens all running in the 10.50s or 10.60s from different owners across different parts of the country."
But the Top Gear result shows a drag race time of 11.10 seconds. They also claimed to have conducted the drag race five times and every time Porsche won by a "small but increasing margin."
Top Gear is adamant that their timings are 100% correct, but they're yet to answer the allegations put forward by other EV enthusiasts and professionals.
Top Gear's History Of Hating Tesla
Sean also brought to our attention a previous encounter with Tesla and Top Gear.
The then show host, Jeremy Clarkson, seemingly botched the review of the first-gen Tesla Roadster by falsely claiming that it ran out of charge after driving only 55 miles.
During a session with Reddit, Elon Musk himself pointed out the biases of Top Gear when he said that one of his guys saw a pre-written script describing the show's host. Thus screwing up the Tesla Roadster review.
It is also interesting to note that James May, one of the co-hosts of Jeremy Clarkson, recently bought a Tesla Model S P100D.
So the supposed biases of Top Gear towards Tesla could only be limited to the show's producers and not extend to the show's host.
Anyway, you are now informed enough to judge who is right in the case of Top Gear Vs Tesla owners. Let me know your conclusion in the comments.