Before the April 27th launch, Xiaomi has been teasing several big features coming with the MIUI 12 update. Previously, it revealed changes coming to Always-On Display, such as support for MAML format, new stickers, and over 1000 animations.
Now, Xiaomi Theme's account on Weibo has announced that the new MIUI 12 always-on display (AOD) features are available for MIUI 11 users to test right now.
A quick brush-up — Always-On Display is a feature that enables supported devices to display date, time, weather, and other tidbits of information while the screen is off. The AOD feature is only available on smartphones with OLED/AMOLED displays because of their ability to keep light up specific pixels without turning on the entire display.
How to get the MIUI 12 Always On Display?
As described by Xiaomi, users will require a device with an OLED display, the latest Themes app v1.7.6.0, and Always-On Display app v1.19.387. Other than that, the device should be running MIUI 11 (Android 9) or above.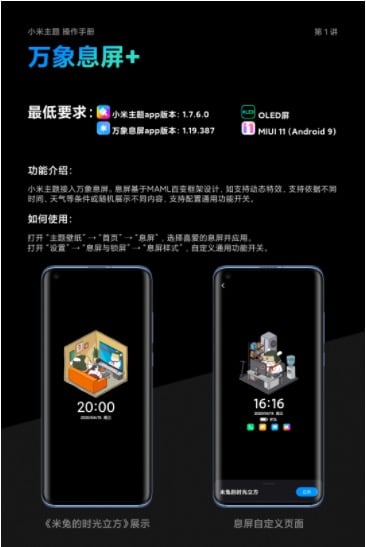 If you cannot find the latest version of the apps in MIUI Get Apps, you can find them on APK Mirror. Here is the link to the latest Themes app and Always-On Display app.
Once the apps are updated, open the Themes app > go to the new AOD section > choose from the new AOD animations, and then apply. You can find all AOD options in the device settings > Always-on display & Lock screen.
In addition to the new AOD, Xiaomi has previously teased the Dark Mode 2.0 that will include new features such as Wallpaper Dimming, changes to the font, and more.
Xiaomi software head has confirmed that MIUI 12 roll-out will begin on the launch day itself.