The deadly Coronavirus outbreak, that originated in Wuhan, China, has been wreaking havoc on the planet for over a month now. More than 2000 people have lost their lives, and 75,000 infected as we speak.
The outbreak has affected China's economy to a high degree, forcing several tech giants to miss their production deadlines. Now, the epidemic is making Chinese tech giants postpone OS updates as well.
Xiaomi MIUI 11 update postponed
Xiaomi periodically rolls out beta builds for users enrolled in the MIUI 11 beta program. As Piunikaweb writes, the latest build (MIUI 11 beta 20.2.19) took longer than usual.
But even when it did come, it missed several Xiaomi devices. In a press release, Xiaomi cites the coronavirus outbreak for not delivering the update to eligible devices, including Xiaomi Mi CC9 Pro, Mi 9, Mi 8, Redmi K20 Pro, Mi 6, Redmi K30, Redmi K30 5G, Mi 10 and Mi MIX 2S.
At the time of writing, few eligible Xiaomi devices have received the update. Xiaomi says the update for Mi 9 and Redmi K20 Pro is in the compilation process while the Redmi K30 update is postponed due to a lack of testing.
Despite the circumstances in the country, Xiaomi promises to deliver the updates in the coming weeks or so.
FuntouchOS 10 update postponed
Vivo is another contender from China that is facing adversities following the Conornavirus epidemic. The smartphone maker has delayed the release of FuntouchOS 10, which is based on Android 10.
Canceling the plans for February's release, Vivo will release FuntouchOS 10 public beta in late March, according to their post on Weibo.
The very first Vivo devices eligible for FuntouchOS 10 beta testing include NEX 3, NEX 3 5G, NEX S, NEX Dual Display, X27, and X2 Pro.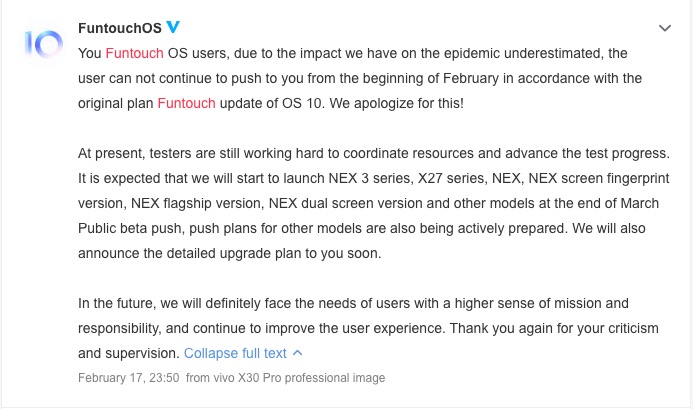 Google recently rolled out Android 11's first developer preview for Google Pixel devices. Meanwhile, Vivo devices are still running on Android 9 Pie, i.e., two Android versions behind. The delay of FuntouchOS 10 will disappoint Vivo users who have been expecting the Android 10 update for a long time.