Short Bytes: Pensieve is a neural network developed by the researchers at MIT's CSAIL. It is designed to optimize video streaming using machine learning, picking up different algorithms according to the needs. The initial experiments have shown improved streaming experience with a 10 to 30 percent reduction in rebuffering of video streams.
A
smooth streaming experience is every netizen's dream, but not all of them get the opportunity of a high-speed low-latency internet connection. The result is laggy and pixelated videos which only irritate the viewers.
Advancements have been made in this regard. Websites like Youtube have implemented Adaptive Bitrate (ABR) technologies. The video isn't dumped on your device all at once but in small chunks delivered serially.
ABR expands into two categories: rate-based which take the speed into consideration and the buffer-based which make sure a certain amount of data is always pre-loaded.
Both the types contribute to improving the streaming sessions, but they aren't efficient to fit in all the conditions. For instance, in the case of rate-based buffering, there can be a drastic drop in the network speed.
Degrading the quality is a downside for the users and content providers who also have to suffer ad revenue losses as the user leaves the video more often. So, there is still a scope for improvement. And what can be better than putting an AI in the picture?
Researchers at MIT's CSAIL (Computer Science And Artificial Intelligence Laboratory)  have developed a neural network AI called Pensieve that's smart enough to reduce or even eliminate video rebuffering from our lives. In recent past, CSAIL has created mind controlled robots and memory that changes in real-time among their list of achievements.
Earlier, the Carnegie Mellon University researchers combined the two types of ABR through their approach called "Model Predictive Control (MPC)" which is designed to predict "how conditions will evolve over time." But implementing MPC is hard, as network speed is a major factor, according to Professor Mohammad Alizadeh who is the part of Pensieve's research team.
MIT's AI doesn't follow any existing model but represents an ABR algorithm as a neural network. The AI conducts multiple tests in situations of varying network conditions and buffering ranges.
Over time, it learns from its experience and gets better. As its the case of neural networks, there are rewards and penalties. The highest reward is for buffer-free high-quality video streams and a penalty if rebuffering is done.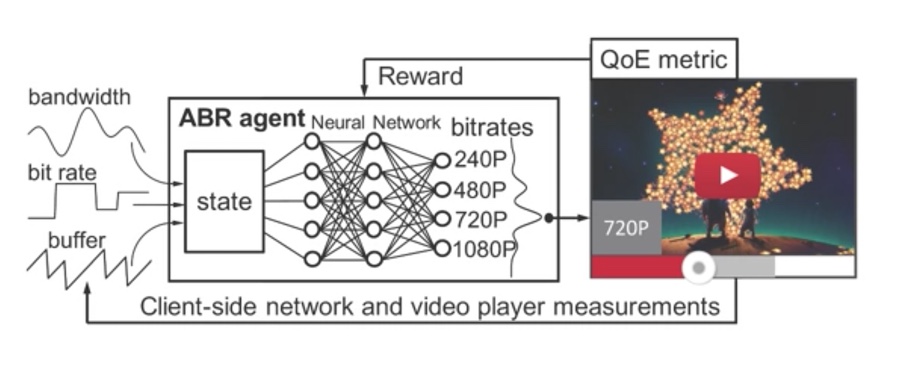 During the experiments, the research team found that Pensieve can make a 10 to 30 percent reduction in rebuffering in comparison to other approaches. They tested Pensieve's working in different situations like a WiFi at a Cafe and an LTE network on the streets. It managed to deliver the same quality as MPC with less rebuffering.
The researchers say Pensive is highly customizable to content providers' needs. As an example, the bitrate of a YouTube video can be reduced automatically for a subway rider who is about to enter a dead zone. Then, enough data could be preloaded to make the stream buffer-free till he gets out.
According to the researchers, Pensieve was trained using "a month's worth of downloaded video." If it were to leverage the enormous video libraries of streaming services like YouTube, the performance outcomes would have been more significant. Surprisingly, in May, YouTube crossed a viewing time of 1 billion hours per day.
There is a scope of implementation for the new AI system to be used by streaming giants like YouTube and Netflix. However, the researchers also aim to score other possibilities; their next project would involve testing Pensieve on VR. 4K-quality VR content requires exorbitant bit rate where the AI can help.
The development of Pensieve received financial support from Qualcomm and National Science Foundation. The researchers will present their paper next week at the SIGCOMM conference in Los Angeles.
Did you like the concept of Pensieve? Tell us about your video streaming experience in the comments.