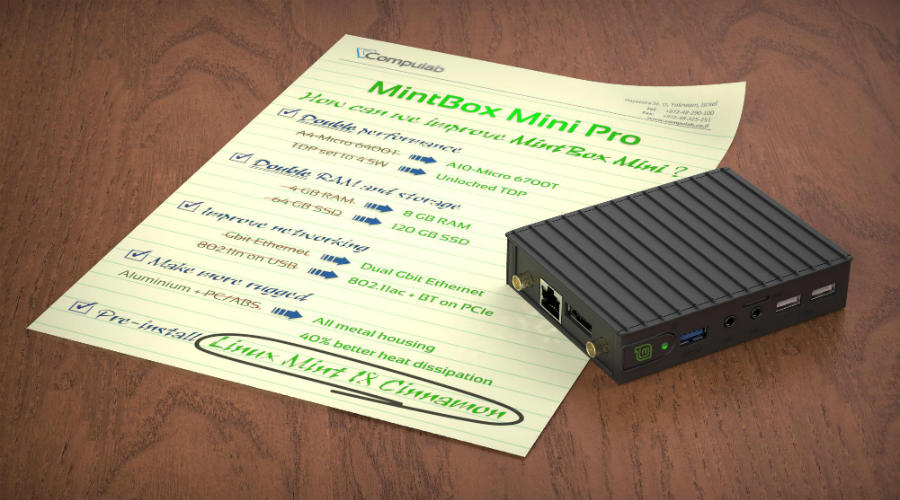 Short Bytes: The Mintbox Mini has been received a major hardware upgrade and it is now called Mintbox Mini Pro. The Linux machine comes at a price of $395 and features an all-metal casing which eliminates the need for a cooling fan. Significant bumps having been given to the storage, RAM, processor, wireless, and other hardware components.
W
hen it comes to hardware designed for Linux, the family of open source operating systems often faces a scarcity of compatible hardware. The Linux distros can be installed various Windows-loving laptops and desktops but they suffer driver incompatibility issues.
There are a few notable devices built to run the Linux-based distributions out-of-the-box. Linux Mint team and Compulab can tap their back for the creation of the palm-sized Mintbox devices. The latest Mintbox release is known as the Mintbox Mini Pro and it's a significant upgrade over Mintbox Mini.
Also Read: Raspberry Pi Adds Beautiful "Pixel" Desktop Environment To Raspbian Linux Distro
Mintbox Mini Pro Specifications
CPU: AMD A10-Micro 6700T
RAM: 8GB DDR3L
Storage: 120GB SSD
Graphics: AMD Radeon R6
Connectivity: Bluetooth 4.0, 802.11ac, Dual Gigabit Ethernet
Ports and Slots: 2x USB 3.0, 4x USB 2.0, 2x HDMI 1.4a, 1x micro SD slot, 1x micro SIM slot, etc.
Price: $395
The Mintbox Mini Pro comes pre-installed with Linux Mint 18 Cinnamon but it also supports different versions of the Windows OS and Linux distros. All hardware comes packed inside an all-metal casing which enhances passive cooling. The A10 Micro-6700T built using 28nm process is a 64-bit SoC having 4 CPU cores clocked at 1.2GHz. The Radeon R6 graphics chip is also integrated on the SoC.
The microSD slot supports SD and SDHC cards allows a data transfer rate up to 25MB/s. Also, there is a micro SIM slot present on the Mintbox Mini Pro which might enable 3G/4G connectivity. The last yeat's Mintbox Mini was priced at $295 but it would be a wise decision to go for the higher priced and newer Mini Pro because you will get a value for money product.
Visit the Linux Mint blog where you'll find the links to detailed specifications and place an order for the Mintbox Mini Pro.
If you have something to add, tell us in the comments below.