Short Bytes: A passenger flying on the Virgin America flight 358 created a WiFi hotspot in the name of the infamous Samsung Galaxy Note 7. The SSID was immediately spotted by the crew and became the cause of panic inside the flight.
G
alaxy Note 7 stories are back with a bang. But this time, there is no Galaxy No
te 7 – known for its exploding abilities –
 involved in the story. According to a
report
from BBC, a Virgin flight from San Francisco to Boston get delayed after the crew saw a WiFi connection named "Galaxy Note7_1097" running inside the plane.
An announcement call was made by the pilot for the passengers, to disclose if they own a Galaxy Note 7. When no one showed up, the pilot threatened to divert the plane to another location and check passengers' luggage for the smartphone.
Lucas Wojciechowski, a software developer at Mapbox, tweeted the announcements which happened on the Virgin America flight 358 close to mid-night.
"This isn't a joke. We're going to turn on the lights (it's 11 pm) and search everyone's bag until we find it."
"This is the captain speaking. Apparently, the plane is going to have to get diverted and searched if nobody fesses up soon."
Earlier, Wojciechowski had taken the snapshot of the "Galaxy Note7_1097" after noticing the hotspot on his laptop.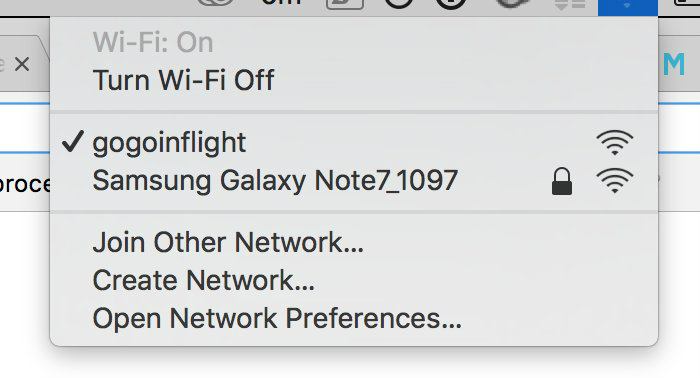 Finally, a passenger came forward only to reveal that he had changed the hotspot SSID to resemble the name of the said smartphone. "Ladies and gentlemen, we found the device. Luckily only the name of the device was changed to 'Galaxy Note 7'. It was not a GN7." – the crew announced.
Wojciechowski told BBC that he didn't think any further action was taken on the man.
A number of Samsung Galaxy Note 7 devices have reportedly caught fire and the US Department of Transportation has banned the smartphone from being carried in flights.
If you have something to add, tell us in the comments below.
Read More about Galaxy Note 7.