The market for wireless audio devices is sprouting as we speak. A significant contribution to the rising popularity is that smartphone companies have started to remove the good old headphone jack – a trend started by Apple iPhone 7.
Eventually, I also switched to wireless earphones for my daily listening. Although, I do maintain a pair of EarPods for an emergency. Being a person who wears a pair of glasses, I am often hesitant when going for headphones as my daily driver. People who wear glasses will understand it better.
But then I realized there are some good Bluetooth headphones out there that can offer a high level of comfort without burning my pockets. One such pair of headphones is the Mixcder E10 that recently landed at our office for review.
Mixcder is trying to target the budget market by offering quality audio at a very competitive price. I have used this pair of Mixcder E10 for about a week, and here are my thoughts and real-world experience of the wireless headphones. Here, I'd like to add that this will be my first experience with any Mixcder headphones.
Mixcder E10 Review: Great Sound + Active Noise Cancellation
Look, Feel, and Comfort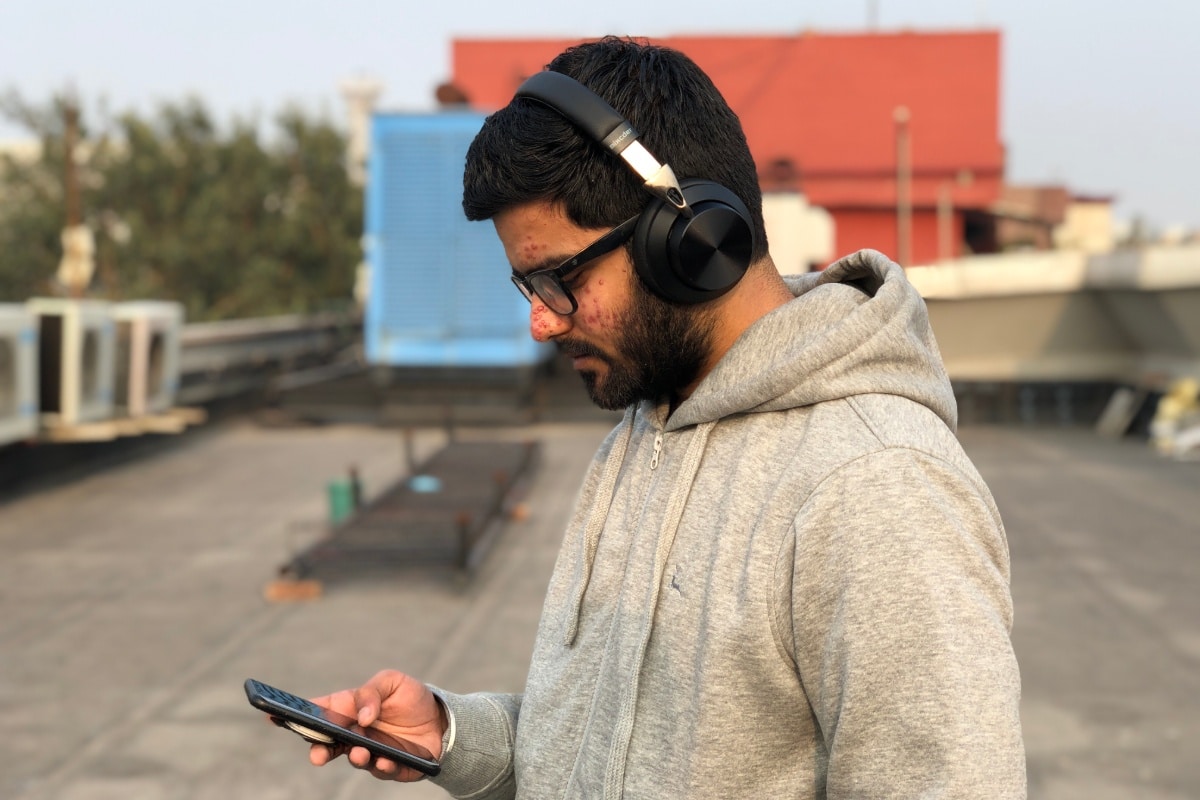 If you are among the ones who don't like to have punchy red, green, or yellow-colored headphones, you'll find yourself attracted to the simplicity of Mixcder E10.
This pair of wireless headphones certainly delivers a near-premium feel through a combination of black earcups that gel up quite well with the matt black cushions.
You get a fair amount of room to rotate the earcups in different directions. For instance, if you only want to listen from one ear, the Mixcder E10 is flexible enough.
The adjustable metal headband also seems pretty smooth and durable. It quickly slides down to the desired length, and I didn't find it moving up or down when not desired. However, one downside of all the metal is the increased weight which some users may not prefer.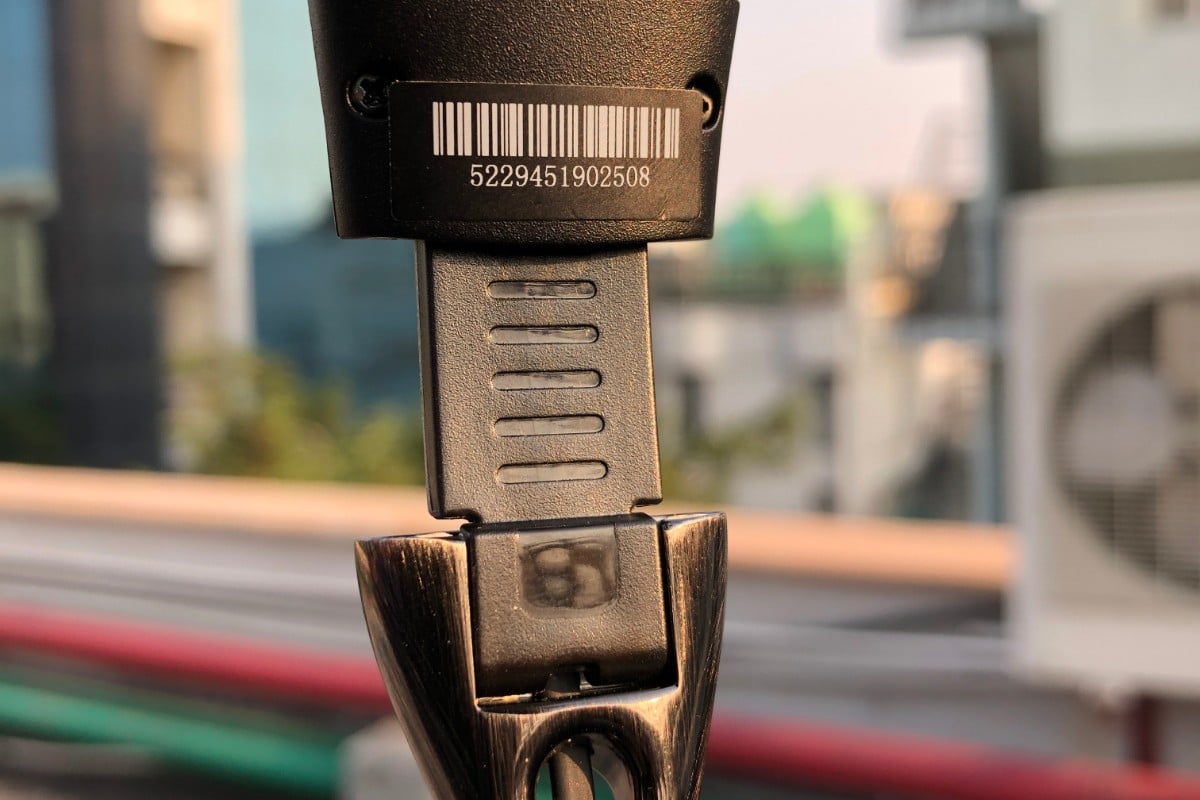 One thing that can affect my purchase decision is comfort. Here, a lot of it is offered by the memory foam present in the earcup cushions. While wearing the Mixcder E10 for around 4 to 5 hours per day, I didn't feel any irritation or pain because of the spectacle frame getting squeezed between my head and the earcup.
Although there's still a slight clamping pressure, that's acceptable. However, this experience varies from person to person.
Now, if you're in the mood of banging your head on some heavy metal or dance like a maniac, the earcups wouldn't take much time to get displaced from their position. Here, I noticed that tilting your head sideways doesn't displace the headphones, but quickly turning your head right and left does.
Connectivity and Battery life
Mixcder E10 packs a Bluetooth 5.0 radio inside, which makes pairing and reconnection a breeze. It adds support for the aptX-LL audio codec to achieve an on-paper latency of 40ms.
The Bluetooth headphone pair comes with a decent range and I was able to walk up to 25-feet distance approx. in a clear line of sight before the audio started to drop.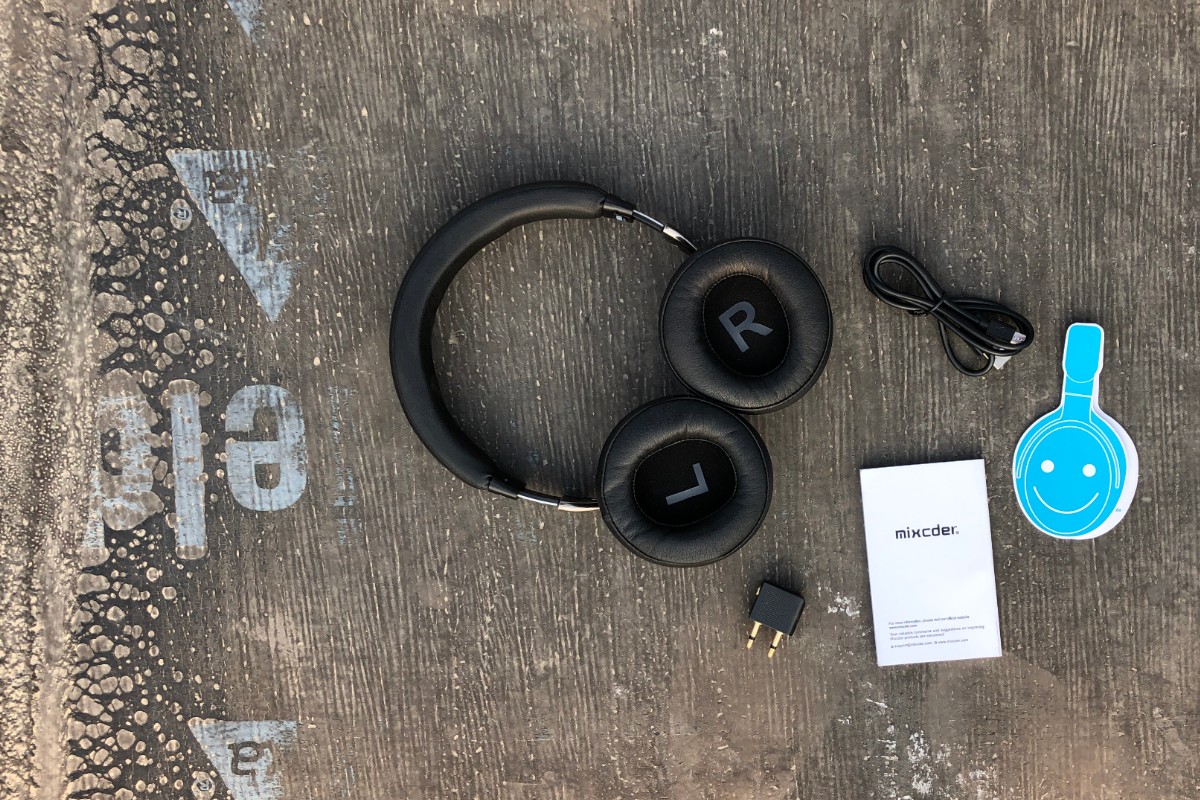 Additionally, the supplied 3.5mm cable is fairly long enough, and you won't face problems if you want to hook it to the back of your desktop PC.
Speaking of the battery backup, it feels good when your Bluetooth headphones don't beg you for charge even after four days of regular usage. The 500-mAh battery promises to keep the Mixcder E10 running for a whopping 30 hours and takes about an hour to charge fully.
Then there is fast charging support that gives you around 3 hours of juice after 10 minutes of charging. So, practically, you can live for more than a week on just a single charge.
Sound and Active Noise Cancellation
Mixcder E10 try to please your ears with a 40mm Neodymium Iron Boron sound driver in each earcup. These dynamic sound drivers promise a low latency of 34ms on the spec sheet. On the software side, there is support for AAC, aptX, and aptX Low latency for improved sound quality at a distance.
In the real world, this pair of wireless headphones sound impressive, especially when considering they fall in the budget segment. During my experience, the Mixcder E10 was able to separate the sound of different music instruments quite well, which I guess is a plus point in the sound department.
The bass is thumpy enough, and you'll enjoy different variations with ease. But one would still realize that an extra punch is missing in the picture. So, it may not be an ideal choice for those looking for an extremely bassy pair.
Performance-wise there doesn't seem to be any noticeable lag while watching movies. However, there seems to be some audio popping when the audio is played or paused.
It also happens when the headphones' voice feedback plays. It appears that something is getting activated and then deactivated during the process.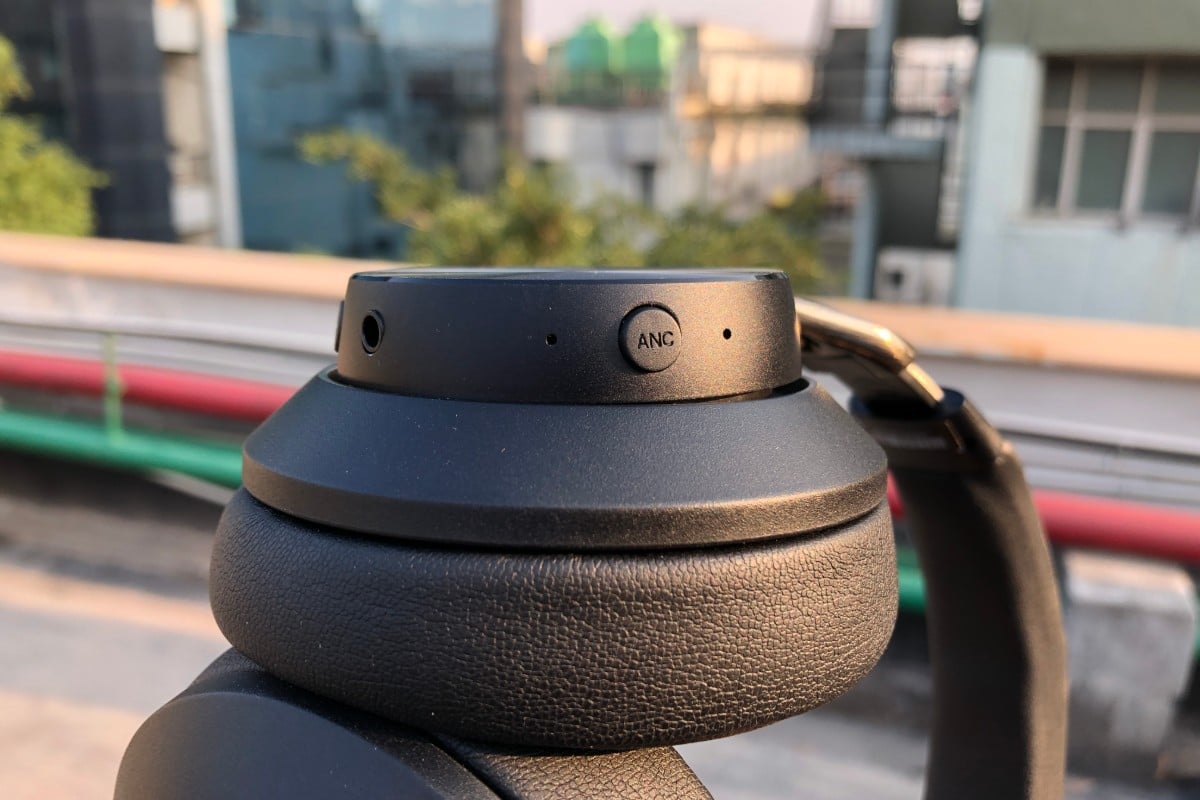 Speaking of the Active Noise Cancellation of Mixcder E10, the company promises to remove almost 96% of the ambient sound. For that, these wireless headphones use the ANC v4 chip and bunch of noise-canceling mics onboard.
When the ANC is enabled, there a little pressure felt in the ears. While it would be hard to spit an exact percentage, the ANC works just fine in various situations. For instance, it was able to kick out the noise of my desktop fan by a considerable margin.
One thing I noticed is the absence of extra crispiness and clarity in the audio when the ANC was enabled. But this thing makes only the slightest contribution to the overall listening experience.
Mixcder E10 seems to show a performance improvement when used in a wired configuration. It happened that I mostly went for the AUX cable when using them on my desktop.
In the wired mode, the sound gets amplified when you switch on the ANC but seems to take away some crispiness. One might feel some extra distortion or rattling if the bass is too deep. I didn't notice the audio pop issue that is present when Mixcder E10 is in Bluetooth mode.
What's missing?
The story seems to be good until now. But there are some things that I feel are missing or went wrong with this pair of wireless headphones.
Awkward placement of ANC button
The most irritating thing I find on the Mixcder E10 is the position of the ANC button. One has to rotate their hand in an awkward and uncomfortable manner in order to turn it on or off.
Adding to the pain is the fact that there is no noticeable indication or voice feedback when the noise cancellation is enabled or disabled. You'll be able to sense it by your ears, but not every time.
Yes, there is a blue LED light present, but you'll have to take off the headphones to see it unless you're sitting in front of a mirror.
Lack of voice feedback
The Mixcder E10 struggles quite a lot when it comes to voice feedback. It's only there when you turn it on or off and while pairing with a device.
There is no way you can know the battery level, except when it's about to die. You can still check the battery level on your phone, so that's a saver.
I am not expecting a full-blown voice assistant but I think there is a scope of improvement here.
Vintage USB connectivity
In the world of Type-C ports and wireless charging, Mixcder E10 is still sporting a micro-USB port for charging. Although it does the job just fine, there is a separate cable that you need to carry while on the go.
Should you buy Mixcder E10?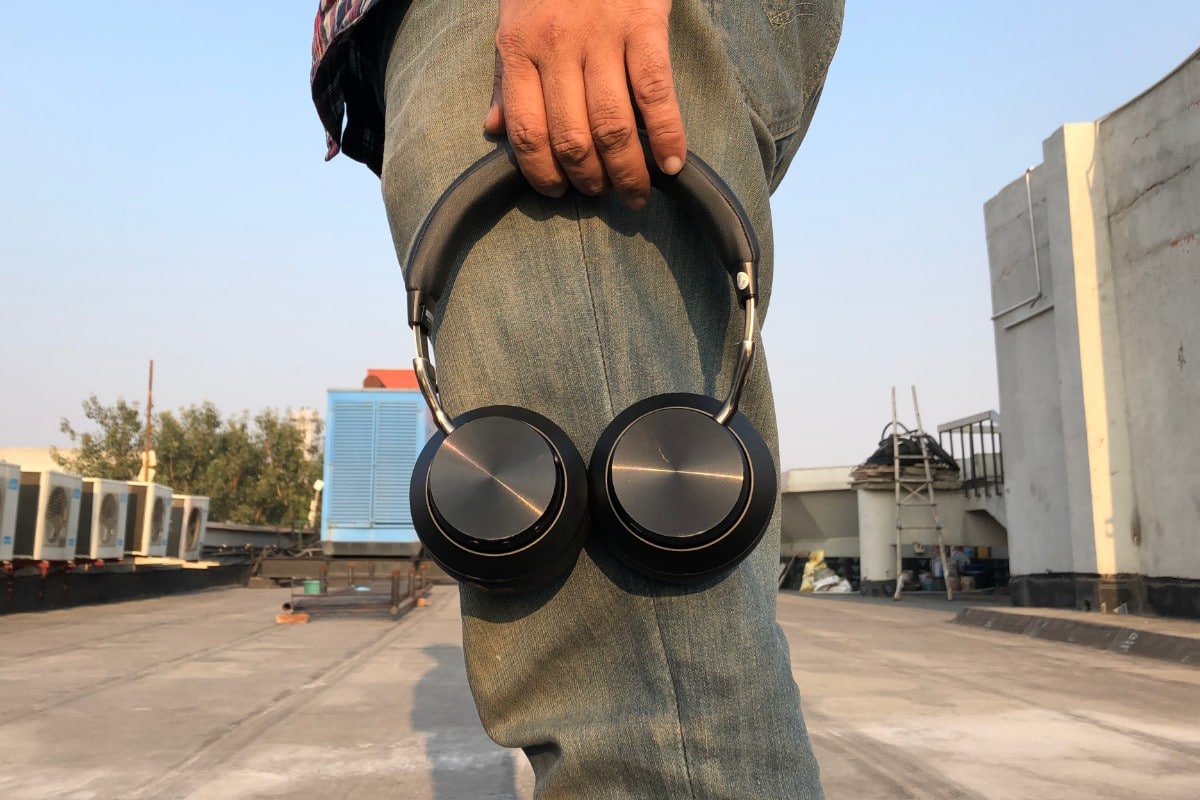 Mixcder E10 wireless headphones provide almost everything that an everyday consumer would want. With great sound quality and a fair amount of bass, this pair lets you enjoy movies or binge-listen to podcasts on the go. Also, you're getting the comfort of the memory foam.
Of course, there are some downsides and it may not be on par with premium headphones in terms of features and wearing comfort. But the Mixcder E10 headphones come with a price of $89.99 on Amazon that makes them a great deal.
Our readers can use the coupon code (MIXCDER10) to avail of an extra discount on the wireless headphones. It's valid until May 31, 2020, so you have ample to make your decision.