After the two years of trials and previews, Microsoft has now announced the general availability of its fully secure IoT solution, Azure Sphere.
Azure Sphere is a complete application platform, which was launched by Microsoft in 2018 to provide full-fledged security. The platform comprises the power of Microsoft's own Linux-based OS, connected MCU and cloud-based security services.
What Does Microsoft's Azure Sphere Offer?
With the rise of hardware devices connected to the internet, millions of IoTs exposed to cyber-attacks. As these devices connect to our daily life, it becomes more important to add more security to restrict its adverse effects on our personal lives.
For the same reason, Azure Sphere helps to set up secure and scalable internet-connected devices for all sizes of organizations with minimal security risks such as spoofing, DDOS, etc.
Cloud services and integrated microcontroller units enable automatic software and OS updates to the deployed devices with real-time processing capabilities.
To add high-level security, Microsoft has designed the Azure Sphere platform based on the seven features that any device requires to remain secure.
Azure Sphere Platform Composition
The component of any platform plays a crucial role to form the basis of services it could offer. And if we talk about the Azure Sphere, Microsoft is more relying upon its own developed hardware and software rather than choosing already existing elements.
Azure Sphere consists of the highly customizable Linux-based Azure Sphere OS, Azure Sphere certified microcontroller chips MediaTek 3620 and cloud-based security services.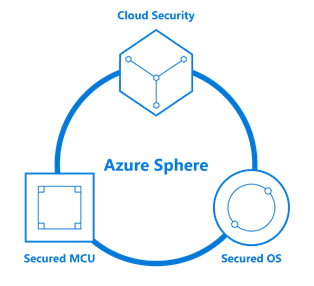 Also, for continuous security and other updates, the Azure Sphere team includes automatic installation and updates of the operating system.