CCleaner is one of the most popular apps to declutter and clear invalid Windows Registry entries in the Windows operating system. As per a report from 2017, CCleaner has more than 2 billion downloads worldwide. However, now, Microsoft has started detecting the popular Windows optimization app as a "Potentially Unwanted App" in Microsoft Defender.
The optimization software/app has been through a tough journey since 2017 when Avast purchased Piriform, the company behind CCleaner. Notably, in 2019, Microsoft banned CCleaner on the Microsoft Community Forum briefly as it considers the functioning of the app rather obsolete as the operating system already comes with features offered by the app.
In a threat entry issued by Microsoft two days ago, CCleaner has been tagged as PUA:Win32/CCleaner threat. No additional information has been divulged by the Redmond company for the ban.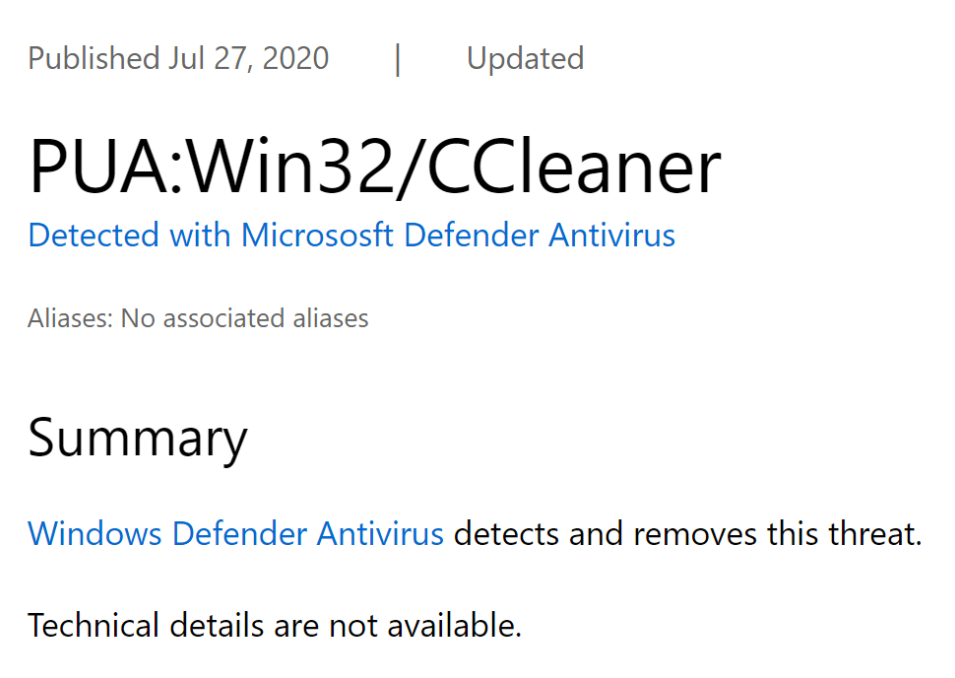 Speaking to Bleeping Computer, Microsoft has said that the ban is applicable only to free version of the app as it is bundling "other" software and this goes against the regulations of the company.
Piriform, on the other hand, has said that this is a "false positive" and they are working with Microsoft to resolve the issue.
Meanwhile, Microsoft says, "Our potentially unwanted application protection aims to safeguard user productivity. We detect instances anytime software offers to install other software that is not developed by the same entity or not required for the software to run, no matter the third party."
In a support document from 2018, Microsoft has mentioned that software or apps that intend to modify registry entries could affect the stability of the operating system.
Nonetheless, CCleaner is now a 'Potentially Unwanted App' from Microsoft's end and therefore, it would be unsafe to use it further.