Short Bytes: Microsoft has released another AI chatbot. Named Ruuh, this chatbot is only available for English speakers in India. Ruuh's interests are chatting, music, Bollywood, humor, travel, and browsing internet. It looks like Ruuh chatbot is a part of Microsoft's initiative to create text messaging bots for young users in urban India.
M
icrosoft loves AI chatbots, there's no doubt about that. The company is here with a new chatbot,
named Ruuh
, which is created for the English speakers in India. First spotted by
ZDNet
, this bot was launched on February 7. The company filed for a trademark for Ruuh a week later.
Ruuh's Facebook page describes itself as a "desi AI" that never stops talking. It's a chatbot created for entertainment purposes, the page adds.
The personal interests of Ruuh chatbot include chatting, Bollywood, music, humour, travel & browsing internet. We hope that Ruuh doesn't turn out to be rogue, just like Microsoft's previous "racist" chatbot Tay.ai. It looks like Microsoft is playing safe and inviting users to "not rely on her statements as advice, counseling or endorsements."
I tried the Ruuh chatbot myself, and you can also do the same. All you need to do is visit this URL and chat with Ruuh chatbot on Facebook Messenger.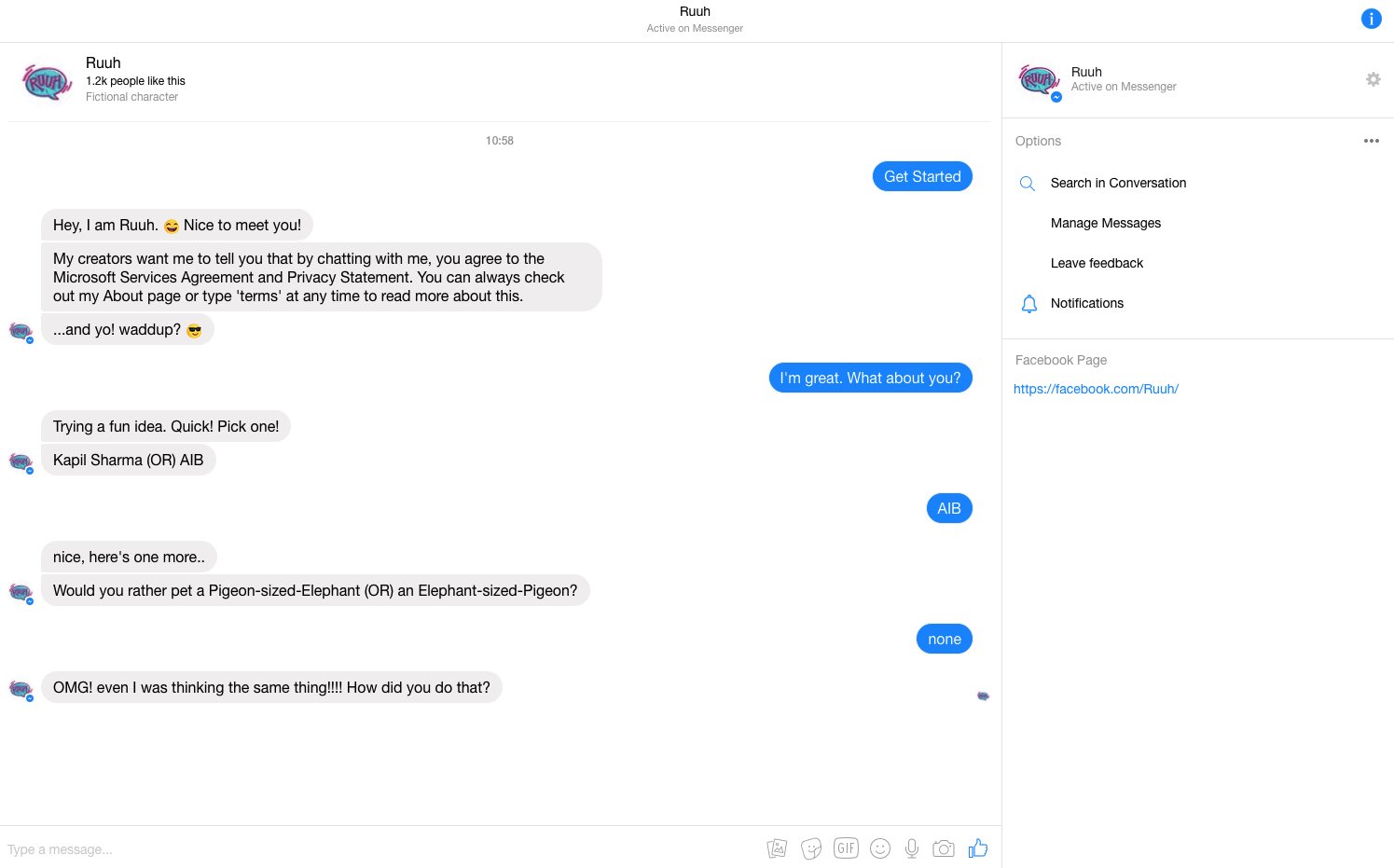 In the past, Microsoft has repeatedly stressed on the importance of personal interactions that users are seeking with a chatbot. Microsoft has even created a dedicated page on its website for text messaging chatbots focused on India.
Did you try out Ruuh chatbot on Messenger? Don't forget to share your views.