Microsoft is making big changes to the Windows Insider program in an attempt to streamline things across different platforms. As per the new changes, Windows 10 Insider 'Rings' are now called 'Channels.'
Microsoft already uses a similar naming scheme for Edge Insider builds and also for the Office Insider program. For example, daily Edge builds are released under Canary Channel and weekly builds under Dev Channel. Meanwhile, the publicly-oriented Beta Channel pushes for a new Microsoft Edge build every six months.
Now, in the case of the Windows Insider program, here is how the builds will be referred:
Fast Ring + Skip Ahead > Dev Channel
Slow Ring > Beta Channel
Release Preview Ring > Release Preview Channel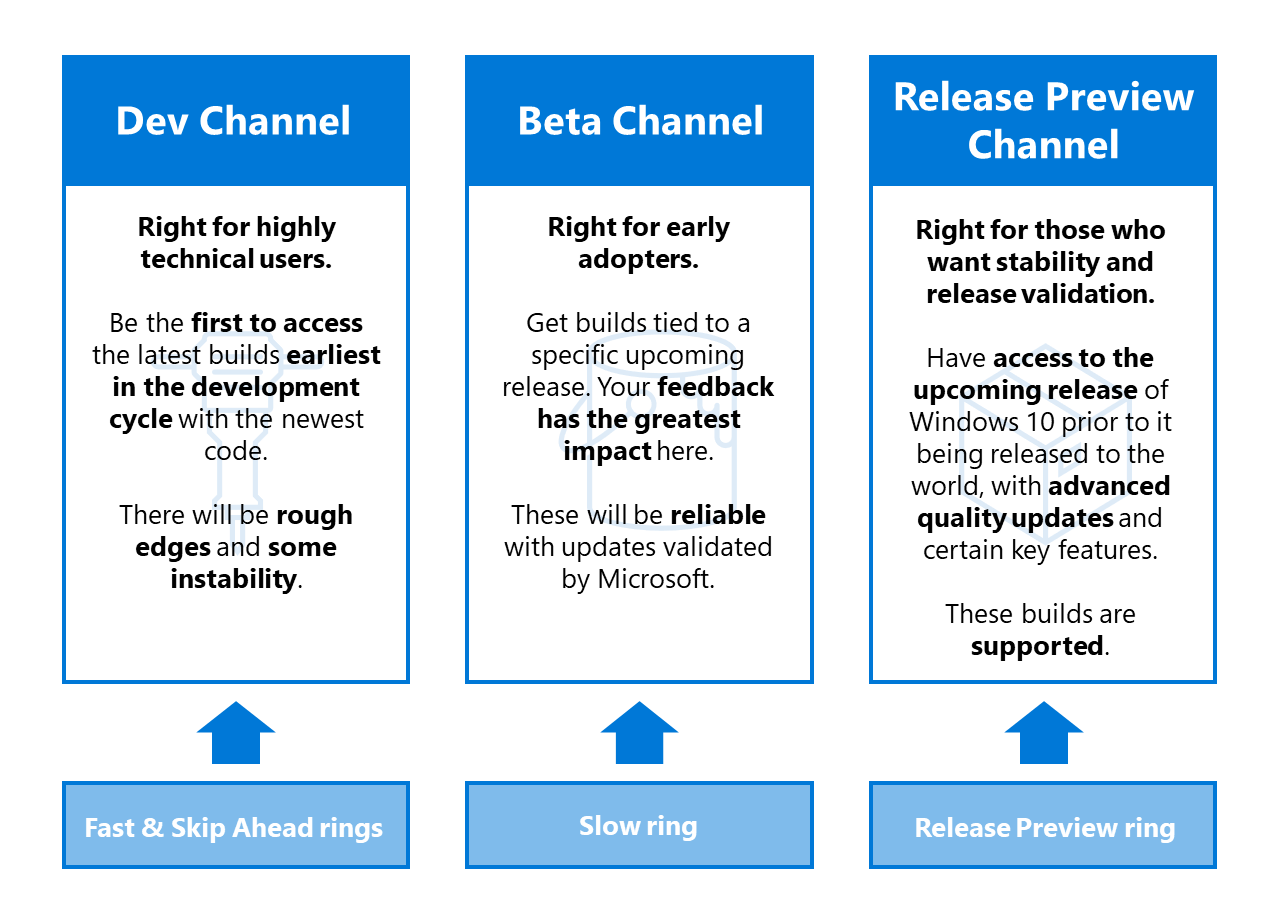 Of course, in the case of Windows 10, it's not possible to release daily builds as downloading and installing them would be a task in itself, so no Canary here.
However, one difference to note is that the older Ring model focuses on the frequency of builds, while the newer one will focus on the quality.
That's why the new naming scheme makes much sense as the Slow Ring builds are reasonably stable and might improve further. These are released once a month and can be used as a daily driver by enthusiasts who won't mind some minor issues popping up.
Overall, Microsoft is trying to clear the mess that was automatically created over the last few years. At one time, the company was releasing 20H1, 19H2, and 19H1 builds at the same time via different rings.
Last year, it started routing all 20H1 builds through the Fast ring, and the 19H2 builds through the Slow Ring. It was a move to reduce clutter, and 20H1 builds were shifted to Slow ring in late 2019.
What does the new 'Windows Insider Channels' mean?
One of the changes I noticed a while ago was that Microsoft had stopped adding Windows 10 release names (e.g., 21H1) to new builds released under the Fast Ring.
The company has now confirmed that Dev Channel builds won't be tied to a specific Windows 10 release. The new features, tested as part of Dev Channel, will be rolled out to the public when they're ready.
On the other hand, the features that are part of Beta Channel builds can be tied to a particular Windows 10 release just like before. So, in other words, if a feature ends up on the Beta Channel, it'll mostly be present in the next feature update.
The Release Preview Channel still remains an option for early adopters who want to try out the new features but without the hassle of heavy bugs and crashes. These builds will be supported by Microsoft.
Anyway, if you're already a Windows Insider, Microsoft will automatically migrate your PC to the respective Insider channel.