Cortana, the digital assistant from Microsoft isn't as popular as other digital assistants like Google Assistant, Siri, and Bixby among mobile users and Microsoft is aware of this. The Windows-maker company has today confirmed that it will remove Cortana digital assistant from Android and iOS devices on January 31, 2020.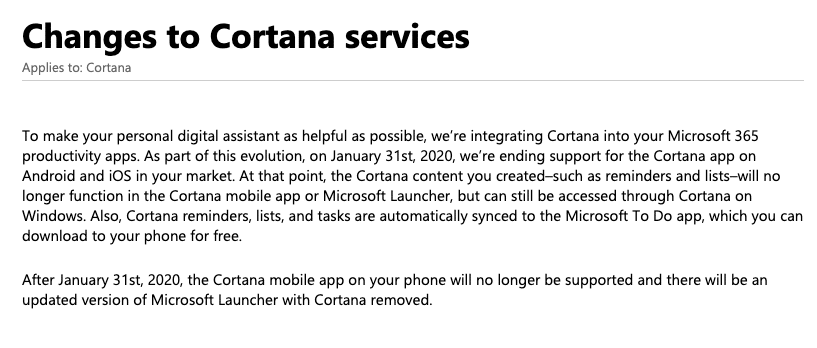 In a support document, Microsoft says that the Cortana app in Android and iOS devices won't be functional after January 31, 2020 in certain regions. The Cortana experience in the Microsoft launcher will also cease to function.
However, Microsoft hasn't confirmed the regions for which it is bringing these changes. However, the support document was found on Microsoft Canada, Microsoft UK, and Microsoft Australia's website. It is still not confirmed whether or not the Cortana app will be available in the US.
All the content created by users in the Cortana app including reminders and to-do-lists won't be accessible in the Cortana app in Android and iOS. However, users can access the content in the Windows app of Cortana.
To clear the air, Microsoft isn't removing the Cortana digital assistant from the Windows platform.
Microsoft will roll out an update on January 31, 2020, that will remove the Cortana app from mobile platforms.
The news that Cortana is departing from Android and iOS is a setback for those who were trying to adopt the Microsoft ecosystem.
What are your thoughts on Microsoft's decision to remove Cortana from Android and iOS?