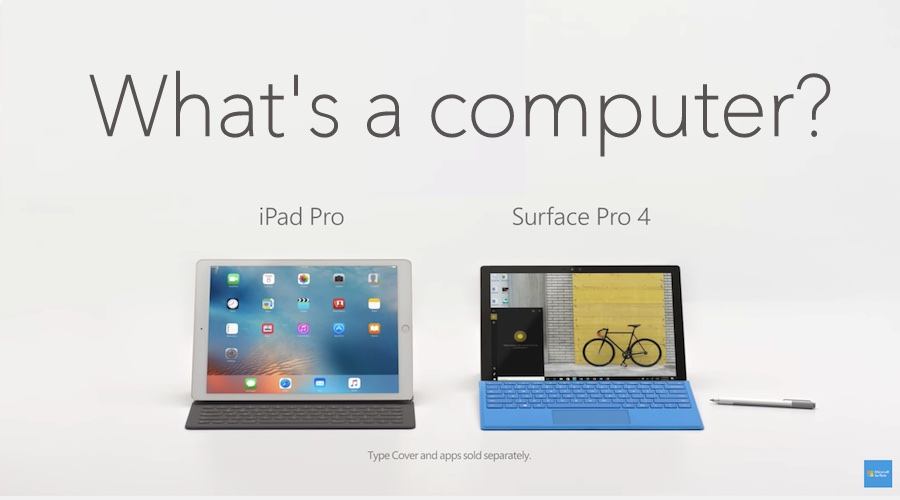 Short Bytes: In a new advertisement, Microsoft has made fun of Apple's claim that iPad Pro is a real computer. Microsoft called Apple out on iPad Pro's incompetence to run desktop apps and support USB devices. Looking at the devices offered by both the companies, at the moment, Microsoft Surface looks like a better "computer".
B
ack in 2012, Apple CEO Tim Cook poked fun at Microsoft's Surface tablet and called it "a fairly compromised, confusing product". His other Apple colleagues thought that putting a keyboard on a tablet was like combining "a toaster and a refrigerator." Well, things change with time.
Now, Apple is itself very much interested in the same business and working hard to push the sales of its iPad Pro. It's so much engrossed in marketing iPad Pro as a computer that it has forgotten its real computer offering Apple MacBook Pro.
In an ad that people are calling silly, Apple recently implied that iPad is a complete replacement of a real computer. Given the current state of iPad Pro that comes with its mobile iOS operating system, this claim sounds childish. If you've missed the ad, here it is:
https://youtu.be/1zPYW6Ipgok
Now, poking fun at Apple's claim, Microsoft has refused to accept the same. Redmond's new Surface ad points out the problems faced by the iPad users who miss having USB port and not being able to run any desktop apps.
On the other hand, Microsoft's Surface is more like a real computer with a complete desktop operating system and powerful hardware support.
https://youtu.be/o_QWuyX8U18
Honestly, at the moment, if you want to do some real and serious work, Microsoft's Surface is a better choice. We are waiting for Apple's move because it's an argument that won't end here.
Did you find this story interesting? Don't forget to drop your feedback in the comments section below.
Also Read: Windows 10 vs. OS X: Here's How Microsoft Is Making Fun Of Apple In New Ads