Short Bytes: It looks like Microsoft is ready to make amends and introduce the option to pause Windows 10 automatic updates. A glimpse of this feature was seen in the recently leaked Windows 10 Insider Build 14997. However, as the leaked build was Enterprise SKU, we can't confirm that the Pause Updates feature will appear in Home or Pro SKUs.
W
henever a new Windows 10 Insider build is released or leaked, PC enthusiasts start digging the operating system for new and hidden features. The same happened after the recent leak of
Windows 10 Build 14779
, which has teased the possibility of an under-development
Game Mode in Windows 10
.
The same build has also indicated that Microsoft might resolve one of the biggest issues associated with Windows 10 operating system, i.e., forced and automatic Windows 10 updates.
While Microsoft's new "Windows as a Service" has allowed the users to grab the new features for free, it has broken hundreds of thousands of PCs. In the leaked Build 14997, Microsoft has added a new option to pause the Windows update.
In Windows 10 Creators Update, users will have the option to pause Windows updates for up to 35 days, which, in my opinion, is enough to know about the stability of the new update.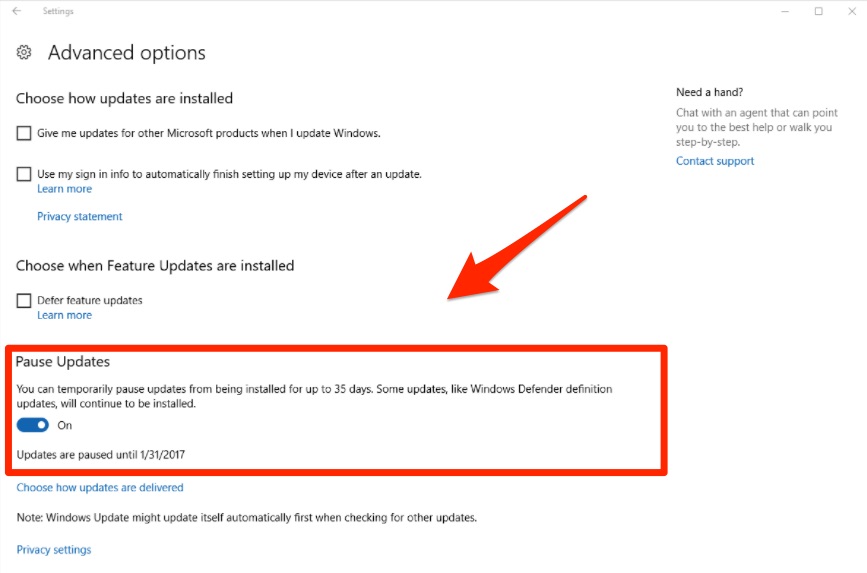 This change will leave the Windows Defender security updates unaffected. This shouldn't worry anybody as these updates don't play any part in deciding the OS stability.
However, one should also note that the leaked Build 14997 is actually an Enterprise SKU Build. So, we can't confirm if this feature will make an appearance in Pro or Home SKUs.
We'll be getting the confirmation in the upcoming Windows 10 Insider Builds which will be the pre-release versions of Windows 10 Creators Update.
We've contacted Microsoft for further information and confirmation on Pause Windows option and we'll be letting you know if we hear something back.
Did you find this Windows 10 update news interesting? Don't forget to drop your views and feedback in the comments section.