Short Bytes: Microsoft has made changes to their privacy statement, making the Windows 10 data collection process transparent. Windows 10 Creators update would allow users to choose from basic and full levels of data collection. In the basic level, they have made efforts to cut down the amount of collected data by around 50%.
T
he Creators Update would land on people's computers next week. But Microsoft wanted to garner some extra trust from its customers before they push their next big update on April 11.
Making changes to their privacy statement, Microsoft has made attempts to make the data collection process on Windows 10 more transparent. During the initial days of Windows 10, the company was criticized for unclear data collection process on Windows 10. However, they didn't turn a blind eye to people's concerns.
Users running the Creators Update would have more control over the data that is being collected from their machine. They would be able to choose from basic and full levels of data collection.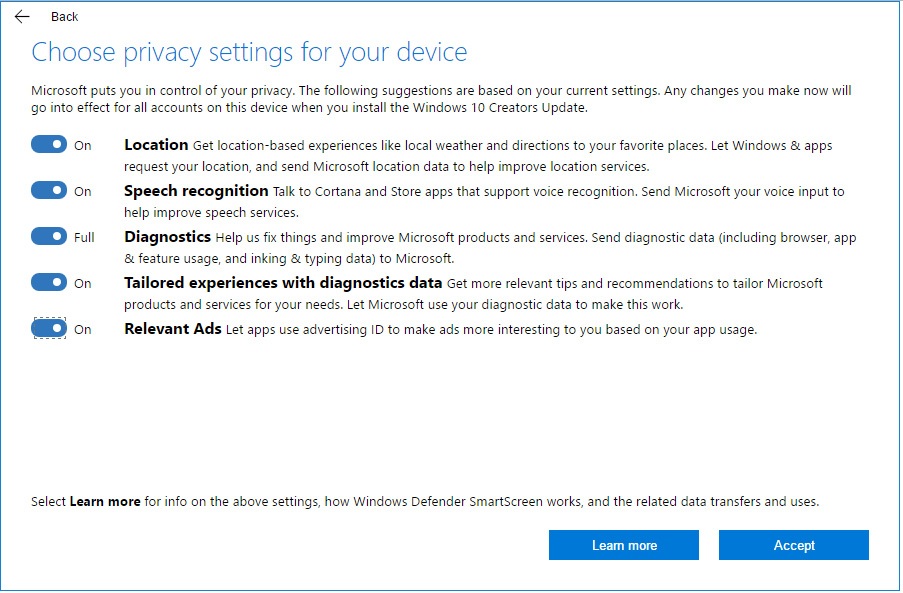 Basic level includes data such as device information, app compatibility, quality-related information, Windows Store, and security level information. Microsoft has detailed the data collection for both basic and full levels on the TechNet website.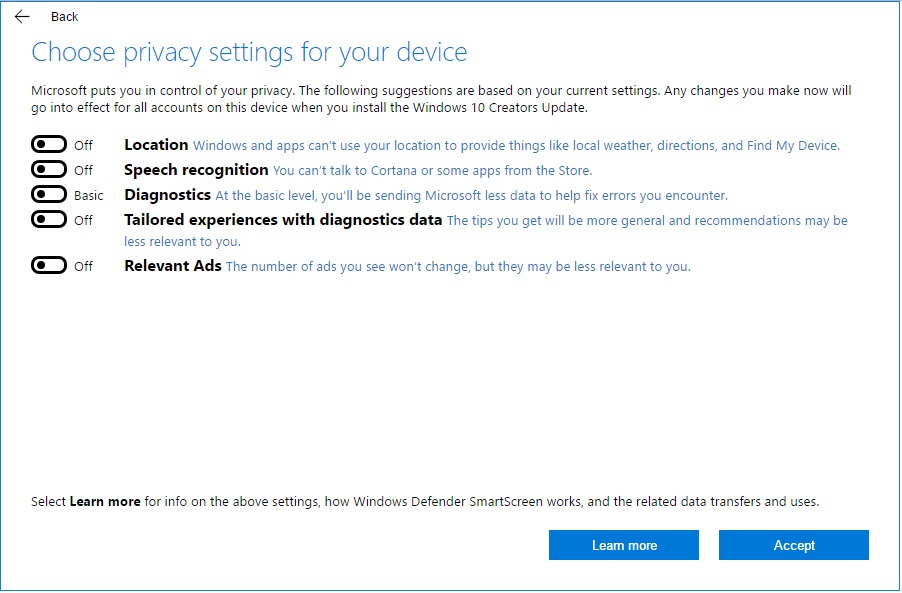 Basic level data collection is what Microsoft considers essential for keeping Windows 10 device secure and up to date. "For customers who choose the Full level, we use diagnostic data to improve Windows 10 for everyone and deliver more personalized experiences for you where you choose to let us do so," writes Terry Myerson in a blog post. They have also tried to cut the amount of data they collect in the basic level.
Microsoft might be trying to become the good guy, but the recent set of changes still not be able to put the users out of the situation of turmoil, whether to trust or not to trust. Last year, the EFF mentioned in a post that the user privacy is degrading as "Windows 10 sends an unprecedented amount of data back to Microsoft."
The company had announced the changes earlier this year but they were not able to convince the EU privacy protection watchdogs. Microsoft hopes such bodies would change their stance after the new changes get implemented. Microsoft's privacy officer Marisa Rogers said they want to make sure Windows 10 is compliant with the European Union's General Data Protection Regulation.
If you have something to add, drop your thoughts and feedback.