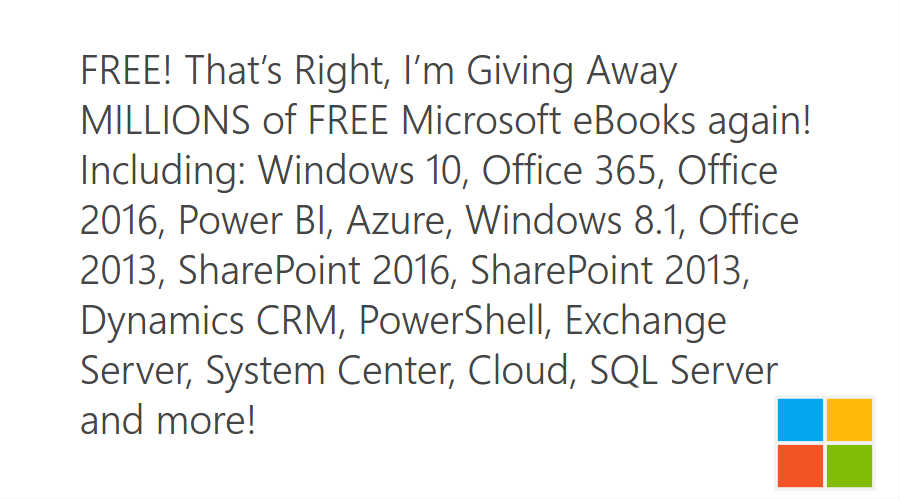 Microsoft's Director of Sales Excellence Eric Ligman has announced the FREE eBook giveaway for the year 2016 as a renewal of his annual free Microsoft Ebook giveaway extravaganza.
E
ric Ligman is providing
free eBook downloads
to the people who are Microsoft customers, partner, or the readers of Eric's blog. It means literally everyone on the internet.
This Microsoft's free eBook giveaway covers a plethora of topics. Take a look below:
Free Ebooks for Windows
Free Ebooks for Power BI
Free Ebooks for Azure
Free Ebooks for Office
Free Ebooks for Windows Server
Free Ebooks for SharePoint
Free Ebooks for Exchange Server
Free Ebooks for System Center
Free Ebooks for Dynamics
Free Ebooks for  SQL Server
Free Ebooks for Powershell
These Ebooks are available in various formats to suit your needs. You can download as many eBooks as you like and transfer them across your devices. There is no time limitation for the validity of these books downloaded from Microsoft's free eBook giveaway.
How to download all the eBooks using browser plug-in?
Once you are on Eric's blog, you'll see a green "Download All" button at the bottom. The button will take you to a 'how to' post where you will find ways to download all the eBooks at once. But there is a twist — Instead of giving a single zip file, Eric has put a list of download links to all the eBooks in a single .txt file. You'll have to use a browser plug-in to download these links.
You can also follow the long road by downloading all the books one by one. You can use a suitable browser extension or Internet Download Manager to download all these links.
Check out Eric's blog post to know more about the Microsoft's free eBook giveaway.
If you have something to add, tell us in the comments below.
Also Read: How To Use Windows 10 For Free Even If You Don't Have Windows 7 Or 8.1?