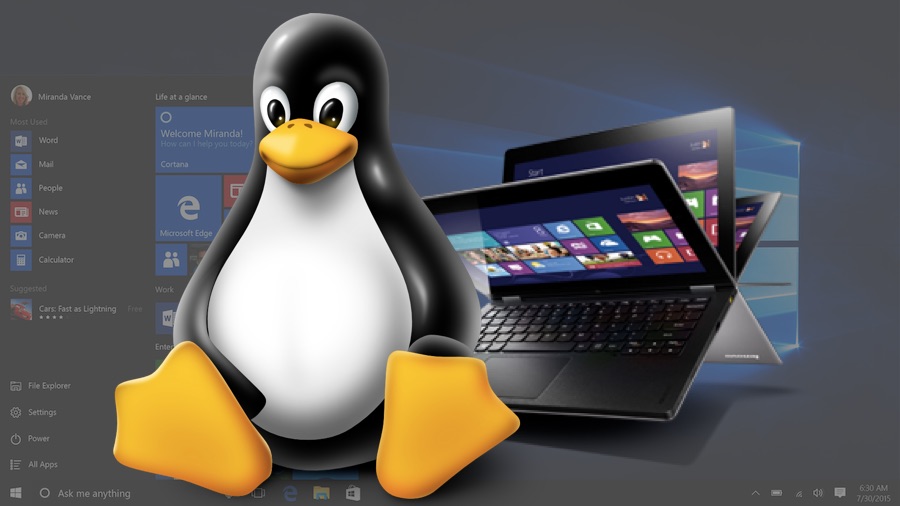 Short Bytes: Microsoft hates it when its customers wish to install Linux or other operating systems on its PCs. A Redditor has expressed concern over his inability to install Linux on a Yoga 900 ISK2 Ultrabook. Trying to justify this, Lenovo has said that Yoga 900 runs a Signature Edition of Windows 10 Home installed and it's locked per our agreement with Microsoft.
L
ast year, when Microsoft announced its latest operating system Windows 10, the open source enthusiasts felt a different kind of fear. There were reports that OEMs will be able to force-enable
UEFI Secure Boot
and only allow the users to boot Microsoft-approved operating systems on locked-down PCs.
For those who don't know, Secure Boot feature in the UEFI firmware checks the OS to ensure that they're signed by a digital signature. In the past, Microsoft already did this on devices like Surface and Surface 2. While Windows 8 allowed the users to disable Secure Boot and install other operating systems like Linux, Windows 10 is busy writing a different story.
A Microsoft customer has shared his concerns regarding his inability to install Linux on a Lenovo laptop running a Signature Edition of Windows. Before telling you more about this incident, let's answer your another probable query–What are Microsoft Signature Edition devices?
Microsoft calls these signature notebooks "tuned for performance" as they come without any third-party junkware or trialware. You can compare it with Motorola's smartphones that promise to deliver pure Android experience.
Now, it looks like some manufacturers like Lenovo have decided to remove user-configuration toggle to disable Secure Boot.
As mentioned above, a Microsoft customer posted his concern on Reddit — "Warning: Microsoft Signature PC program now requires that you can't run Linux. Lenovo's recent Ultrabooks among affected systems."
When Redditor BaronHK complained in Best Buy review section about why Yoga 900 ISK2 Ultrabook has been set to stop people from using Linux, here's what a Lenovo Product Expert replied:
"This system has a Signature Edition of Windows 10 Home installed. It is locked per our agreement with Microsoft."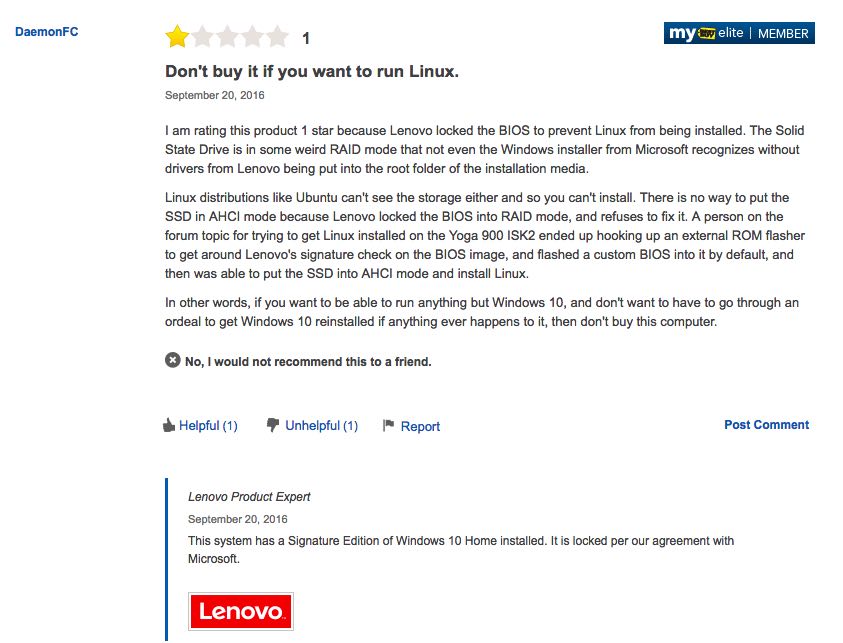 While on the previous occasions Microsoft hasn't mentioned that "banning" Linux on Signature PCs is a requirement, this official reply from Lenovo tells another story. BaronHK adds, "Yoga 900 ISK2 at Best Buy is not labeled as a Signature Edition PC, but apparently it is one, and Lenovo's agreement with Microsoft includes making sure Linux can't be installed."
Redditor also points out that people have been discussing on Lenovo forums about "why the SSD is locked in a proprietary RAID mode that Linux doesn't understand". But, recently, a Lenovo employee has locked the thread about BIOS issue to avoid embarrassment.
So, what does all this mean? Does Microsoft really love Linux, or it's just Lenovo's nuisance?
I've reached out to Microsoft and Lenovo support, and will update the post if I get some clarification.
Update: September 22
Explaining the situation, here's what a Microsoft spokesperson told fossBytes:
Lenovo recently adopted RAID on SSDs in certain product configurations, which require additional steps to support all system features. More information can be found on their support page; https://support.lenovo.com/us/en/documents/pd031426. Recent claims about software installation issues related to Microsoft Signature are inaccurate
Regarding the same situation, in another email, here's what Lenovo said:
Lenovo, as always, is focused on bringing value to the PC user, and creating unique and innovative form factors such as Yoga. Our consumer Windows PCs are specifically designed for and extensively tested on Windows 10. Yoga 900/900S with their 360-degree hinges are specifically designed to maximize the touch functionality of Windows 10. Our Yoga design requires very specific, complex and unique drivers that require even greater amounts of testing, to ensure class-leading performance with Windows 10. To support our Yoga products and our industry-leading 360-hinge design in the best way possible we have used a storage controller mode that is unfortunately not supported by Linux and as a result, does not allow Linux to be installed. Beyond the controller setup limitation, other advanced capabilities of the Yoga design would likely not work with current Linux offerings.
Lenovo does not intentionally block customers using other operating systems such as Linux on Yoga or any of its devices and is fully committed to providing Linux certifications and installation guidance on a wide range of suitable products.