Short Bytes: We've been reading about Microsoft's policy changes that said that the company would stop supporting Windows 7 and 8.1 on newer CPUs. Well, it's now a reality, and the company has started blocking updates for Windows 7 and 8.1 PCs. While Windows 7 is on extended support since 2015, Windows 8.1 is still in the mainstream support period.
J
ust recently, Microsoft
ended its support for Windows Vista
operating system. Given the bad reputation of Vista, this development didn't hurt many people. But, you'll be surprised to know that Microsoft is blocking updates on comparatively newer operating systems like Windows 7 and 8.1.
To me it wasn't shocking, it was just a matter of time. In the past, Microsoft had iterated a couple of times that future AMD and Intel processors won't be supported on Windows 7 and 8.1.
The users of new processors running older Windows are reporting that they are no longer supported and their systems aren't getting updates. Here's the message that users are seeing: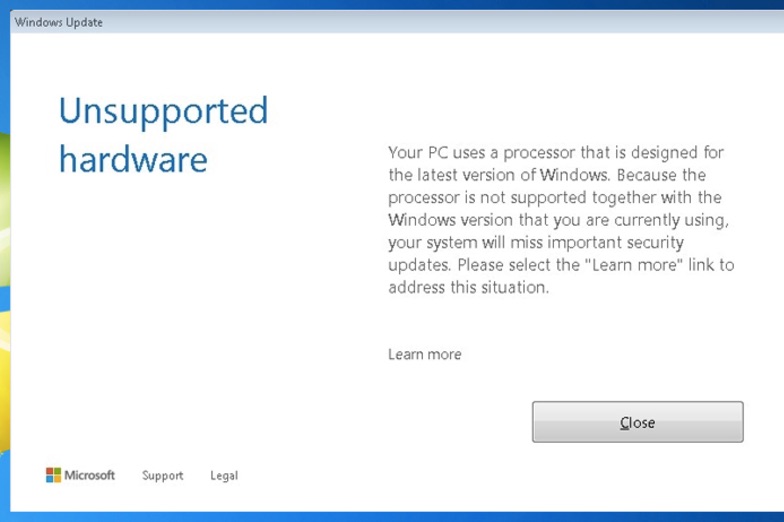 As a result, Intel's Kaby Lake and AMD's Ryzen processors (and the upcoming ones) would only be supported by Windows 10. In case of Intel Skylake, Microsoft has a confusing policy which states that some Skylake systems will continue to be supported in Windows 7 and 8.1.
Just in case you're wondering why Microsoft is taking this step, the company argues that new CPUs has some new capabilities and hardware that are incompatible with the older operating systems.
It should be noted that while Windows 7 is in extended support since 2015, Windows 8.1 is still in mainstream support. So, Windows 8.1 should get all the security updates as well as functional improvements. As Ars Technica points out, it looks like Microsoft's mainstream support promise has no real meaning.
It can also be seen as an exercise to make sure that all the new PC buyers run Windows 10 on the freshly baked CPUs from AMD and Intel. Everything's understandable, but Microsoft should've extended the new processor support for Windows 8.1 throughout the main support period.
What are your opinions regarding this development? Don't forget to share your views with us.