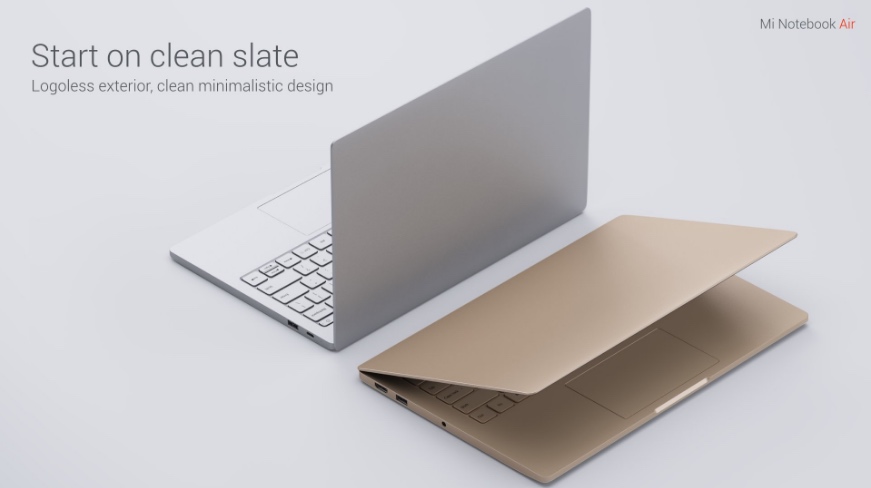 Short Bytes: The Apple of China (Xiaomi) has finally created the Macbook Air clone i.e. Mi Notebook Air. The $750 device is a doppelganger of Apple's Macbook Air but leads the race in terms of thinness and price.
X
iaomi, the company behind the Mi phones, has been enthusiastically tweeting about the launch of Mi Notebook Air, Xiaomi's $750 laptop to take on the market supremacy of Apple's MacBook Air. The Mi Notebook Air has been in rumor clouds since the last year. Speculations were made that a
Windows
or a
Linux
version of the laptop would arrive in the future. The future is the present now and the Mi Notebook Air is ruling the internet search results.
Mi Notebook Air Variants
Just like the Macbook Air, the Mi Notebook Air also comes in two variants of differing display sizes. There is a 13.3 inch and a 12.5 inch Notebook Air. Both machines feature an aluminum chassis without any logo on the exterior body, a 1080p display, a backlit keyboard, dolby digital surround sound and a type-C charging port.
You can unlock your Mi Notebook Air without typing any passwords with your Mi Band 2 (if you have one) and in the OS department, the closed-source Windows 10 has been selected by Xiaomi.
Introducing #MiNotebookAir, ultra performance in an ultra-light package pic.twitter.com/ejnYM8OpAV

— Xiaomi (@Xiaomi) July 27, 2016
Specifications for the 13.3inch Mi Notebook Air:
Intel Core i5 6200U with clock rate up to 2.7 GHz
8 gigs of DDR4 memory
256 gigs of SSD storage
Nvidia GeForce 940MX GPU (1 gigs of GDDR5 video memory)
9.5 hours of uptime provided by a 40Wh battery. 30 minutes to charge battery up to 50 percent
Two USB 3.0 ports, one HDMI port, and one 3.5mm audio/mic port
Weighs 1.28 kilos and 13 percent thinner than the 13inch MacBook Air
Price – $750 (converted from 4,999 yuan)
Specifications for 12.5inch Mi Notebook Air:
Intel Core M3 6Y30 with clock rate up to 2.2 GHz
4 gigs of memory
128 gigs of SSD storage
No discrete graphics
11.5 hours of uptime
One USB 3.0 port, one HDMI port, and one audio/mic port
Weighs 1.07kg
Price – $525 (converted from 3,499 yuan)
The Mi Notebook Air was uncovered during a product launch event by Xiaomi at the China National Convention Center in Bejing. The new Redmi Pro featuring dual cameras was also launched alongside the Notebook
According to the news from CNET, the sale of the new Mi Notebook Air will be confined to the Chinese market only. So, you can only day dream about getting hands on this neat and clean Chinese brother of MacBook Air.
This new entrant under Xioami's roof will definitely fill the position of a promising computer device putting Xiaomi in direct competition with the Cupertino. Just like Apple, Xioami has also created an ecosystem of products like Mi smartphones, tablets, routers, power banks. In fact, Xiaomi went further to create smart weighing scales, air purifiers, and even products like suitcases and key chains.
We hope Xiaomi would make an international release of the Mi Notebook Air. However, the company does have a history of teasing potential buyers of their products. You are very well aware of the flash sales, don't you?
If you have something to add, tell us in the comments below.
Also Read: Mother Of Graphics Cards: AMD Radeon Pro SSG With 1000GB SSD Storage
via Mi.com