Ever thought of a device that fit in for all and help us in measuring and monitoring daily activities? Guess what, the device has arrived and it is called MetaWear Coin. It's is a tiny, coin-cell powered, Bluetooth Sensor Platform with an SDK, used to develop Smart & Connected Wearable products.
M
etaWear Coin is developed by a team of renegade engineers who wanted to change the world of Bluetooth. This highly integrated platform includes wireless hardware that is loaded with sensors, a simple and functional case, easy to use SDKs, lots of open source code and sample mobile Apps to get you started.
Who Can Use MetaWear Coin?
Anyone and I'm serious. You tell the board what to do: read temperature data, log motion data, download log data in memory, sound an alarm when a button is pressed, adjust the volume of your Bluetooth speaker when the MetaWear is shaken, or anything else you can think of. Check out below uses cases to get a feel of MetaWear Coin and its awesomeness.
Here is an example showing how simple it is to turn on the LED on the board:
Here is a project on Github fitness tracker MetaWare that streamlined activity tracker created on the MetaWear platform. The app demonstrates use of several advanced functionalities in the platform including accelerometer data, data logging, data processing, Android API, and more.
Another great project built using MetaWare Coin is a Boxing and MMA Glove that tracks how hard you punch. It also helps you train as a fighter:
Features and Technical Specs:
The hardware features a temperature sensor, motion sensors, Bluetooth radio, push-button, LED and more, all compatible with MetaWear mobile SDK.
HARDWARE SPECS: 
Low power ARM SOC
256kB Flash, 16kB RAM
Smart and efficient Coin Cell battery circuit
GPIOs/SPI/I2C for adding your own sensor or LEDs
Smart sensors including motion (accelerometer) and temperature
Pre-loaded MetaWear firmware runs Bluetooth LE stack
Onboard LED
Simple Push-button
On-board memory for logging data
SENSOR SPECS:
BOSCH Accelerometer ±2 g, ±4 g, ±8 g, ±16 g: low-noise, 12-bit digital acceleration sensor with typical operation current consumption of only 15 μA
Temperature sensor (-40C to 85C) is an SMT thermistor with 1C accuracy and 0.125C resolution
FIRMWARE AND SOFTWARE SPECS: 
Android and iOS API (BLE compliant)
Easy to use data processing module
Data streaming capable
On-Device logging capable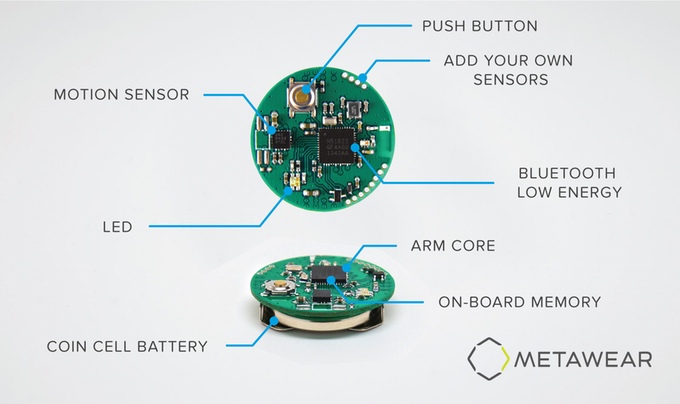 MetaWare Coin is currently running its Kickstarter campaign and you can pre-order the kit at $49.
What will you build with MetaWare coin if you get one? Tell us in comments. Stay tuned at fossBytes for more technical updates.
Also read: Google's Project Soli: A Tiny Radar That Controls Almost Anything