Just a month back, Marvel's Avengers released with massive fanfare and hype. But, all that interest seems to have worn out already as the game is now struggling to get enough active players on Steam.
To remedy this, developer Crystal Dynamics has announced that it is working to create fresh content for the superhero role-playing game. The content will drop in the form of free periodic updates.
Avengers Assemble But Players Do Not
According to the numbers on SteamCharts, Avengers has already suffered a big drop in active Steam players within a month of its release. The game currently averages a peak of around 2000 players at a time, which is 14 times worse than its all-time highest of 28,145.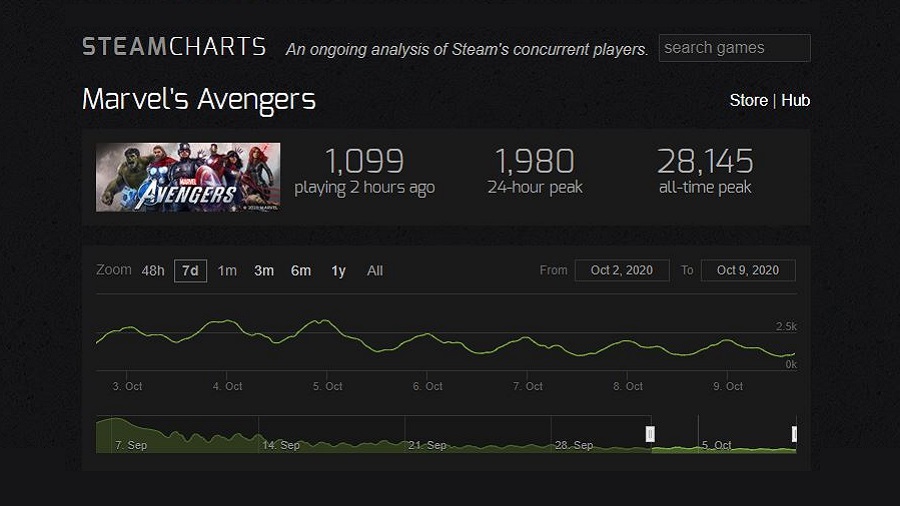 Keeping in mind that the game only came out last month, these numbers are hugely disappointing and something for the devs to work on.
The ridiculously low amount of active users translates into longer matchmaking duration for Avengers's co-op mode. If you didn't know, Marvel's Avengers' co-op multiplayer mode allows you to connect with up to four players and complete missions together.
Developer Crystal Dynamics Respond To This Avengers-level Threat
Reacting to the game's abysmal drop in popularity, devs at Crystal Dynamics reaffirmed their commitment towards bringing interesting post-launch updates to the game. Head of Studio Scot Amos, in an interview with Kotaku, said that he is confident that the new content will win back the retreating audiences on PC, PS4, and Xbox One.
Amos revealed that the development team is actively reviewing player feedback and striving to improve the game with time. He said, "We are making fixes, improvements, and additions as fast as we safely can to make Marvel's Avengers the game we all aspire it to be."
As for what exactly they're going to bring to the table, Amos confirmed that the game is soon going to receive two different versions of Hawkeye, a new Outpost, new missions Tachyon Rifts and AIM's Cloning Lab. A future update will also bring Spiderman as a playable character, exclusively for PS4.
Marvel's Avengers's current performance is not reflective of one of the most-awaited games of the year. However, free post-launch content gives Crystal Dynamics a shot at fixing this to a degree. Whether the players will "assemble" again or not, only time will tell.