Update: To break the surprise, Zuckerberg hosted a live session on his Facebook account and announced the new Portal smart displays.
This morning, Mark Zuckerberg, the founder of Facebook, posted that he was going on FB Live at 10 AM PT to announce some new products. It's been a while since Facebook has announced any new products of its own, so it will be exciting to see what will be revealed. This comes after Facebook launched its Ray-Ban smart glasses. The live event will be on September 21 at 10 AM PT/ 10:30 PM IST/ 1 PM ET.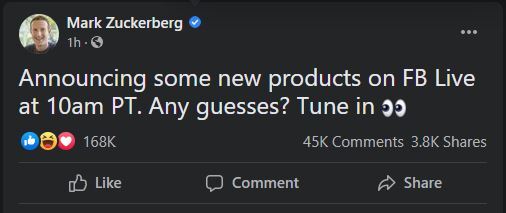 According to Zuckerburg, the reveal will not be about the Ray-Ban smart glasses. He comments that they are already announced and have started shipping. Another Facebook user commented, "Please don't use another spaceship or raffle to travel to space." To which Mark replies, "I can confirm that it is not a spaceship."
So it seems that space travel and smart glasses are out of the picture then. Beyond that, what new products can we expect to see from Facebook? Some hints may lie in Mark's previous comments on making Facebook a Metaverse company. So maybe something related to Oculus or VR might be on the cards.
Oculus Quest 3 and other VR products?
It can be speculated that Zuckerberg plans to announce a new VR/AR product during the FB Live. The company has already spent millions of dollars on VR/AR research. Usually, rumors start circulating about such big product launches just before the actual announcement. However, there haven't been any rumors regarding Oculus Quest 3 or any other kind of VR products as of late.
Seeing as the Oculus Quest 2 just launched last year to quite a bit of success, we probably won't be seeing its successor till 2022. However, Zuckerberg has previously confirmed that Quest 2 successor is already in development. Looking back, there is a gap of a year and a half between Oculus Quest and Oculus Quest 2. You can expect to see a similar pattern here.