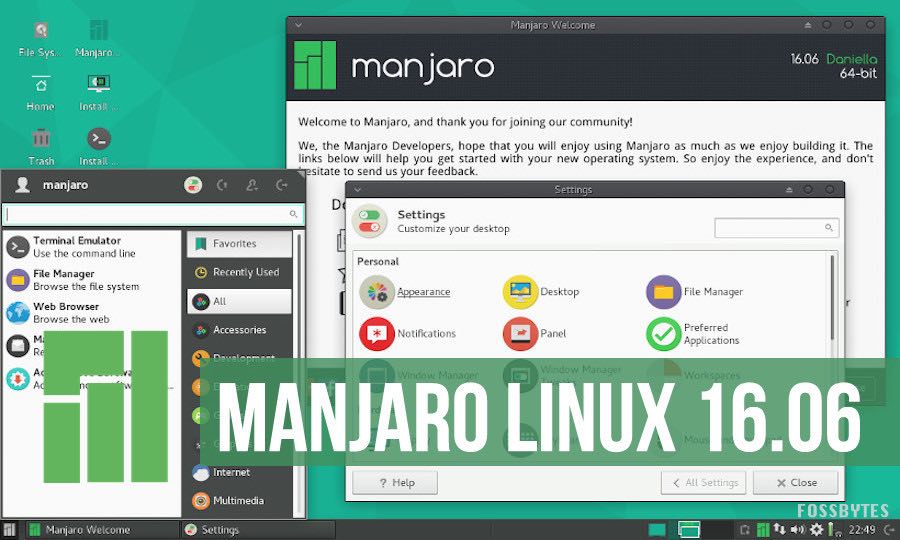 Short Bytes: The long-anticipated Manjaro Linux 16.06 'Daniella' is now available for download. This release has arrived with the latest Linux kernel 4.4 (and 10 other kernel options) and other new features. The flagship Xfce edition of community driven Manjaro Linux comes with Xfce 4.12, bringing more polished desktop experience.
L
ast week, we told you about
Manjaro Linux Gaming 16.06
that was supposed to release after the final and stable release of Manjaro Linux 16.06 'Daniella'. Well, the 16.06 version of Manjaro Linux is released and available for download.
Before diving into the details of Manjaro Linux 16.06, I would like to remind you that it's an attractive and easy-to-use Linux operating system. While Windows 10 is a great operating system for desktop users, if you want to move to Linux due to privacy issues, Manjaro is an excellent choice.
Manjaro Linux is a rolling Linux distribution, which means that it's continuously updated and all the changes are pushed as an update regularly.
It's based on Arch Linux and maintains its own repos. Manjaro aims to maintain the Arch base and its swiftness, combining the user-friendliness.
Manjaro team has released three versions of Manjaro Linux 16.06 — Xfce, KDE, and Net. The other flavors like Cinnamon, GNOME, LXDE, MATE etc. will be released soon as Community Editions.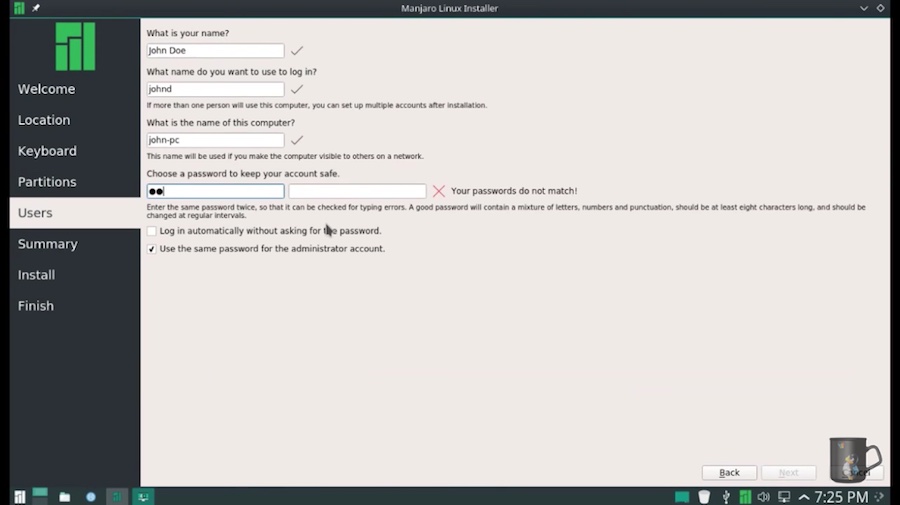 Major changes and features in Manjaro Linux 16.06 'Daniella'
Being the flagship edition, the Xfce version receives more attention in any Manjaro release. Manjaro promises to provide an integrated, attractive, and bleeding-edge Xfce experience unlike any other Linux distribution.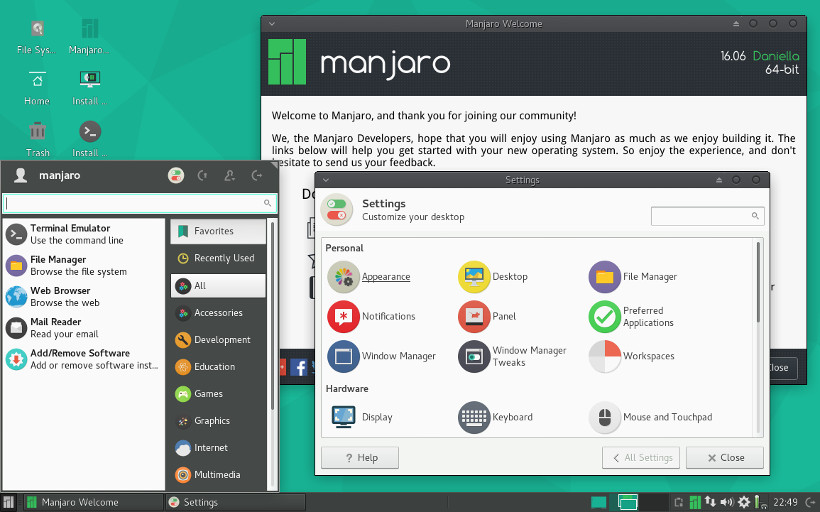 The latest release comes with Xfce 4.12. In the Xfce release, the desktop experience and window manager has been made more polished.
Moving ahead and coming to Manjaro Linux 16.06 KDE edition, this release continues to provide a powerful and feature-rich desktop experience. Combined with the new KDE-Apps 16.04, KDE edition ships with Plasma 5.6 desktop.
Here is a brief list of some of the major changes and features in Manjaro Linux 16.06:
The latest release arrives with Linux kernel 4.4 LTS.
One of Manjaro's distinctive features is the ability to easily switch between the different kernels. The Manjaro Settings Manager's GUI now makes it easier to install and remove different series of kernels.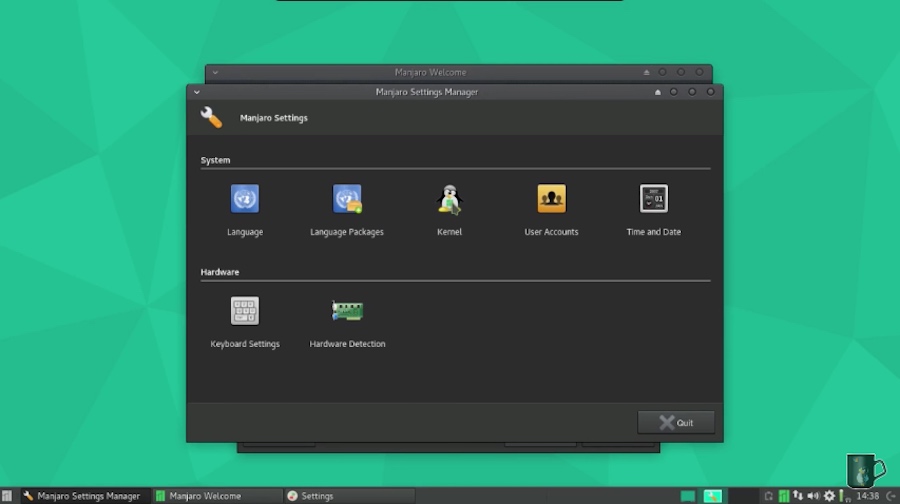 At this time, 11 kernel-series are available for use, ranging from 3.10 series to the latest 4.6 series.
A kcm module has been created to make Manjaro Settings Manager (MSM) a part of System Settings of Plasma 5.
The installation media has been made more polished with improved tools.
With the inclusion of Pamac 4.1, a shift has been made to CSD design.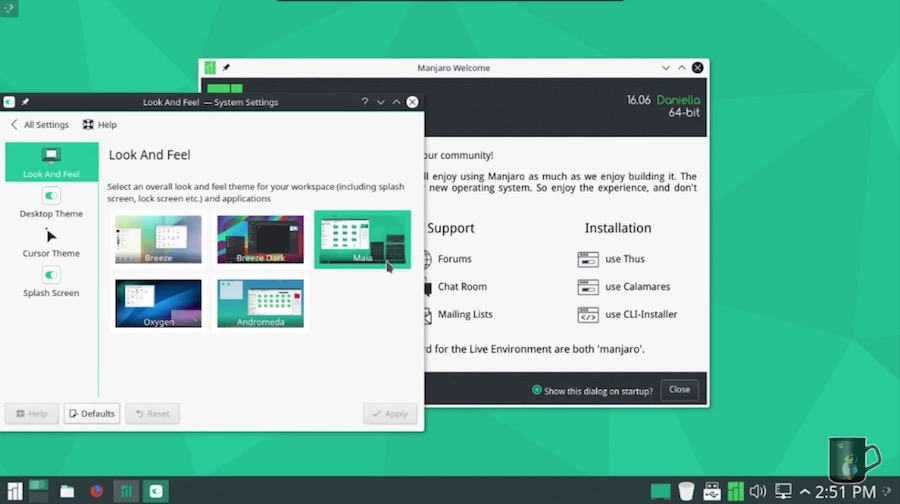 Here's the complete list of supported kernels at the moment:
Linux 3.10.101
Linux 3.12.59
Linux 3.14.71
Linux 3.16.35
Linux 3.18.33
Linux 3.19.8.22
Linux 4.1.24
Linux 4.2.8.11
Linux 4.4.12
Linux 4.5.6
Linux 4.6.1
Majaro Linux 16.06 Features Roundup Video:
Manjaro Linux 16.06 ISO and Torrent download links:
As said above, Manjaro Linux 16.06 is right now available for download in three versions. You can go ahead and download the ISO and Torrent files for Xfce, KDE, and Net editions.
Other community versions will be soon available for download.
Did you find this article helpful? Don't forget to drop your feedback in the comments section below.