Following last October's Manjaro 18.0 'Illyria' release, the developers of Manjaro Linux are here with the version 18.1, codenamed 'Juhraya.' As per the official announcement, the new release comes loaded with numerous improvements and bug fixes.
The 'Open' Office choice
In July, when Manjaro announced its plans to ditch the popular open-source office suite LibreOffice and adopt FreeOffice, the development team had to face widespread criticism. The criticism drew inspiration from the fact that FreeOffice isn't open source and is simply a free version of the premium office software suite by SoftMaker.
In response to the same, the Manjaro team clarified that it was an independent decision and no money was exchanged.
The team also changed their stance by letting the users choose between LibreOffice and FreeOffice during the installation process. As a result of this change, Manjaro 18.1 has become the first version to give users this choice. Now, during the installation itself, you'll be asked to choose the office suite. Alternatively, you can go without an office suite at all.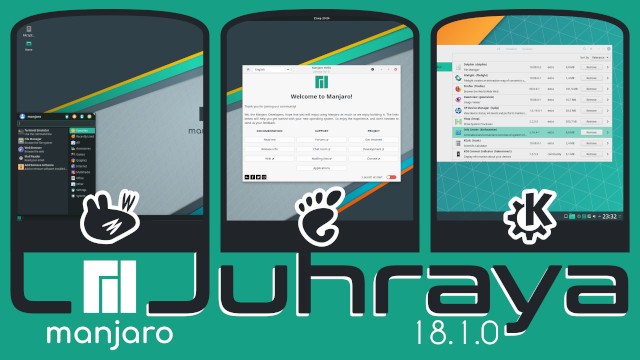 Other changes in Manjaro 18.1
As the Xfce version (with Xfce 4.14) is considered the flagship edition of Manjaro 18.1, it gets the most attention among all other flavors. This time, a new "Matcha" theme has been added to make the overall look more streamlined.
Other desktops have also been enhanced: KDE version (with KDE Plasma 5.16) has got a newly designed messaging system and GNOME (with 3.32) version has new buttons.
Manjaro 18.1 also ships with the graphical package management tool 'bauh' to let you get the advantage of newly integrated support for Snap and FlatPak packages.
Manjaro Linux is now a professional project
Just last week, Manjaro Linux officially announced its plans to operate as a professional company by setting up Manjaro GmbH & Co. KG. With this change, the project will be able to employ developers to work full time and interact officially with other Linux-related projects. Moreover, being a legal entity, Manjaro will now be able to take better care of commercial agreements and its partnerships with others.
The team has also made clear that their relationship with the community will remain the same and it'll keep its doors open for suggestions and contributions.