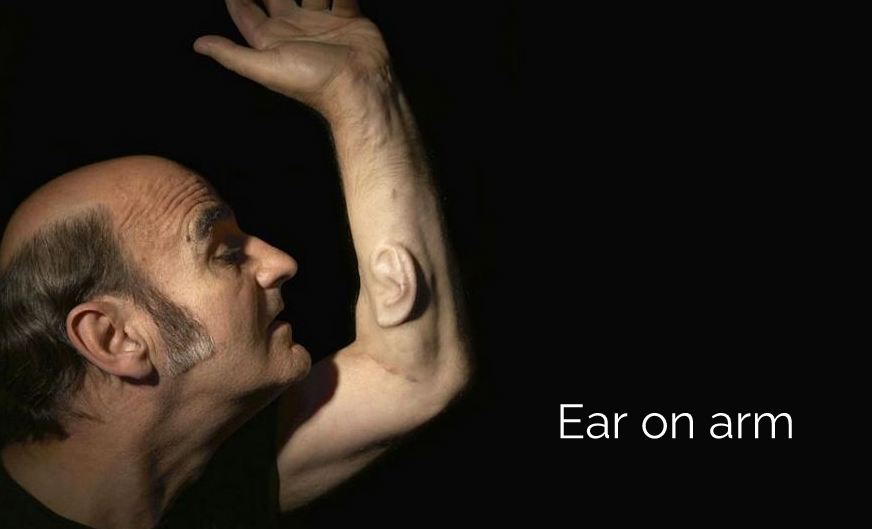 Short Bytes: A professor based in the Curtin University has been trying to grow a human ear on his arm. His ear has started taking its shape and now he wants to connect the ear to the Internet using a microphone and GPS.
S
telarc, the inventor conceived the idea initially in 1996 and after lots of efforts, he found a medical team willing to help him. The medical team inserted a scaffold underneath his skin of left arm and tissue and blood vessels started growing around it. The idea behind this project, according to him, is to keep the artificial ear online all the time. He says: "If I'm not in a Wi-Fi hotspot or I switch off my home modem, then perhaps I'll be offline, but the idea actually is to try to keep the ear online all the time."
The ear is a part of the arm of the professor and has its own blood supply; he wishes to make the ear more realistic by developing an earlobe attached to the ear. From there, a miniature microphone that can wirelessly connect to the internet will be inserted. He said that the ear was made to act as a remote listening device for people in other places, who will be able to follow any conversation, wherever the professor is.
Stelarc, who is the head of the Alternate Anatomies Laboratory at Curtin University, when asked about privacy issues, said that he hoped to keep the microphone on 24* 7 so that he could keep the audience connected through the ear. He told ABC news:
This ear is a remote listening device for people in other places.
People across the world are reacting differently to this. While some are bemused and curious, others find it crazy, but one thing is sure, this experiment is making a lot of heads turn.
What do you think about the professor with the human ear on his arm? Tell us in comments below.
Check out our homegrown product viralnews.fossbytes.com for hottest tech news on the web. For more updates, subscribe to our newsletter. [newsletter_signup_form id=1]