Xiaomi sent a brand new Redmi Note 7 Pro to a user for free after his previous device exploded and went up in flames.
This comes after the Indian man was denied a replacement at first, later asked to pay 50% of the total smartphone cost at a Xiaomi service center. However, things turned sideways for the Chinese smartphone manufacturer after multiple news outlets reported on the matter.
Along with a brand new phone, Xiaomi has also offered a free backpack to compensate for the man's bag that accidentally caught fire from the burning device.
Redmi Note 7 Pro Explodes
Vikesh Kumar, who lives on the outskirts of Delhi, India, described the ordeal to 91Mobiles on Saturday. Kumar was going about his business when he sensed an unusual heat from the Redmi Note 7 Pro in his pocket.
He quickly pulled out the phone to check up on the device. Seconds later, Kumar witnessed smoke coming out of his phone. He wasted no time and threw the Redmi phone on the floor, which accidentally landed near his backpack. The Redmi Note 7 Pro exploded a few seconds later and caught fire, taking the backpack into the flames as well.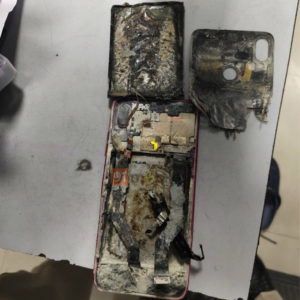 According to Kumar, the fire couldn't be controlled just by nearby things, so he had to use a fire extinguisher. He notes that even a five seconds delay in throwing away the device would have cost him grave physical injuries.
After the entire incident, Kumar approached a nearby Xiaomi service center who straight up denied him a replacement. On top of that, they even blamed him for the explosion.  After much pressure, the service center also asked Kumar to shell out at least fifty percent of the total smartphone cost. Following the whole uproar, Xiaomi released a statement —
The case has been resolved amicably with the customer, ensuring the full satisfaction of the consumer. We genuinely care for our consumers and are providing all necessary assistance
Interestingly, this is not the first time a Redmi phone exploded. Back in August last year, a man reported his Redmi 6A exploded while still being in his pocket.