A 21-year-old guy was charged after he slept while driving his Tesla in Autopilot mode in Alberta, Canada. The 2019 Tesla Model S was cruising at around 93 mph (150 kph) when police pulled it over. The incident was reported by the Royal Canadian Mounted Police Department.
As per the reports, on 9th July, the police department received a complaint of a Tesla Model S speeding recklessly on highway 2 near Ponoka in Canada.
According to police officials, the electric car appeared to be self-driving. The car was traveling at a speed of over 140 kph, and both seats of the car were reclined with both the passengers appearing to be asleep.
As the officers chased the Model S and flashed their lights, the electric sedan began to accelerate automatically and reached 150 kph. Eventually, the cops pulled over the car, and the driver turned out to be a 21-year-old male from British Columbia.
Once again, the incident raises questions on the self-driving ability and Autopilot system of Tesla's electric cars.
This is not the first time when drivers were found careless in a Tesla. There have been a number of dangerous accidents in Tesla's electric cars, and people link it due to the inattentiveness of drivers.
Some people also criticize the EV maker for exaggerating the self-driving ability of its electric vehicles.
What Tesla Autopilot Mode Is Capable Of And What Not?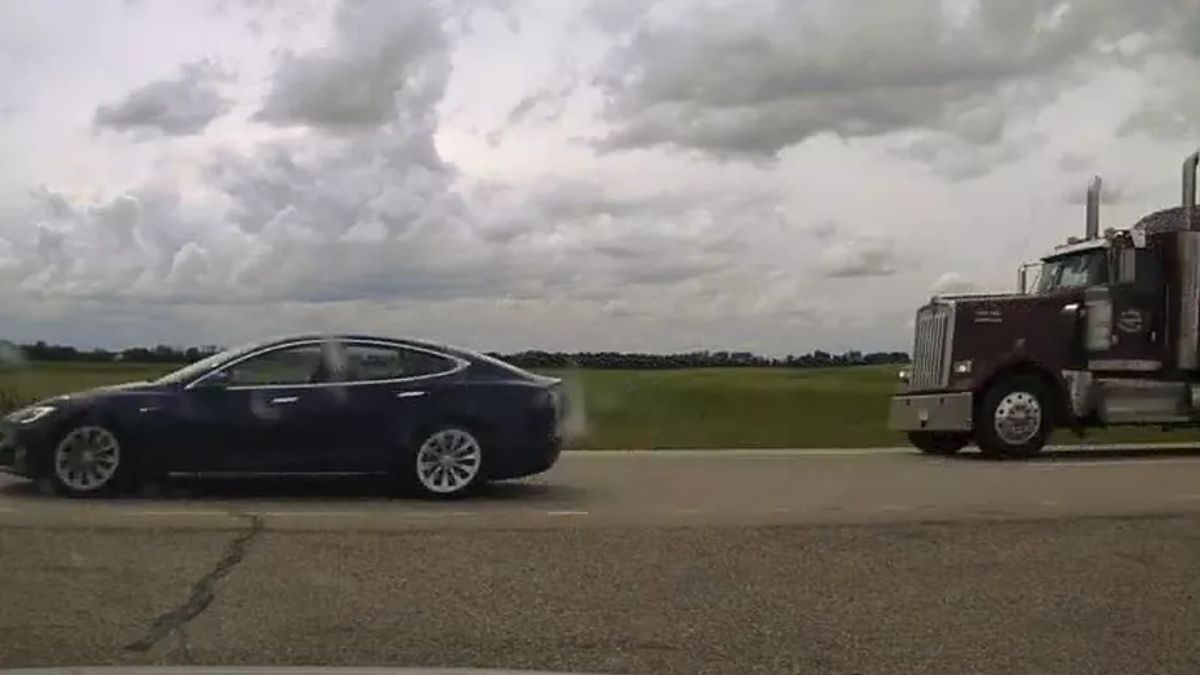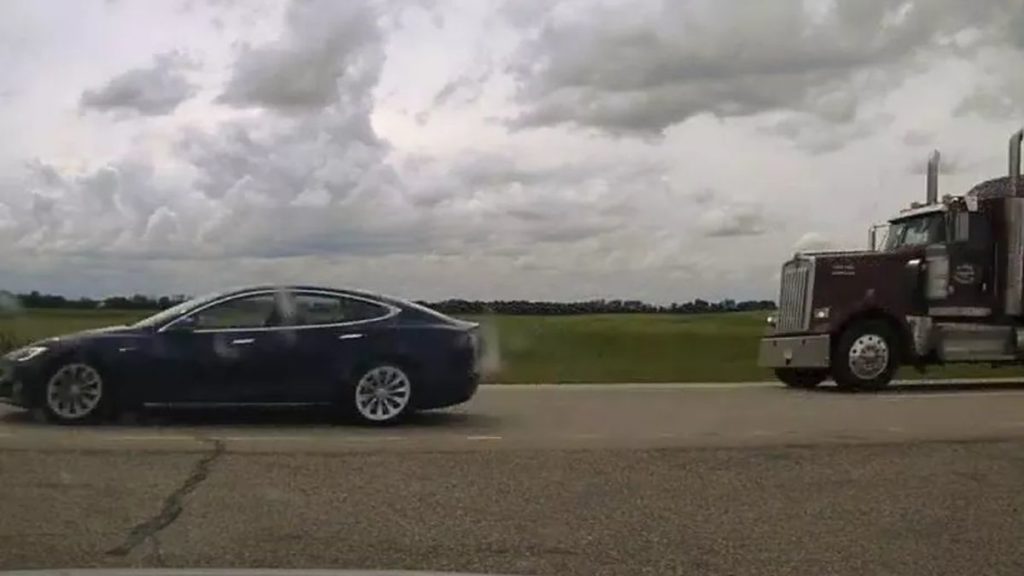 All of the current Tesla's electric cars are equipped with hardware 3.0 chips. If we talk more about its Autopilot System, it mainly has 360-degree cameras, 12 Ultrasonic sensors, and forward-facing radars. It's a driving assistance system that provides features like lane keep assist, adaptive cruise control, self-parking, automatic lane changes, etc.
Despite its limited abilities, many YouTubers have uploaded videos of sleeping and eating food while driving their Tesla autonomously on highways. However, soon Tesla introduced a new upgrade, which requires the driver to keep their hands on the steering wheel for Autopilot to work.
As it's a techy world, some users have found ways to stimulate pressure on the steering wheel to keep autopilot mode working. Similarly, some sort of trick might have been used by the guy in the above case that kept the Autopilot mode on.
Anyway, Tesla also introduced the Full-Self Driving (FSD) upgrade recently, which comes with additional features like stopping at red lights. Still, after all these features, it's not a self-driving car and requires a sense of responsibility.
In one of our articles, we saw how LED lights of other cars could confuse the sensors of a Tesla. Similarly, many shortcomings still need to be fixed for Tesla to become a full-self driving car. Maybe this is the reason why Elon has still not introduced the Robotaxis.
In such a scenario, is it right for the automaker to call its cars a Full-Self Driving Car?
Also, is Tesla somewhere responsible for making drivers less attentive while driving their cars?
What thoughts do you guys have on this matter? Do share your views in the comments section below.