Microsoft recently announced that you can remove passwords from your Microsoft accounts to embrace the passwordless culture. Earlier, the password-free features that were available to corporate customers will now be available to everyone. This means that users can now have Microsoft Accounts without a password and log in using an alternative login method.
Microsoft has been working on a passwordless future to increase privacy for a while now, which is only a part of it. As per the company, Passwords can be leaked, and if we remove them from the equation, users can only log in by authenticating them from their phones or an alternate method that only the account owner can access. Microsoft first introduced a passwordless account feature back in March for enterprise users and is extending it to all users. Here's how to remove the password from your Microsoft account.
Remove Microsoft Account Password
To remove the password from your Microsoft account, you can opt to sign in to your account via the Microsoft Authenticator app, Windows Hello, a security key, or an SMS/Email verification code. Let's have a look at how to do the same.
1. First, visit the Microsoft Account Settings page and log in if you haven't already.
2. Under the Security tab, click on the "Addition security options" button.
3. Microsoft will prompt you to log in to your account again before proceeding, enter your password, and continue.
4. On the Advanced security settings screen, scroll down to see the Passwordless account option. Click on "Turn on" to toggle it on.

5. Further, accept the prompt and continue. Now, download the Microsoft Authenticator app on your mobile device and click Next.
6. Once installed, open the app and scan the QR code shown on the website.
7. Finally, follow the on-screen instructions to complete the process.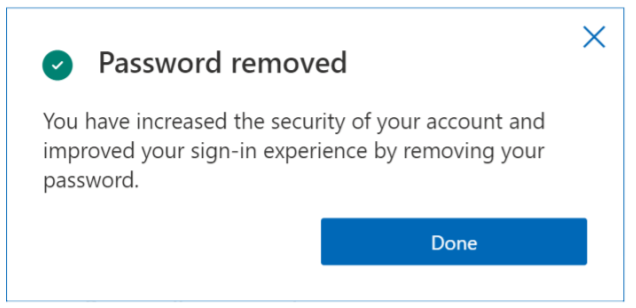 Note: If you have already enabled 2-step verification via the Microsoft Authenticator app, you'll need to authenticate the change by opening the app and confirming the removal of your password.
To conclude, Microsoft is still determined to witness a passwordless future and is working on it by making it possible for Microsoft Accounts to go passwordless. However, the shift from traditional passwords to an alternative login system will not be convenient for everyone.