Following the recent developments, Realme just announced its own magnetic wireless charging technology called MagDart at the Magnetic Innovation Event. It also unveiled the first phone to support such technology, Realme Flash.
The smartphone giant revealed that MagDart, the first-ever magnetic wireless charger for Android, is also the fastest magnetic wireless charger in the world.
Realme's Product Marketing Manager Alessio Bradde announced that the 50W MagDart charger takes only about 54 mins to fully charge the 4500 mAh Realme Flash. He noted that, interestingly, this is almost the same time it takes the 50W wired SuperDart charger to power up Realme Flash from 0 to 100 percent.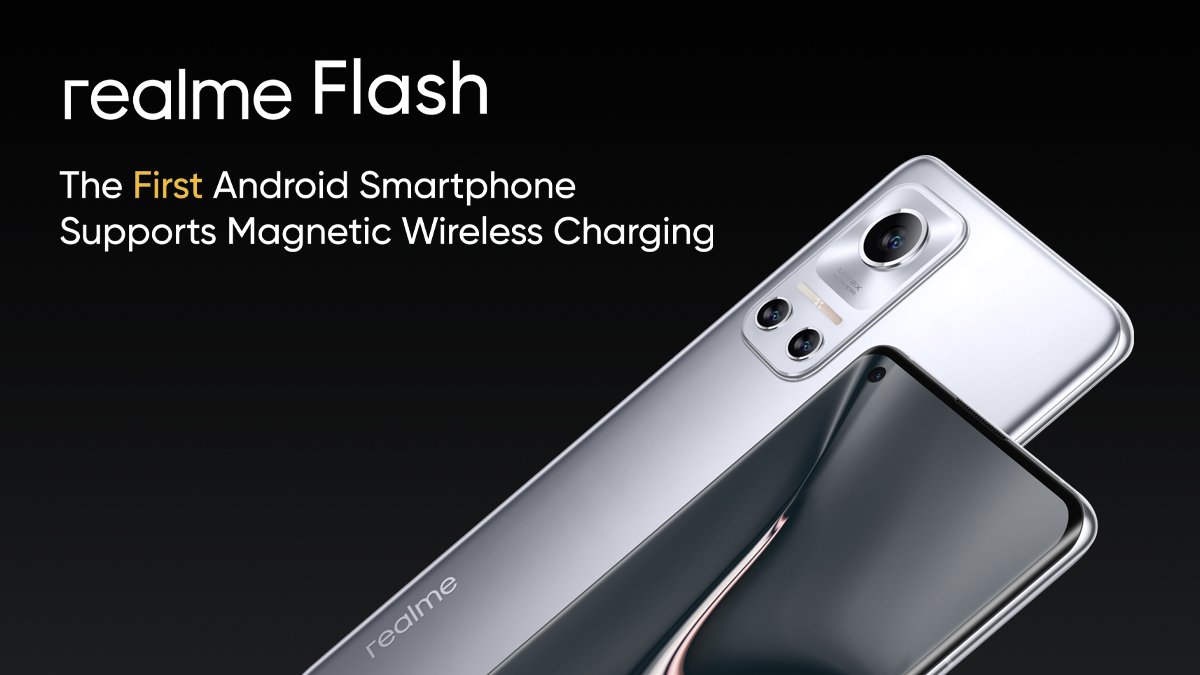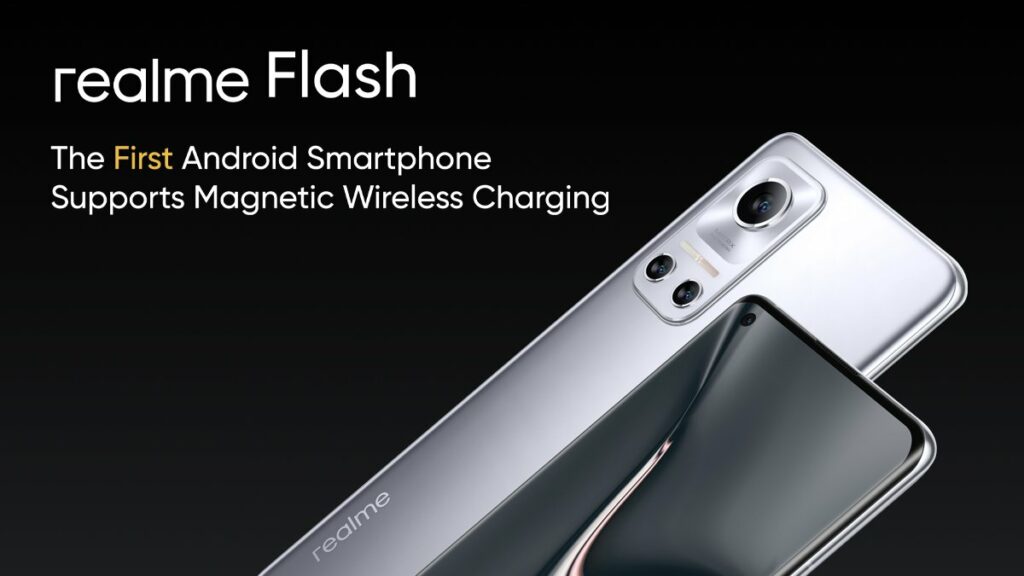 Moreover, the 50W MagDart charger also comes with a built-in cooling solution that allows you to effectively cool down the phone while using it in charging mode. The company is marketing this as a gaming solution for those who prefer to continue heavy gaming as the phone is plugged in.
Another salient feature is that it uses unique Boron & Cobalt magnets which have a stronger magnetic force and can stick tightly to objects weighing as much as 0.5g. This also makes sure your phone's charging status isn't interrupted by a slight displacement.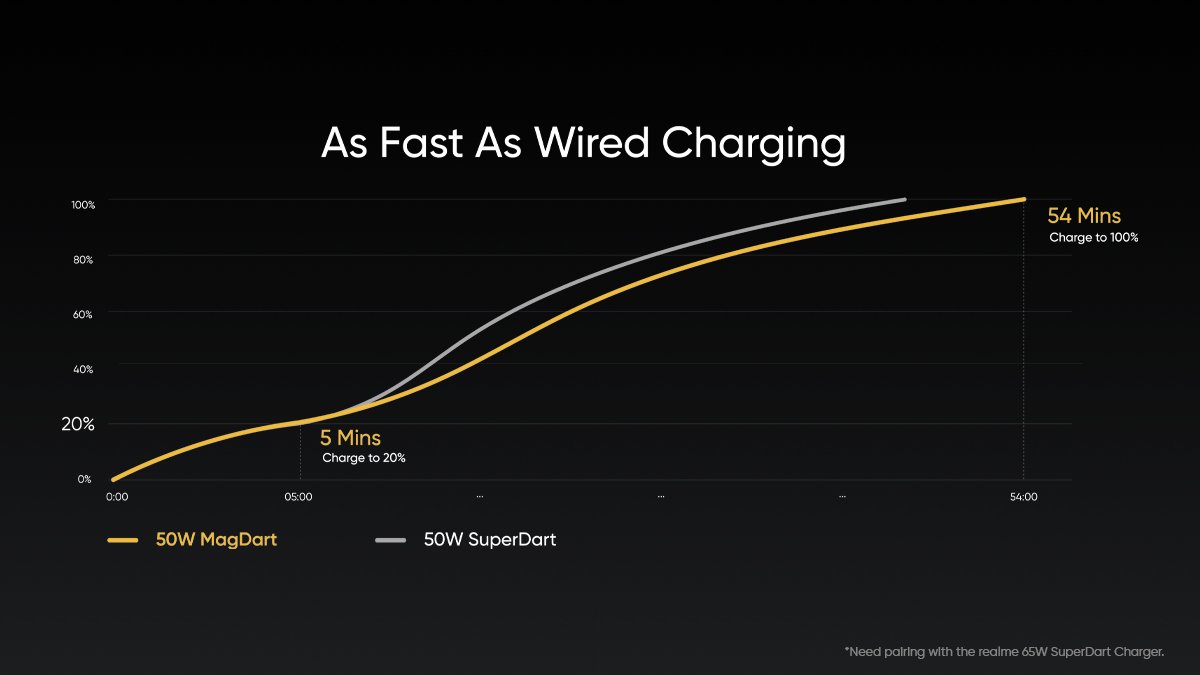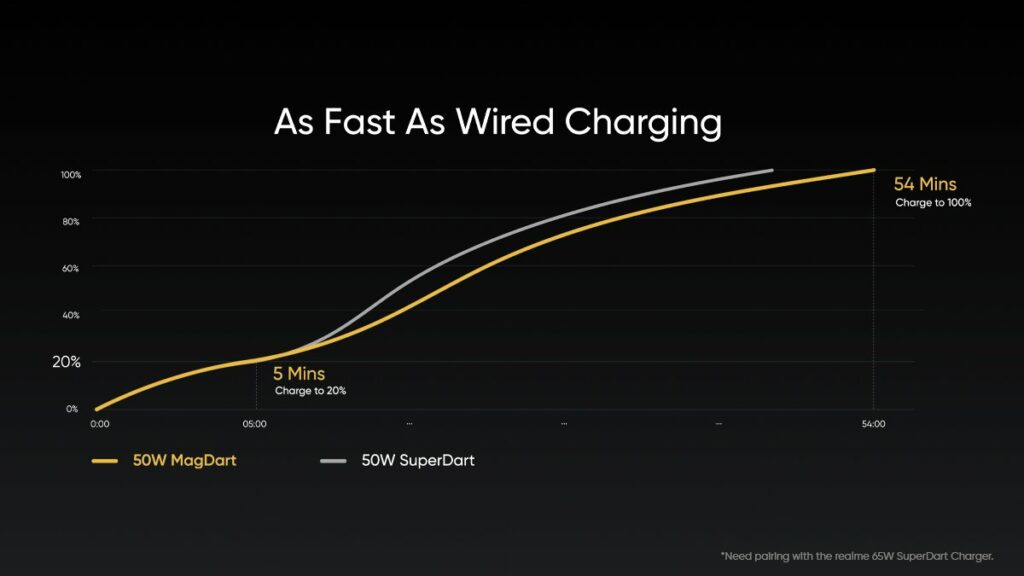 The Realme lead also showcased a lite version of the MagDart wireless charger, which offers 15W power. This version ditches built-in cooling for lighter weight and quieter operation.
MagDart vs MagSafe: No Comparison
Early on in the event, Bradde first praised Apple, the innovator of magnetic wireless charging technology. He remarked, "We all know a famous brand who (sic) innovatively brought a MagSafe charging solution to the market last year, heralding a new era of wireless charging."
In a dramatic turn, he then took a shot at the iPhone maker by highlighting MagSafe's "extremely slow charging speed."
The Realme official compared how the 15W MagSafe took 5 Hrs to fully charge a 2775 mAh iPhone 12, while the 15W MagDart took just 90 mins to charge the 4500 mAh Realme Flash. He revealed that the credit for this incredible wireless charging speed goes to Realme's innovative Coil & Board design.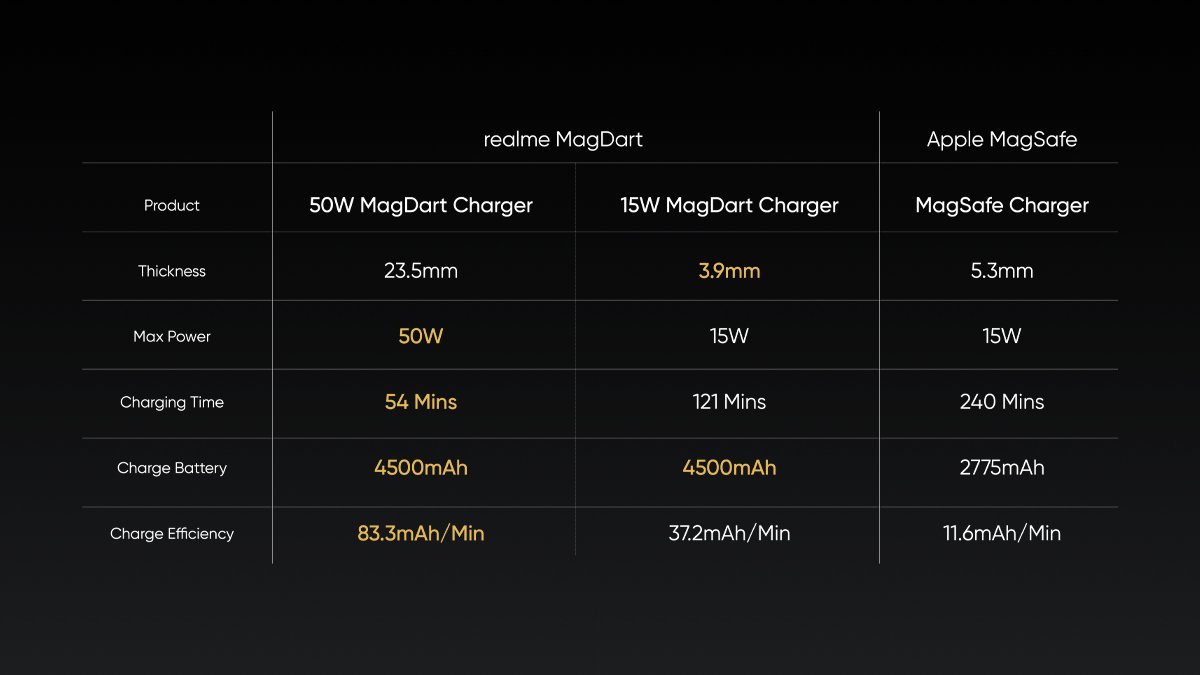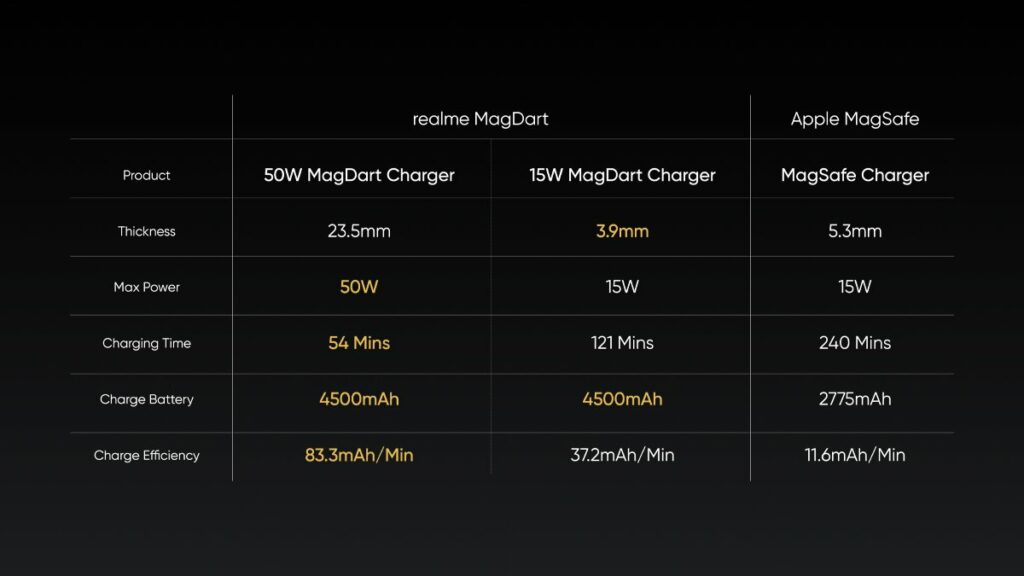 Apart from faster charging, the 15W MagDart also offers a thinner size as compared to MagSafe. Bradde pointed out that it is 26.4% thinner than Apple's MagSafe. Therefore, Realme's 15W variant is also the thinnest wireless charger in the world.
Accessories Galore: MagDart Power Bank, Beauty Light, Wallet
Eventually, Realme's marketing lead presented the MagDart Power Bank, which is a magnetic portable battery that snaps onto the back of a compatible smartphone.
The charging stand, called the MagDart Power Bank Base, is another new accessory. It combines with the MagDart Power Bank to seamlessly charge the phone or the power bank itself.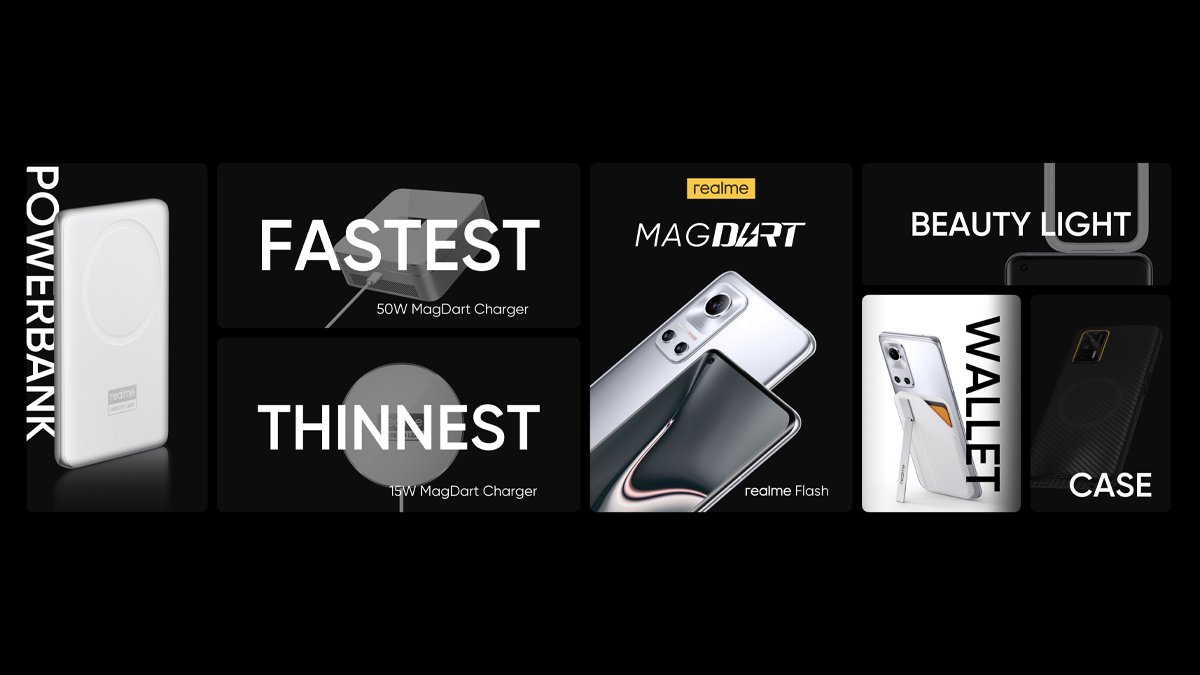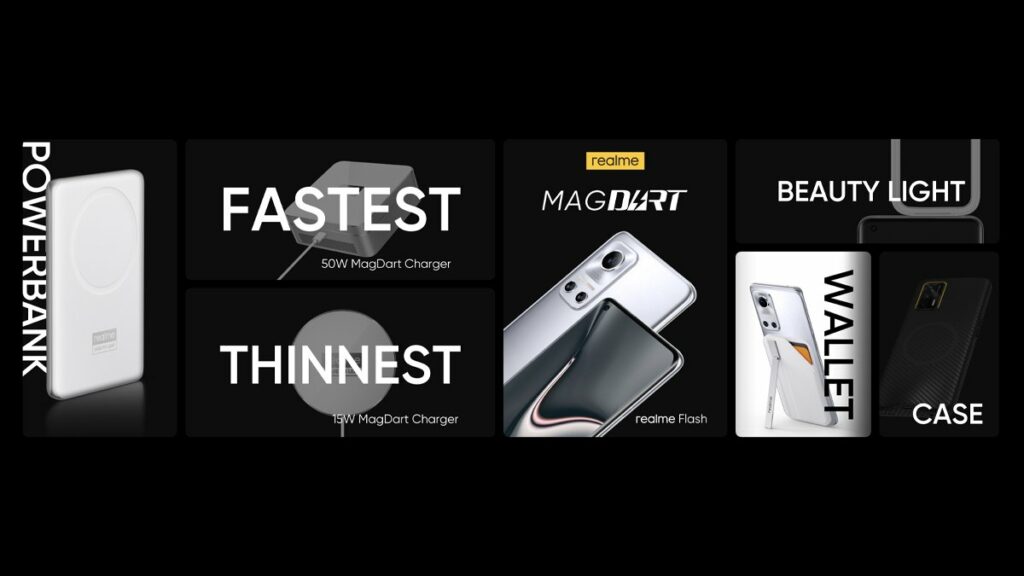 Adding to the mix, Realme also threw in some more accessories that make use of the magnetic attributes. The Chinese giant revealed the MagDart Beauty Light, which provides way better lighting than the standard camera flash for photography. It runs on reverse-charging, packs 60 LEDs, and is flippable to support rear-camera shots as well as selfies.
Also joining the range is the MagDart Wallet, which does one better than its Apple counterpart. Besides being a card-holder, it also comes equipped with a foldable stand.
MagDart Case For Backwards-compatibilty
Realme saved a big surprise for last as it announced that the MagDart technology will be backwards-compatible with Realme GT via a special-purpose case. The MagDart Case comes with a built-in magnetic base that makes it compatible with Realme's latest technology.
To see these new gadgets in action, we suggest you watch the video below from the 20:15 timestamp.
Realme MagDart Event: What We Learned
Looking back at the event, we learn that Realme isn't ready to take a backseat. It isn't giving way to its larger Android competitors, such as Samsung and Xiaomi, so easily.
Realme is, in fact, intent on doing the opposite. The company is not just throwing a serious challenge to fellow Android manufacturers but also taking the fight to Apple.
With the MagDart, Realme has seemingly overshadowed Apple, the original innovator of magnetic wireless charging technology. Apart from a much-improved application of this nascent tech, the way Realme has given back to the community by making an older smartphone MagDart-compatible is also a resounding statement.