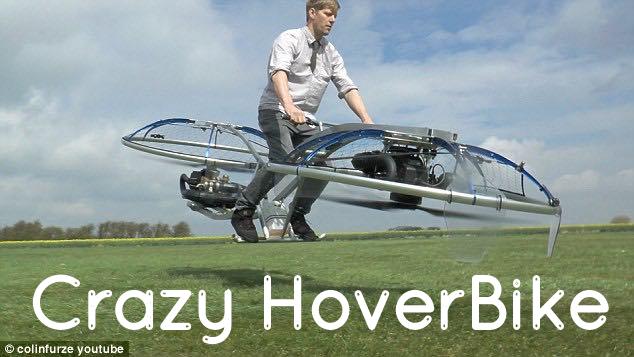 Short Bytes: British inventor, Colin Furze, is here with his incredible HoverBike that actually works. This futuristic vehicle is made with a pair of motors and propellers. It was created after Furze used a poll to ask YouTube viewers to suggest a new type of  vehicle.
Colin Furze is known to make crazy inventions like thermite cannon and wearable weapons spitting flames. In his latest video, he has shown HoverBike, his latest creation that actually flies.
If you are familiar with Furze's previous creations, you might be knowing that his videos are always intense. The new HoverBike is another example of his creativity that shows the commitment of Furze, even if he's not some trained engineer.
Taking just a small glance at this fully functional HoverBike, one gets convinced that it's Furze's most dangerous build to date.
If you are still skeptical about the bike's build, let me tell you that it has got no breaks, no seat, and no steering wheel. To lift the HoverBike in the air, Furze makes use of two accelerators and two motors.
This crazy machine has been made from scratch below you can find the detailed account of the build process.