This year we are celebrating the 10 years of iPhone, the product which changed the world of consumer electronics; it even made people see Apple as the iPhone company. Back then, nobody predicted the amount of success this Steve Jobs' creation would garner. With the sale of at least 1.2 billion units, iPhone is one of the most successful products of all time.
To mark this occasion, MacX is here with an amazing giveaway that's offering 10K free copies of MacX MediaTrans. The giveaway is also coupled with the summer special offer which is offering heavily discounted products. Before going ahead and telling you more about the giveaway, let me tell you about the need for an all-round iPhone management solution at your disposal.
No matter which version of iPhone you're running, you would've always found yourself juggling between different platforms, transferring data from one device to another, and getting frustrated. Just like any other premium smartphone, today, iPhone is a gateway to the world and people are too much dependent on it. Imagine a scenario of losing your phone that you use for your business and personal usage? If you haven't backed up your data, this would seem like a dead-end. Often we come across friends whose iOS or Android update had gone wrong, resulting in data loss. This could also happen to you, which makes a solid data backup tool a necessity.
That's not all. A worthy phone management solution is something that allows you to transfer data from one device without any hassle. That's why it's imperative to use a phone management solution.
MacX MediaTrans — Ultimate iPhone manager tool
MacX MediaTrans is an ultimate iPhone managing software for Mac that lets you complete the above-mentioned tasks (and more) in an efficient manner. It lets you recover lost data from accidents like deletion, accidental damage, lost iPhone, virus attack, factory reset, system crash, jailbreak, faulty upgrade, etc.
As per the makers of this tool, they've helped 20,000 users to backup and transfer their iPhone data. It also helps you to import/export music and videos and help you keep your personal data more organized.
Features of MacX MediaTrans and how to use them
Backup iPhone photos with fast speed
Thanks to its Intel QSV hardware acceleration technology, MediaTrans transfers photos with speed up to 5-times as compared to other rivals. This tool provides a two-way transfer mechanism.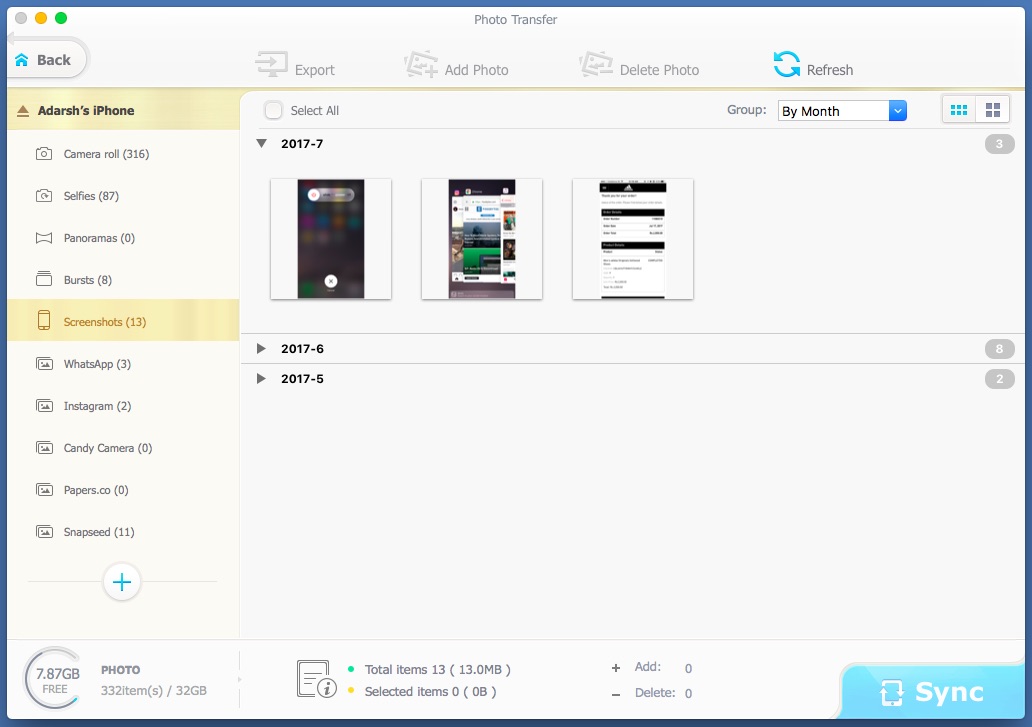 After connecting your device to Mac, you need to click on the Photo Transfer icon to jump to a new window. Here, you'll see all the device photo folders lined up at the left side. From there, click on the required folder and find all the photos stored on it. There, you can directly drag-and-drop them to your Mac. You can also add photos to your iPhone by dragging them from your Mac. Batch transfer from iPhone to Mac is also supported.
Transfer videos between iPhone and Mac
Just like the photos, videos are an important part of the backing up process. Sometimes they are even more important as the HD videos keep filling up the empty space on your device.
As you'll click on the Videos tab on the home screen of MediaTrans, it'll take you to a new screen that'll list all the videos stored on your iPhone. You can choose the video folder from the left tab and perform the desired action. The transfer process is just like the one mentioned in the previous step of backing up photos.
Transfer music seamlessly and remove DRM
Often our phone storage gets full due to the fact that we use our phone as a portable music player, something which makes sense. So, make space for something else, you can start with transferring your phone music to your Mac. You can also use this feature for adding more music to your iPhone library and enjoying it on the go. Apart from simple drag and drop, you can also select more than 1 files and mass transfer the music files.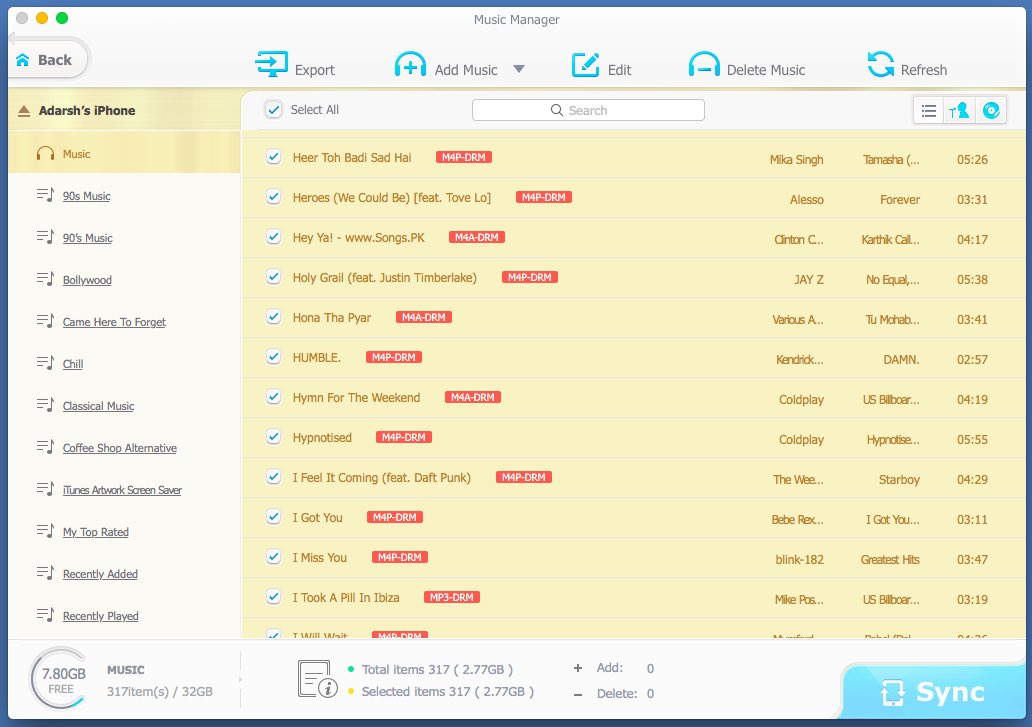 You can use MobileTrans as a complete iTunes replacement. It can perform batch editing of the songs to change singer, album, etc. MediaTrans is also able to remove DRM from the music purchased from iTunes and Apple Music for personal use on other devices.
Mount iPhone as flash drive
A pleasant feature of MacX MediaTrans is its ability to mount your iPhone as a removable flash drive on macOS. It lets you store any file on your iPhone just like a USB drive. As one can easily lose a tiny flash drive, storing secure data in iPhone is sensible.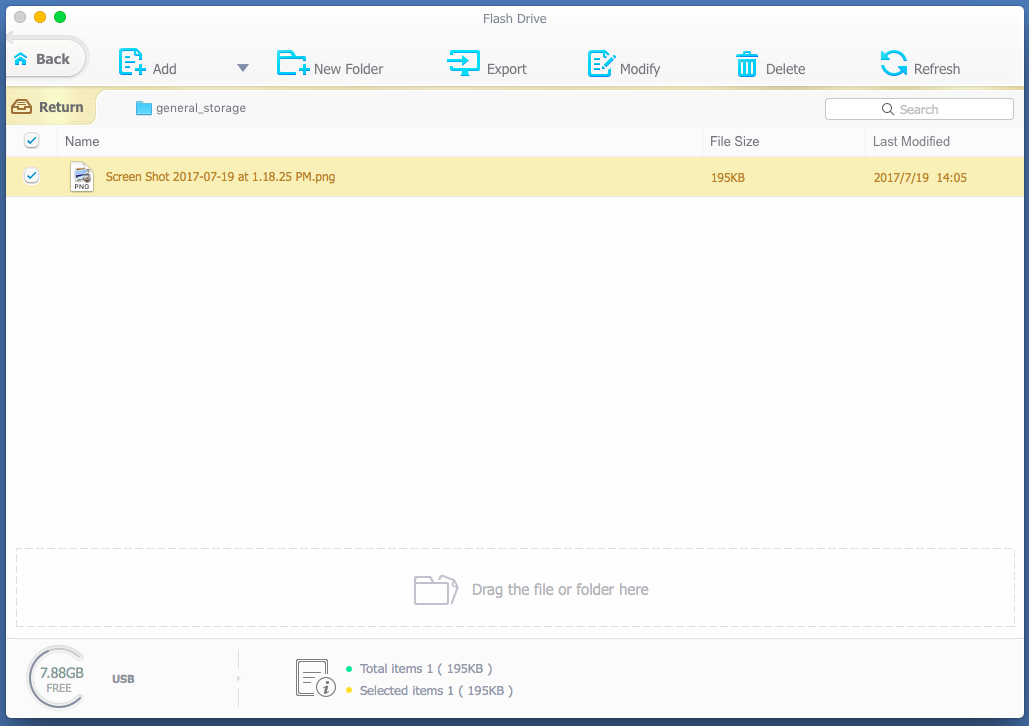 To do so, you need to click on the Flash Drive icon on the home screen of the program to jump to a new window. There, you can see the free storage space in the left bottom corner. All you need to do is simply drag and drop a file or folder to store on the iPhone. You can also create a folder on iPhone right from MediaTrans and add content in it.
Comparison with iTunes and iCloud
Compared to iTunes and iCloud, MediaTrans is faster and less clumsy. All the options are right in front of you to ensure hassle-free transfer. Unlike the other two services, MediaTrans also provides two-way sync facility.
You can take a look at the comparison between them in the table shown below: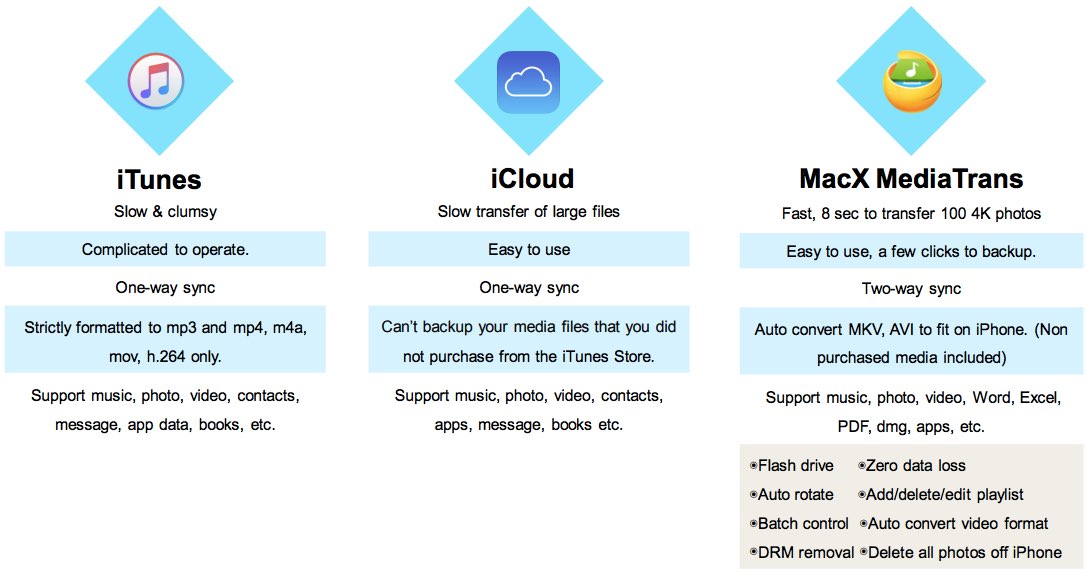 MacX MediaTrans Giveaway
Overall, MacX MediaTrans software is one of the best ways around to manage iPhone content, perform back up, and transfer music and videos.
As MacX is giving away 10,000 free copies for Mac, you can take part in the MediaTrans giveaway and grab the free copy. This giveaway offer ends on July 25th, 11:59 PM CST. You can also check out the MacXDVD Summer Offer which is giving away an amazing bundle of software at 70% discount.
Note: This article is sponsored by MacX