Whenever a big feature arrives on a platform some developers want to bring it to other platforms. The case of macOS Mojave Dynamic Desktop is no different.
Apple introduced the feature at this year's WWDC. Based on the timing of sunrise and sunset at user's location, it automatically cycles through a set of 16 images of the same desert taken at different times of the day.
A developer named Timothy Johson created an app called WinDynamicDesktop that ports the feature to Windows 10. The open source app, along with its source code, can be downloaded from its GitHub repo.
Johnson said on Reddit that he made the app because he happens to like the feature. He considers the idea of putting it on Microsoft Store, but he isn't sure if the $20 registration fee would be worthwhile right now. Also, if he makes some breaking changes, automatic updates could create problems for the users.
How to use Mojave Dynamic Desktop on Windows 10?
Getting the WinDynamicDesktop up and running is a simple task. Just download the setup file and run it. If Windows throws a smart screen error, you can click More info > Run Anyway.
The app downloads a set of wallpapers that will change according to the time. By default, it uses the same wallpapers as present on Mojave, but you can configure it to show your favorite ones (refer the GitHub repo).
After this, you need to enter your location and click on Ok. WinynamicDesktop uses LocationIQ to fetch the longitude and latitude.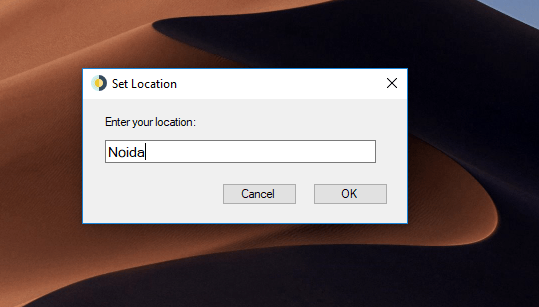 Now, the dynamic desktop feature is in action. To change the location or turn off the app, you can find its icon in the notifications area. There, you can also set the app to run when Windows starts.
In case, you just want to change wallpapers at regular intervals, Windows already offers that in Settings > Personalization > Backgrounds. You can choose from your personal pictures or let Bing fetch the wallpapers for you.