Yesterday, Lucid Motors released a video of the special variant of its electric sedan 'Lucid Air Dream Edition'. In the video, Lucid Air is battling against the Tesla Model S in a quarter-mile drag race. Not just that, it beat the Tesla Model S by crossing the finish line first in just 9.9 seconds.
With this victory, the Lucid Air became the quickest production electric sedan in the world. On the other hand, Tesla Model S with "Cheetah Stance" is capable of doing a quarter-mile in 10.4 seconds.
The timing seems perfect for announcing such an achievement as the launch event for the Lucid Air electric car is fast approaching. Lucid Air is set to launch next week and breaking the quarter-mile record of a popular EV like the Model S will surely help it in boosting its popularity.
Well, this is not the first time that Lucid Motor has broken any of Tesla's records. The car was tested by a third party for its electric range. According to the results, Lucid Air has an estimated EPA range of 517 miles, which is way ahead of the Model S (402 miles).
Lucid Air: The Alpha Electric Sedan?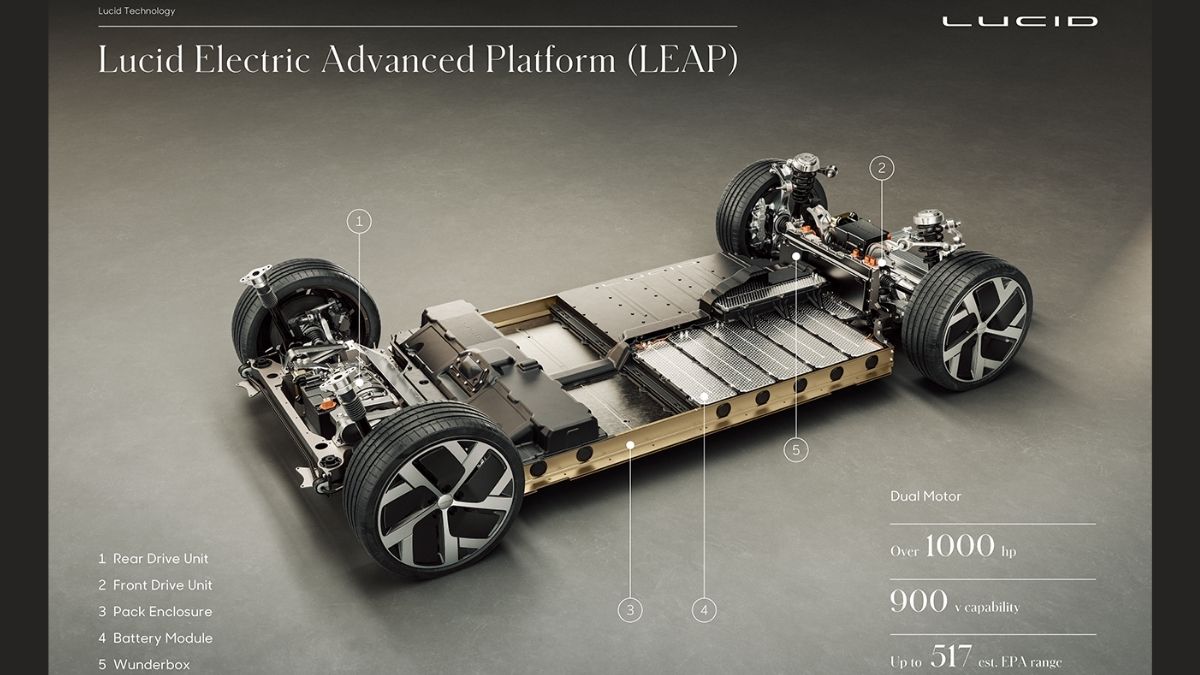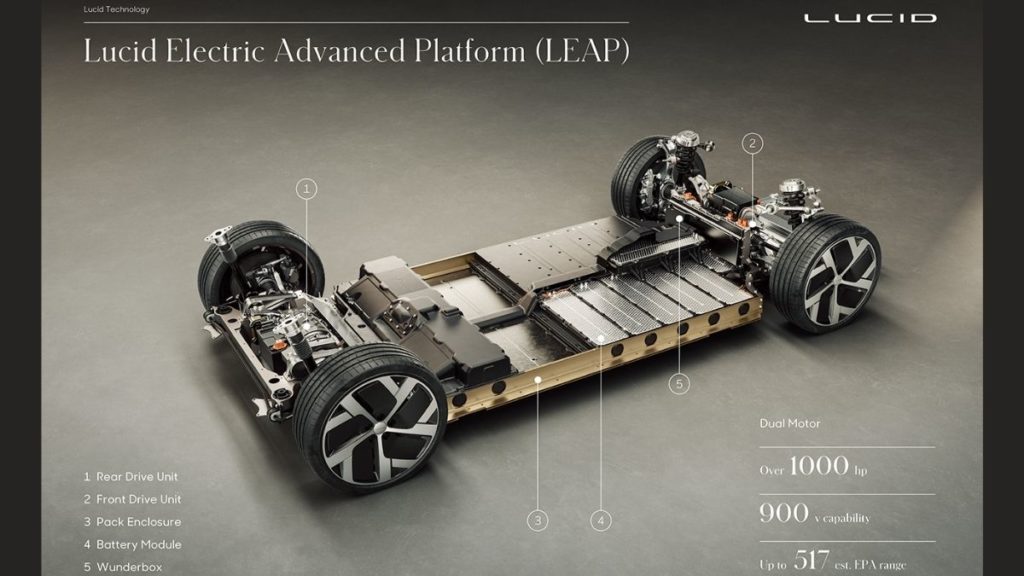 Whether it be speed, acceleration, electric range or battery size, Lucid Air outperforms the Tesla Model S in each department.
After a lot of speculation, Lucid Motors finally announced the Air electric sedan will have a 113 kWh battery pack capable of producing 1080 BHP. In addition, it has a top speed of over 200 mph.
In contrast, a 100 kWh battery pack powers the Tesla Model S and its top speed is limited to 155 mph.
Lucid Motors claims, "With up to 1,080 horsepower available in a dual-motor, all-wheel-drive architecture, the Lucid Air Dream Edition is the only electric sedan to achieve quarter-mile times of 9.9 seconds."
Apart from this, Lucid Motors unveiled the technology behind its first electric sedan through a press release.
Air electric sedan is built on the Lucid Electric Advanced Platform (LEAP). It's the in-house development technology of Lucid Air that makes all its amazing feats possible. The company has mainly focussed on making small yet powerful components. Let's try to explore it further.
Drive Unit And Inverter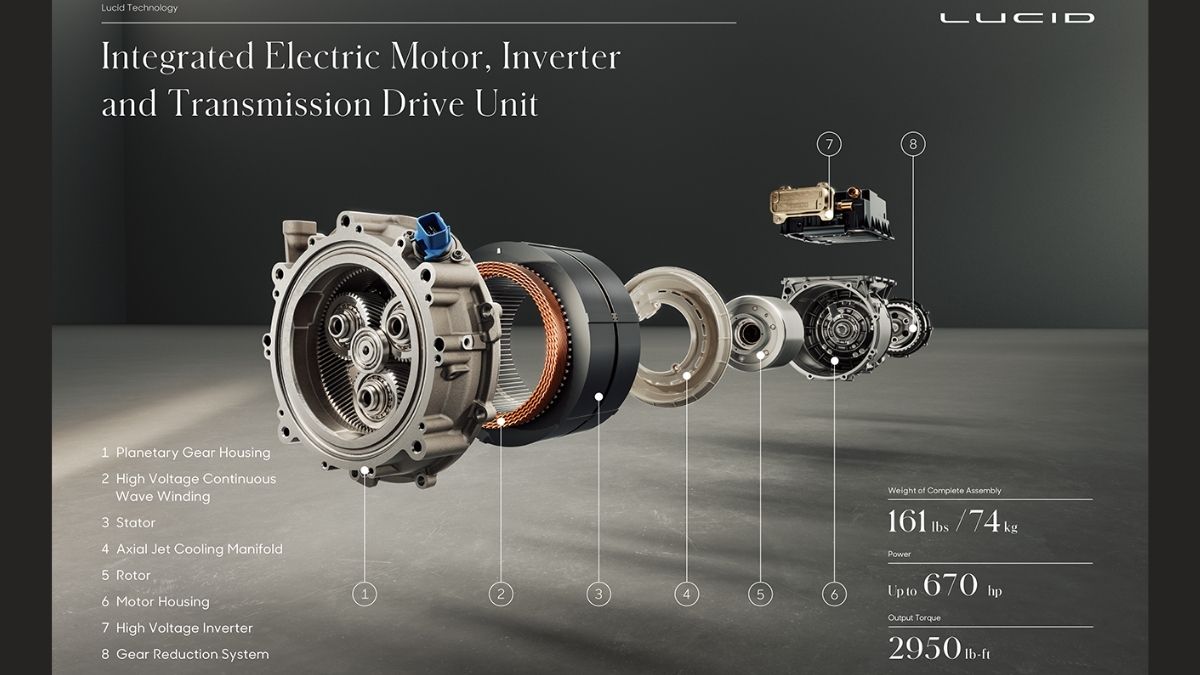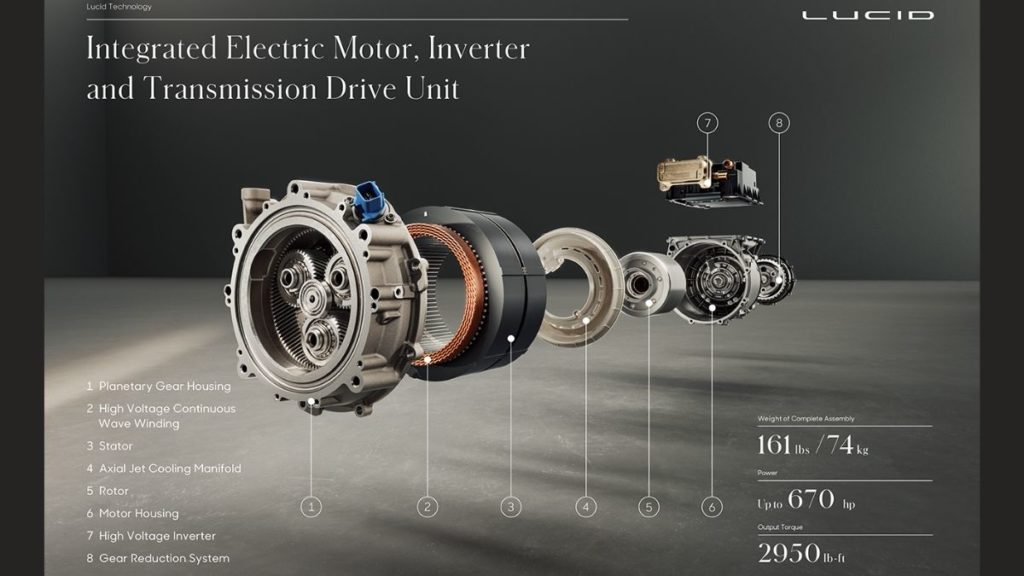 According to Lucid Motors, they made compact, efficient, and powerful motors. These motors are combined with an integrated system of transmission and differential and silicon carbide MOSFET inverter.
The company said that the entire system, consisting of an electric motor, inverter, and transmission drive unit, weighs only 161 lbs (74 kg) and is compact enough to fit inside a standard carry-on bag.
The Wunderbox
Wunderbox is an advanced 900V onboard charging unit. The system allows Lucid Air to charge up to 300 miles in just 30 minutes and 20 miles in just one minute with DC fast chargers. Wunderbox is also capable of vehicle-to-vehicle charging (V2V) capability.
With these futuristic technologies, Lucid Air is ready to take the top spot among the mass-produced electric vehicles. Let's see what else Lucid Motors is holding to announce at the time of its official launch next week.
Do share your views in the comments section down below on the same.