Gone are the days when you needed a dedicated radio player device to listen to your favorite FM radio stations. You can now access almost everything using the Internet on your multipurpose mobile, laptop, or PC.
So, if you have a Linux system and want to listen to radio stations, Shortwave is the application that you need.
Last week, a new version 2.0 of Shortwave arrived with a more refined user interface, new features, and mini-player window mode.
What Is Shortwave?
Shortwave is a free and open-source Internet radio player for Linux desktop. It lets you access over 25,500 Internet radio stations via radio-browser.info community database.
The interesting thing about the app is its simple and modern user interface with an adaptive design. It is built using libadwaita library to make the interface adaptive for all screen sizes.
Hence, you can not only use it on your Linux desktop but also on Linux-based smartphones like Librem 5 or PinePhone.
Interestingly, as you resize the application, it turns into a compact mini-player window mode that has a retro look and design.
Another amazing feature of Shortwave is the ability to recognize the song using the stream metadata.
Even, the app also automatically records songs in the background you're playing on Internet radio stations.
Fan of a dark theme? It also comes with a dark mode toggle option.
Here's brief summary of features in Shortwave Internet radio player:
Responsive user interface
Automatic song recognition
Over 25,500 Internet radio stations
Create libraries and manage favorite stations
Stream to supported network devices like Google Chromecasts
Desktop notifications of new songs
Inhibit sleep/hibernate mode during audio playback
How To Install Shortwave App On Linux?
The latest stable version 2.0 of Shortwave is available as a Flatpak package to download from Flathub.
If you've already set up Flatpak on your Linux device, run the command to install the app:
$ flatpak install flathub de.haeckerfelix.Shortwave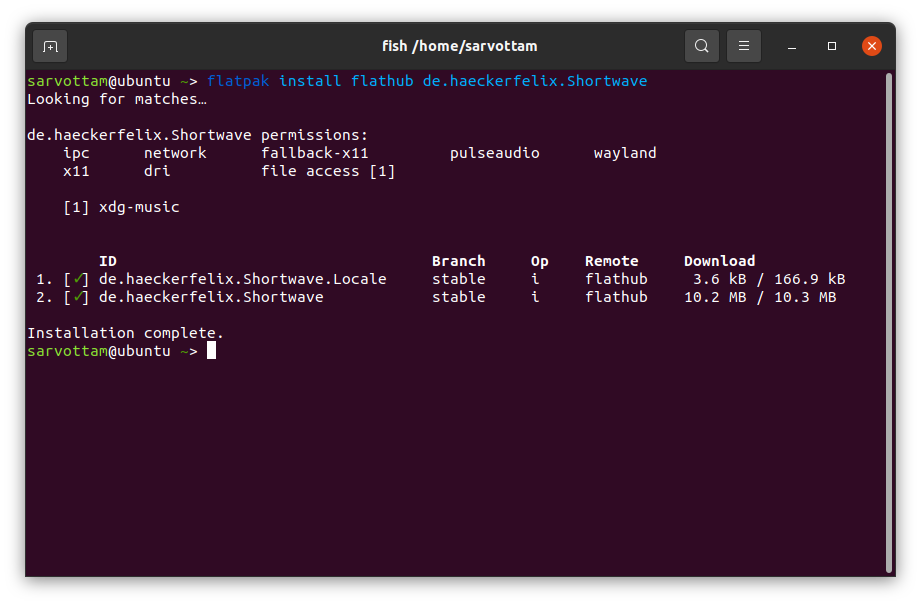 However, if you're interested in building and installing the app manually using codebase, you can refer here.
How To Use Shortwave Radio Player?
Once you install it successfully, you can search and discover radio stations available in the app.
If you like any station, you can also create your own libraries and manage favorite stations.
Furthermore, you can even stream the audio playback to a network device like Google Chromecast that supports the Google Cast protocol.