After completing MIUI 12 stable roll-out to Mi 9 and Redmi K20/K20 Pro, Xiaomi is now looking forward to delivering the update to the second batch of MIUI 12 supported devices.
According to MIUI 12 official Indonesian website, the Chinese tech giant will start issuing MIUI 12 final stable updates to the remaining 23 devices, starting this August.
The list is only applicable to Xiaomi devices in Indonesia. That being said, we have previously observed that Xiaomi first rolls-out MIUI global version for the device, followed by country-specific updates. Moreover, variants of the device from different countries get the update within a week's time.
In other words, if a Xiaomi device in Indonesia gets an MIUI 12 Stable update, it won't be long before the updates land on the device's counterpart in India or Europe.
That's out of the way, here is the list of 23 Xiaomi devices —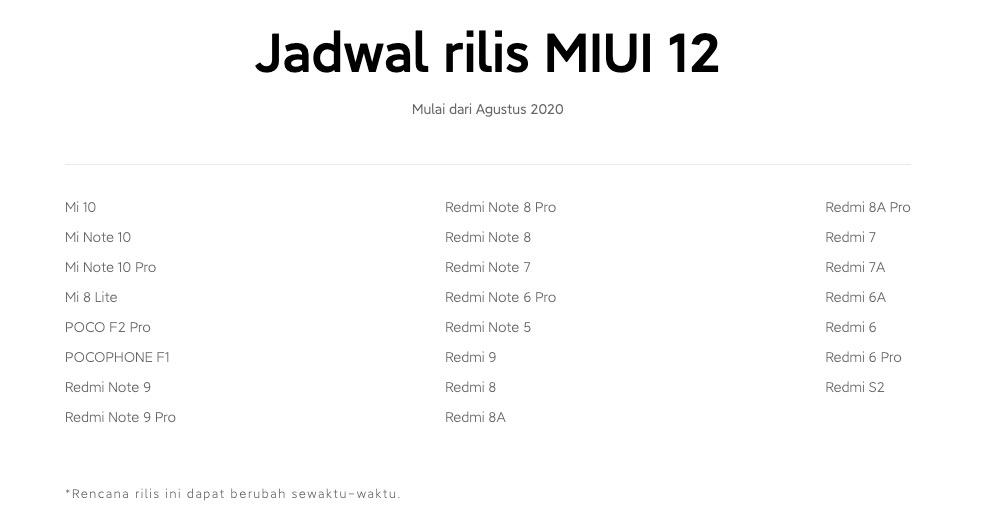 Mi 10
Mi Note 10
Mi Note 10 Pro
Mi 8 Lite
POCO F2 Pro
Pocophone F1
Redmi Note 9
Redmi Note 9 Pro
Redmi Note 8 Pro
Redmi Note 8
Redmi Note 7
Redmi Note 6 Pro
Redmi Note 5
Redmi 9
Redmi 8
Redmi 8A
Redmi 8A Pro
Redmi 7
Redmi 7A
Redmi 6A
Redmi 6
Redmi 6 Pro
Redmi S2
A handful of devices on the list have already begun receiving updates. For instance, MIUI 12 Global version for Mi 10 is now out, while MIUI 12 Stable European version is out for Mi 10 Lite. Apart from that, Redmi Note 8 Pro has received its second beta update and will likely receive the final stable update in the next few days. All in all, we can expect several Xiaomi devices are about to get MIUI 12 update starting August 2020.
It is important to note that some MIUI 12 Best features may not come right away. For instance, Super Wallaper is only available to a bunch including Mi 10, Poco F2 Pro, Redmi K20/K20 Pro and several others. That being said, you can still get it by manually installing the app.
The same criteria is set for several MIUI 12 camera features, as well as the Floating window feature. You can find out all about it by going to the MIUI 12 official website and scrolling to the end of the page.