Google has confirmed that all laptops running Chrome OS this year will be Linux-Ready Chromebooks. The news comes after the main keynote at Google I/O which introduced a number of features to Google Search, Google Assistant and a lot more.
Google also confirmed that Linux-Ready Chromebooks will have an easy time installing Android Studio. Earlier this wasn't the case as developers struggled with developing Android apps on Chromebooks.
Linux-Ready Chromebooks: How Will They Help?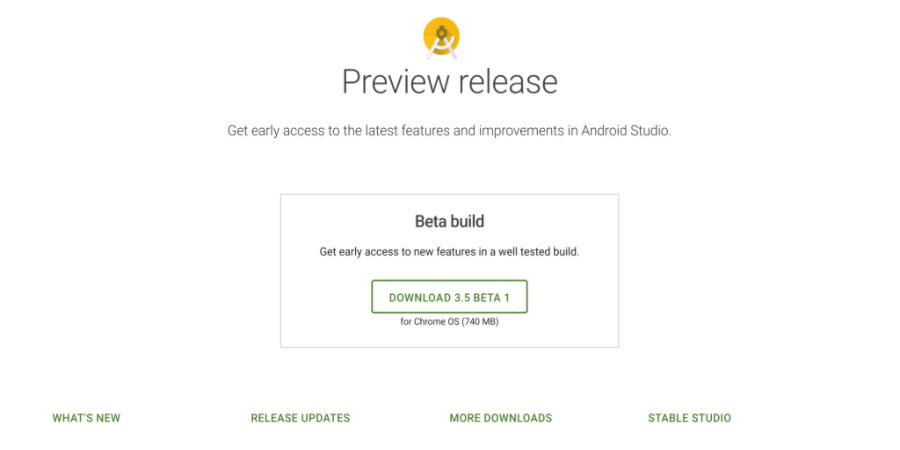 Google first announced the support for Linux on Chromebooks at I/O 2018. However, the installation of Android Studio was still a difficult task for the developers. The earlier installation process required several steps which hindered productivity.
However, with the new easy installation feature, installing the Android Studio is simply a two-step process.
This will pop up the .deb package for Android Studio. Choose the respective file package and you're done.
Developers working on Chromebooks have an easier time developing apps for the big screens. This new feature from Google will push better-suited apps for the Android tablet environment, an area in which Google seriously lacks.
Quality of Life Changes
Several changes from Google's side has been done to make Linux-Ready Chromebooks prime for Android app developments. Google is currently trying to make file-transfer between Google Drive, Local Storage, and Linux easier.
Although there is no virtual Android environment support, the Google Chromebooks will allow you to test under-development Android apps via USB.
Furthermore, Google has also released an official system requirement list for developing Android apps on Chromebooks —
System Requirements For Android App Development
RAM – 8GB
Hard Disk – 4GB
Processor – Intel Core i5 or higher (U Series)
Screen Resolution – 1280 X 800 pixels
Please Note
The official system requirement for other systems including Mac and Windows is given
here
.
Google has also launched a recommended list of Chromebooks for Android app development. They are:
Recommended Chromebooks For Android App Development
Lenovo Yoga C630 Chromebook
Acer Chromebook Spin 13
HP Chromebook x360
HP Chromebox G2
ASUS Chromebox CXI3
With all these changes, the message from Google is loud and clear. It wants developers to finally fix the Android tablet environment.
Google didn't release any new Chromebook hardware at the IO conference. However, it did report an increase in sales of Chromebooks in the past year. Around 21% of the total laptops sold in 2018 were Chromebooks, according to NPD data.