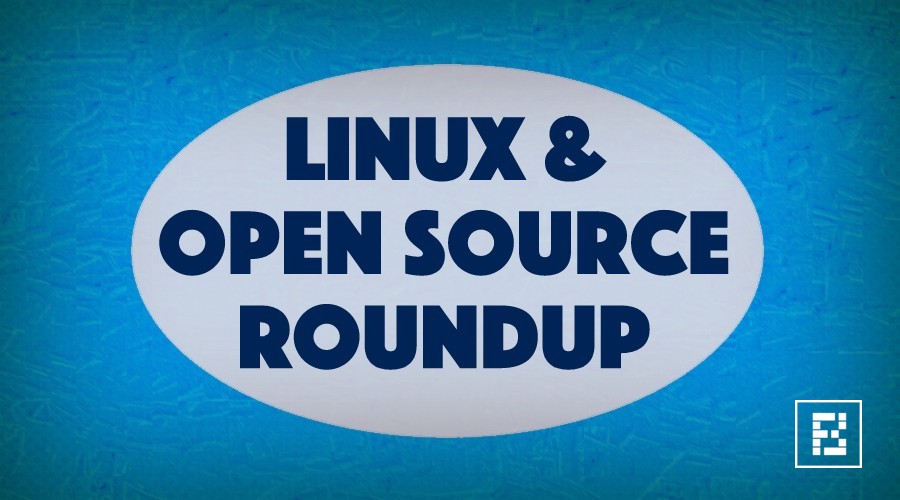 Short Bytes: This week in Linux and open source news, we read about the availability of Fedora on Raspberry Pi, formation of JavaScript Foundation, and Live kernel patching in Ubuntu. Other developments include the release of open source Nomulus TLD registry platform by Google and new Linux distro releases. Read our Linux & Open Source Weekly Roundup and stay updated!
Linux and open source news
Dirty COW Linux privilege escalation bug
A Linux kernel security flaw, dubbed Dirty COW, has been revealed. It's a race condition that was found in the way Linux kernel's memory subsystem "handled the copy on write (COW) breakage of private read-only memory mapping".
Google open sources 'Nomulus' TLD registry platform
Google has announced the release of Nomulus, a new open source cloud-based domain name registry platform. It powers Google's top-level domains (TLDs) and takes advantage of Google Cloud Platform.
Fedora now available for Raspberry Pi
Now users can install Fedora operating system on the popular single-board computer Raspberry Pi 2 and 3. However, the older ARMv6 Raspberry Pi boards–Zero, Model A, older v1 Pi Model B, and the current compute model–will never be supported.
Linux 4.9 shows performance boost
In Phoronix's hardware testing, Linux 4.9 Git is showing improvements over Linux 4.8 and 4.7 kernels. For detailed information, you can visit this link.
Facebook's latest open source hardware can deliver 100Gbps
The Open Compute Project has accepted the Wedge 100 specifications for the next-gen open network switch. It can be deployed in data centers for delivering speeds up to 100Gbps. Also, it runs FBOSS, which is a Linux-based OS.
Satya Nadella: "Windows is the most open platform there is"
Speaking at Gartner Symposium ITxpo 2016, Microsoft CEO called Windows the most open platform there is. He said that it has been used by a variety of developers to build products of billions of dollars worth.
Blockchain platform developed by banks to be open source
A blockchain platform, developed by world's biggest banks, has been open sourced. Named Corda, it represents the biggest shared effort among banks, fund managers, insurers, and others. On Nov. 30, it'll be contributed to the Hyperledge project that's led by Linux Foundation.
JavaScript Foundation announced by the Linux Foundation
The Linux Foundation has announced the JS Foundation to bring the decentralized JavaScript community together. Basically, it's the rebranding of the jQuery Foundation that aims to develop the existing projects along with the new ones.
Live kernel patching now available for Ubuntu 16.04 LTS
Canonical has announced the availability of Live kernel patching that users can enable on their current installations. It can be used to minimize the unplanned downtime and maintain the highest levels of security.
Ubuntu 17.04 Zesty Zapus: Next Ubuntu Release Is Named After A Cute Mouse
After the release of Ubuntu 16.10 Yakkety Yak, Canonical has announced the codename for the next Ubuntu release, i.e., Ubuntu 17.04. The codename, Zesty Zapus, is named after a jumping mouse found in the North American region.
Red Hat teams up with Ericsson
World's leading open source provider, Red Hat, has announced a partnership with Ericsson to deliver fully open source and production-ready infrastructure, spanning OpenStack, software-defined networking (SDN) and software-defined infrastructure (SDI).
New Linux distribution releases
Budgie Remix 16.10 released
The new version of Ubuntu-based Linux distribution Budgie Remix has been released. Budgie Remix 16.10 features the elegant Budgie desktop and solid Ubuntu 16.10 release.
Solus 1.2.1 released, first MATE Edition
Solus 1.2.1 has been released with Budgie as the primary desktop environment. 1.2.1 also marks the first release of Solus with MATE edition.
Parrot Security 3.2 'CyberSloop' hacking distro available
Ethical hacking Linux distro Parrot Security 3.2 dubbed 'CyberSloop' has been released. Based on Debian GNU/Linux 9 Stretch, Parrot Security 3.2 also comes with new tools for testing automotive security.
Here's last week's open source and Linux roundup!