If you're really excited about the release of the most popular Linux distribution Ubuntu 20.04 LTS, well, you still have to wait for a month. But, before that, Ubuntu's closest competitor Linux Mint arrives with the latest Debian version LMDE 4 "Debbie."
Linux Mint Debian Edition (LMDE) 4: What's New?
As Linux Mint always claims to be a life savior for the Ubuntu user, this stable release comes with various features similar to Ubuntu-based Linux Mint 19. We've already reported the features of LMDE 4 before the beta version. But to name a few, it includes boot-repair, system reports, language settings, and a new boot menu.
Here are some highlights of other key features:
Btrfs submodules support
Revamped installer
NVMe support
Secure boot support
Cinnamon 4.4
For further improving the security of internal storage, LMDE 4 adds automated partitioning with support for LVM and full-disk encryption. You can even encrypt your home directory as well.
Screen resolution always remains a problem while running OS in VirtualBox. Hence, the Debian edition now automatically adjusts the live session into 1024×768 resolution.
Among the bug fixes, one of the most important improvements is the compatibility of Nouveau driver with NVIDIA cards. If you've ever faced a black screen during OS booting, it must be because of NVIDIA driver. But, you can now boot using a new boot option that installs NVIDIA drivers on the fly.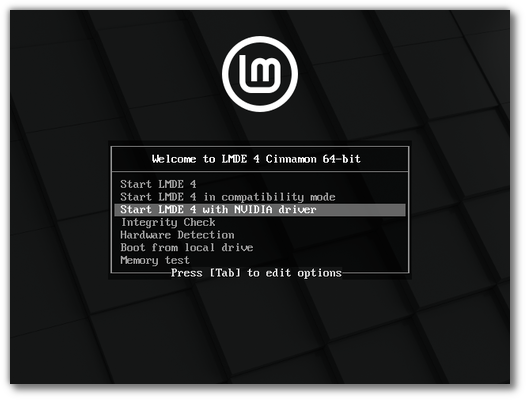 How To Install Or Upgrade From LMDE 3?
Before heading over to the installation, you must know the minimum hardware requirements. Your system should have at least 1GB RAM with 15GB of free disk space. However, I would recommend 2GB RAM with a 20GB disk space.
So, if you're an existing user of Debian Edition 3, you can upgrade your system to the latest version 4. For a clean upgrade, I would rather suggest you follow the Linux Mint official tutorial here.
But, if you find any difficulty to play around the command line, you can go for a fresh installation by downloading the LMDE 4 ISO images from here.