Greg Kroah-Hartman, a lead Linux Kernel developer and maintainer, has officially extended end-of-life (EOL) support for the LTS (Long-term Support) Linux kernel 4.19 and 5.4 from two to six years.
He recently made changes to the official Linux Kernel long-term release page and increased the projected EOL by four years. This means Linux kernel 4.19 will now get backporting bugs and important security fixes until December 2024 and kernel 5.4 until Dec 2025.
If you don't know, Linux kernel mainly releases in two categories: Stable and Longterm. The stable version comes out every 8-10 weeks; hence, you've to upgrade your system kernel after the same time period. On the other hand, the LTS kernel arrives every two years and provides security and bug fixes for the next two years.
But back in 2017, Google's Iliyan Malchev at Linaro Connect 2017, announced the upgraded lifecycle of LTS kernel from two to six years. The implementation then started with Linux Kernel 4.4.
The maintainer of an LTS kernel release is responsible for deciding the time period for the LTS life cycle. Hence, days after the release of the latest stable Linux kernel 5.7, Greg, the current maintainer, increased the support period of the latest LTS kernel v5.4 and v4.19.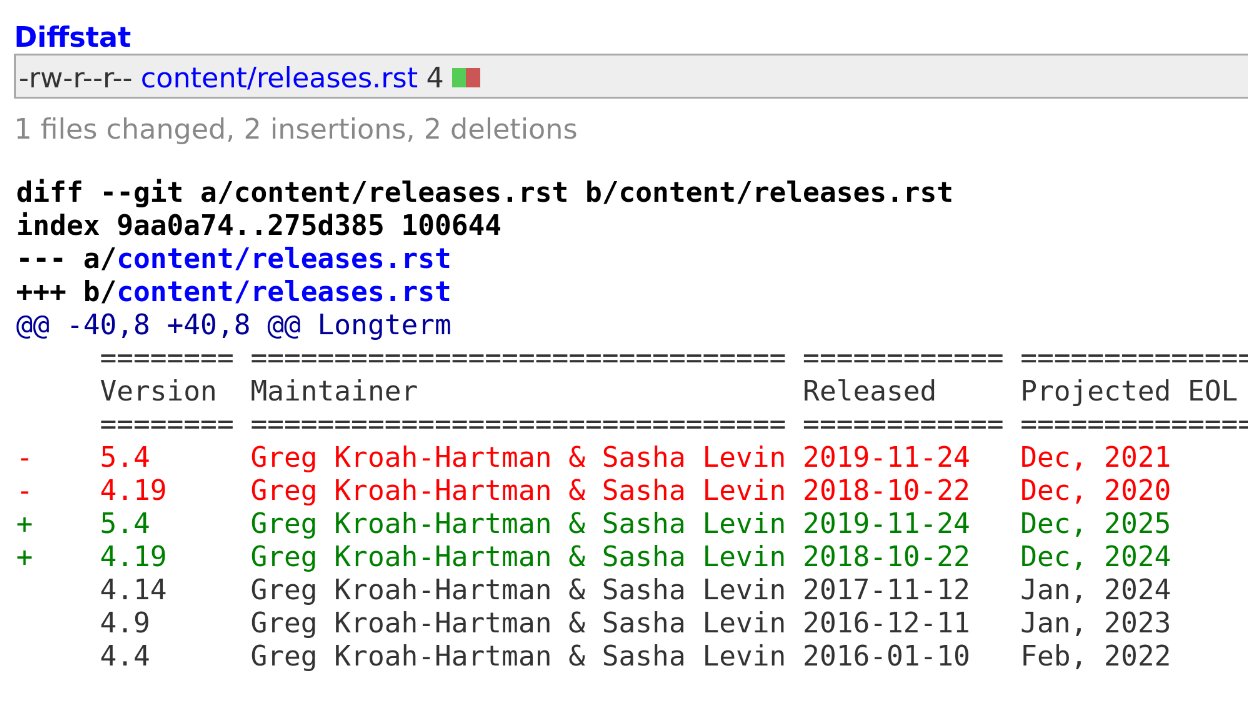 Which Linux Kernel Version Should I use?
Now, there are six LTS kernels that come with six years of support: 5.4, 4.19, 4.14, 4.9, 4.4, and 3.6. So, if you want to try, you're free to use any of those kernel versions.

But if you feel a little confused choosing the right kernel version, you can read Greg's blog, "What stable kernel should I use?" In short, he suggests the latest stable release for Laptop/Desktop, the latest stable or LTS release for Server, and the latest LTS or older LTS release for Embedded devices that you can try out.
You can also prefer community-based Linux distributions like Arch or Fedora that constantly roll along with the latest updated kernel. Or, you can choose Linux distributions like Ubuntu or Debian that ship the most stable kernel instead of the latest one.
Which Linux kernel do you prefer the most? Don't forget to share your views and feedback in the comment section below.