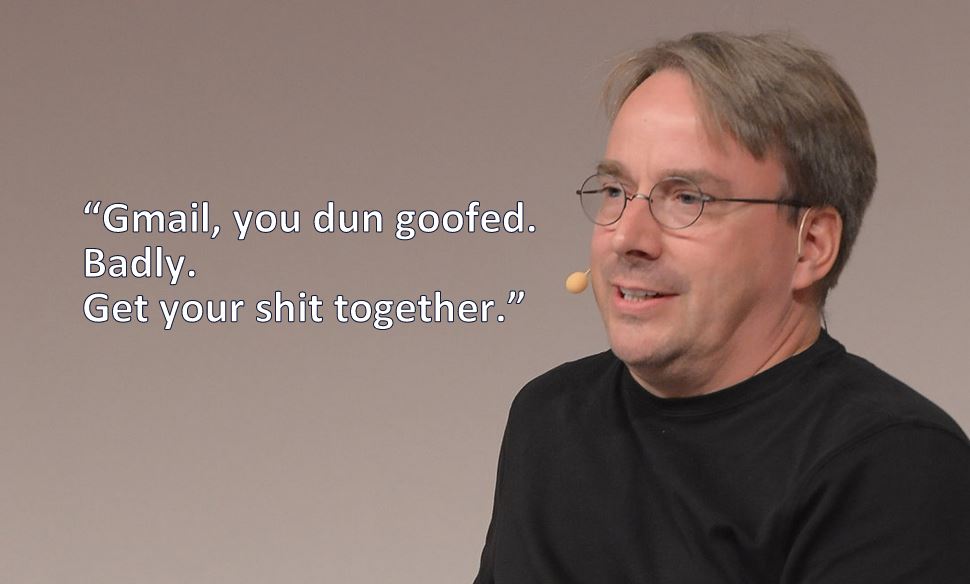 Just a few days ago, we got to read the news that spam has dropped to its lowest since the year 2003 and we wholeheartedly thanked Gmail. Google said that its Gmail spam filters are now using badass AI technology to make themselves smarter than ever. But, Linus Torvalds, the guy who created Linux, isn't much amused with Gmail's spam filtering.
R
ecently, in an angry 
open letter
to Google's Gmail team, Linus Torvalds slammed the email service for marking hundreds of legitimate emails as spam. He started the letter by saying that he wants to take back all the nice things he had said about Gmail in the past. He wrote that he is busy sorting emails manually from his spam folder for past one week and has completed just one-third of it.
After digging more, red-faced Linus discovered that 1,190 emails, i.e. more than 30 percent, in his spam folder were not spam. Most surprisingly, some of the messages were marked spam in the middle of a conversation. He mentions that emails that his contacts replied to and had problem descriptions – they were marked spam too.
It should be noted that last week Google told the world about its new neural network backed spam filtering that claimed just 0.1% false positive rate. Linus mentions: "I don't know how to even describe the level of brokenness in those kinds of spam numbers."
Must Read: Linux Creator Thinks "Future Robots Controlling Humans" Is Stupid
He adds: "Quite frankly, that sucks. It's not acceptable. Whatever you started doing a few days ago is completely and utterly broken."
On his Google+ post, many people voiced their opinions saying that Linus isn't alone facing these false positives. It looks like Gmail team has committed some kind of unexpected blunder and Linux wants Google to feel bad. He ends his letter with few more curses: "You dun goofed. Badly. Get your shit together, because a 20% error rate for spam detection is making your spam filter useless."
Read the full post here: Linus Torvalds on g+
Are you facing similar issues? Tell us in comments.