Volla Phone, the company behind a smartphone that can run Android as well as Linux-based operating systems, has successfully achieved its target in its second Kickstarter campaign.
The concept of Volla Phone revolves around offering users more privacy and an alternative to Android and iOS operating systems. According to the Kickstarter campaign of the Linux smartphone, the campaign backers could also purchase Volla Phone running on Ubuntu Touch pre-installed.
The company started a Kickstarter campaign last year with a goal of $385,000 but failed to achieve it. This year, Volla Phone again started a Kickstarter campaign but kept the goal to a modest price of $11,000 and has managed to bag $20,769 until now.
In a time where privacy and security is one of the major concerns, Volla Phone aims to make "technology secure" by providing:
An in-built VPN from Hide.me
No Google apps and Play services to stop data collection
Curated core apps that are open source and privacy-centric
Users are not required to login into any account to start using the Linux smartphone
Specifications of Volla Phone
According to the Kickstarter page of Volla Phone, the upcoming Linux based smartphone will have the following specifications: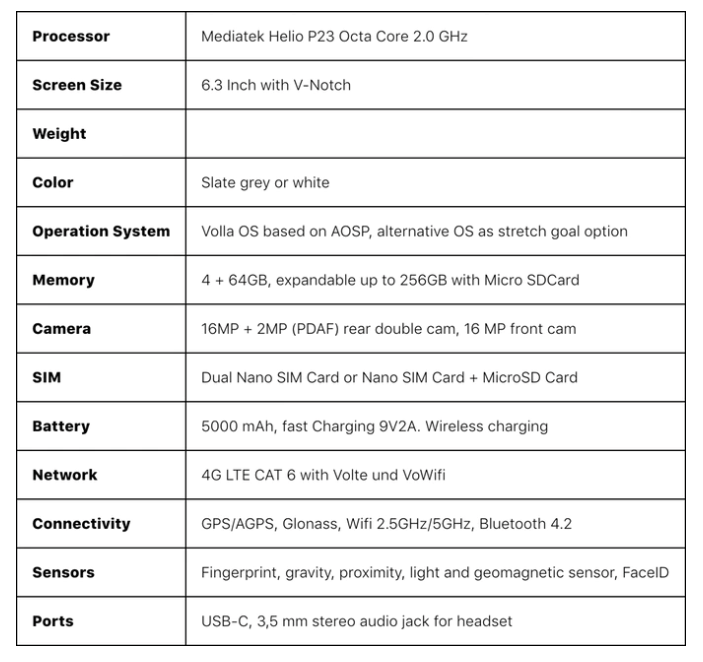 After securing the required amount from the campaign, we're expecting that Volla Phone would start shipping in October as promised. However, it is still a Kickstarter project and we've seen in the past that such projects often fail to deliver on time.
Once launched, Volla Phone could prove to be a worth-considering entry in the Linux smartphone market having products like PinePhone and Librem 5.
Via: TuxPhones