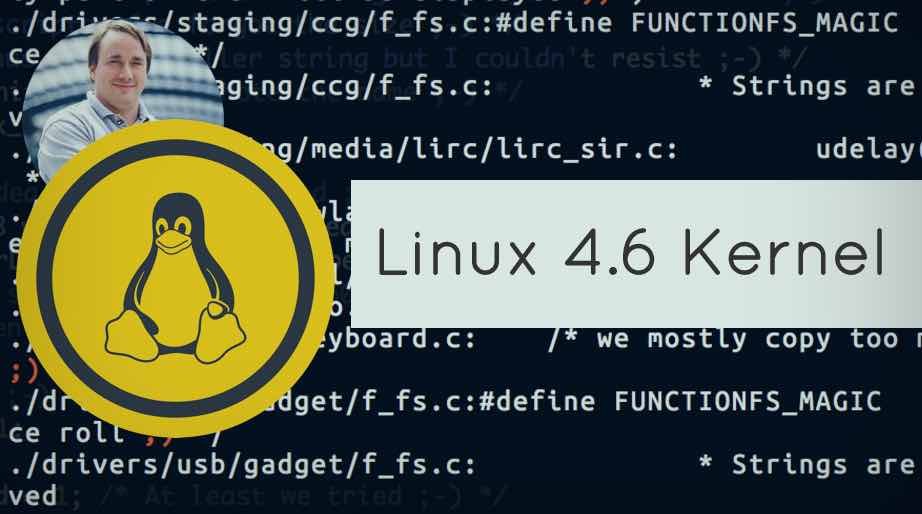 Short Bytes: After seven release candidates, the Linux 4.6 kernel was officially released by Linus Torvalds on May 15. As the third major Linux kernel release in 2016, the Linux 4.6 kernel is here 8 weeks after the Linux 4.5 kernel. It includes many changes like the support for OrangeFS file system, USB 3.1 SuperSpeed Plus protocol, and better driver support.
Linux 4.6 kernel is codenamed the "Charred Weasel". After receiving a total seven Release Candidate builds and spending two months in development, the final production version of kernel is here with new features, security improvements, and updated drives.
"It's just as well I didn't cut the rc cycle short, since the last week ended up getting a few more fixes than expected," wrote Linus Torvalds about the latest release.
As 4.6 kernel is released on time, Torvalds has announced that he will start doing merge window pull requests for 4.7 kernel from tomorrow.
Also read: Linux Mint 18 "Sarah" New Features — Best Linux Distro For Desktop Users?
The new features in Linux 4.6 kernel
In the form of big changes coming to kernel, Linux 4.6 brings the full support for the USB 3.1 SuperSpeed Plus protocol, giving you the transfer speeds of up to 10Gbps, compared to 5Gbps speed of USB 3 and 480mbps speed of USB 2.0.
The other big features coming to Linux is the support for OrangeFS distributed file system along with the support for Intel Memory protection keys and improvements of the Out Of Memory task killer.
To make the open-source AMD graphics driver stack more stable, various AMDGPU and Radeon improvements have been made.
Linux 4.6 kernel release also bring the 3D/acceleration support for NVIDIA GeForce GTX 900 "Maxwell". Please note that it's just an initial support and it doesn't bring any re-clocking support.
With the new Kernel Connection Multiplexor (KCM) technology, networking has also got a boost with an ability to use TCP to send and receive application protocol messages.
With the new driver changes, Dell and Alienware laptops, including Dell XPS 13 Skylake, are now better supported.
Othe changes in Linux 4.6 kernel include 802.1AE MAC-level encryption support, BATMAN V protocol support, pNFS SCSI layout support, and online inode checker for the OCFS2file system
Linux 4.6 kernel is available for download on Kernel.org