Short Bytes: If you're fed up with laggy online gaming sessions, then, CES 2017 has bought something special for you. Linksys WRT32X is an AC3200 wireless router equipped with Rivet's Killer Prioritization Engine which does wonders when coupled with a Killer-enabled laptop. The engine prefers gaming traffic before any other traffic on your network.  (Read our CES 2017 Coverage here)
L
aunched at CES 2017,
Linksys WRT32X
is a dual-band quad-antenna wireless router which supports the 802.11ac specification. It can deliver speeds up to 2400 Mbps over 5Ghz band and 600 Mbps over 2.4Ghz band, totaling to 3200 Mbps (AC3200).
However, merely the high bandwidth doesn't set this networking beast apart in the crowd of WiFi-AC routers. WRT32X implements the Killer Prioritization Engine to boost the gaming experience on the PCs fitted with the Killer adapters created by Rivet Networks, which are also the minds behind the engine.
Moreover, Linksys WRT32X is the first router to offer Killer support. When coupled with a Killer-enabled laptop, the router can differentiate between your online gaming traffic and regular internet traffic. The gaming traffic is given the green signal earlier than the regular traffic. Thereby, providing a low latency lag-free experience to the player in case some other device connected to the network is using the bandwidth.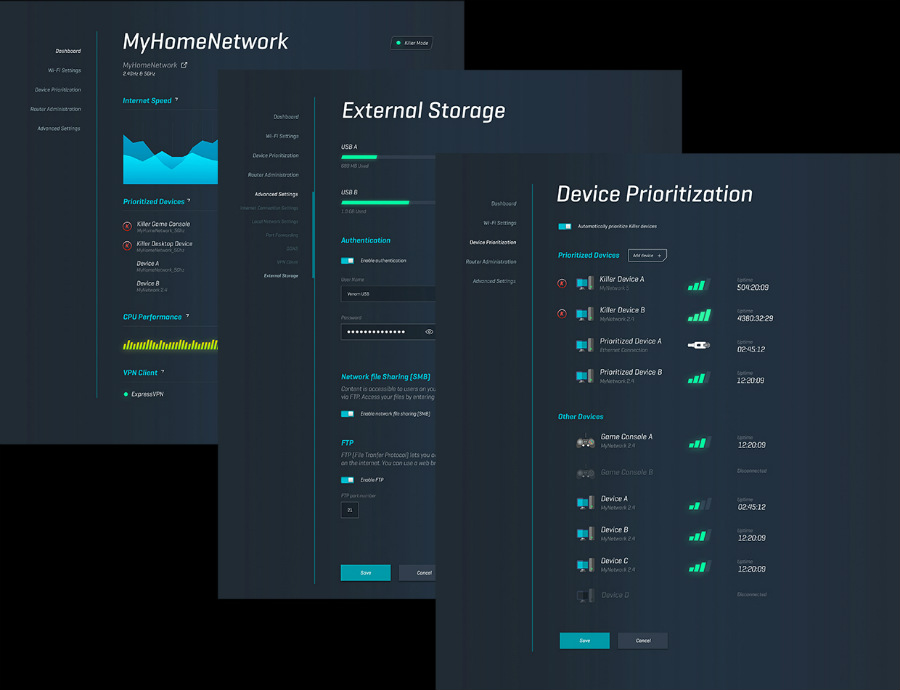 Killer Prioritization Engine also makes sure that a video or audio stream is going on some other device proceeds without any glitches.
Other than its wireless capabilities, it also features a WAN port, four Gigabit Ethernet ports, a USB 3.0 port, and an eSATA+USB2.0 combo port. The router runs using a 1.8GHz dual-core processor and supports FAT, NTFS, and HFS+ file systems for connected storage devices like this 2TB USB drive from Kingston. Also, the router is compatible with OpenWrt, a Linux-based operating system for routers.
The Linksys WRT3200X gaming router is priced at $329.99.
Don't forget to drop your thoughts in the comments
Also Read: World's Largest USB Drive Can Store 2TB Data — Kingston DataTraveler Ultimate GT